Youngs Gulch
---

Location: Roosevelt National Forest, north-central Colorado
Maps: USGS 7.5' Quad: Poudre Park; Trails Illustrated 1:40K: Cache La Poudre #101
Access: From Ted's Place on Hwy 287 take Hwy 14 west about 13 miles to the parking area on the south side of road (careful: it's easy to miss) just past the Ansel Watrous Campground.
Fees: None
Trail: Trail follows a stream through Young Gulch and then Prairie Gulch before dead ending at private property near Stove Prairie Rd after about 4 miles and 1,000 ft. Easy trail.
Trailhead: NAD83 zone 13 470617e 4504233n Elevation: 5860'
Dog Regulations: Voice Control. There are usually lots of dogs on this trail.
Weather: Current and recent conditions Local forecast Snow persists in the shaded canyon bottom well into spring.

---

Youngs Gulch is located in Roosevelt National Forest. Its meager flow adds to the Poudre River's current. I've camped in the area twice, and hiked it more times than I can count. My first solo backpacking trip was up this trail (psuedo-solo; I had Frank along), and I've since taken three more such trips. Mark and I also day-hiked it several years back where I met a German Shorthaired Pointer that inspired me to adopt Frankie.

In the last two years it has grown in popularity to the point where it rivals Grey Rock in terms of visitor counts on weekends.
Now here's the archetype for a frosty morning by the campfire. It doesn't get any better than this. That's me warming up there. This was my first ever backpacking trip with Mark way back in 1997.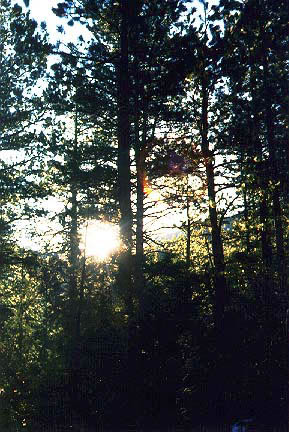 Early morning on a spring day in the forest.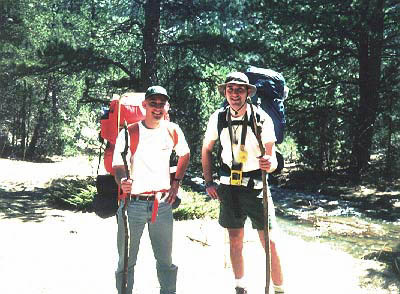 This is Mark and I on our way out. April 1998


Crossing the Creek (prounounced "crik" out West)


"Obey little. Resist much." - Thoreau
Andra and Mom, and I, camping in May 1999.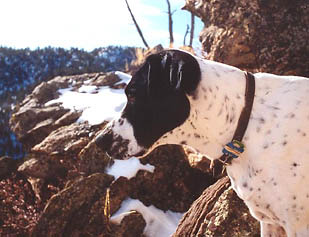 Frank..devout camper.
I went bushwacking up the west side of the gulch in February when there was alot of snow on the ground, and had a blast. It wasn't very cold, and the clear winter blue of the sky was very inspiring. I weaved my way down unknown side draws and came upon an old hut, about 20 feet in diameter with no trails or easy access to the gulch. There was a sign inside that said, "Make yourself at home. Please pack out all trash". I was very shocked to find this place where I did. I don't think I could ever find it again.




These shots were taken from the tall peak overlooking the gulch on the west.
You can see the big bend near Mishawaka in the left shot and Grey Rock in the right.
---
Back to Hiking and Camping
Next
---
Page Created July 26, 1999
Updated July 3, 2002
Comments