Cirque of the Towers, Washakie Lake
Location: Wind River Range, along the Continental Divide, Shoshone National Forest, Wyoming
Access: Several ways to get there. Perhaps the most popular is from the Big Sandy TH. From Farson, WY, head east on Hwy 28 4.3 mi, then turn north on Sweetwater CR 108 for 32.7 mi (the loneliest CR ever: I didn't see a single car the entire 32.7 miles), then turn west on CR 132 (Lander Cutoff Rd) for 7 miles to a T intersection and turn Left (follow the sign). Drive 9.9 miles to a Y, and take the right fork on FR208. Then cruise another 0.6 miles to the TH. From Cheyenne, this is a 6.5-hr drive. Beyond Hwy 28, there is little pavement, yet the roads are well-maintained and passable to low clearance vehicles.
Maps: USGS 7.5' quads: Big Sandy Opening, Lizard Head Peak, Mount Bonneville, Temple Peak
Trailhead: UTM NAD83 z12T 641659e 4727656n 9101'
Trail: There are lots of trails in the area, and one must be attentive to trail junctions. All trails are signed and well-trod. The route described below is a 45-mile loop and sidehike with 6,460' elevation gain.
Dogs: No posted regulations
Fees: None
View Larger Map
---
August 16 2013 Friday
The drive from Cheyenne was very long and very boring. I was so glad to finally get to the trailhead and get my gear together. Heavy smoke from dozens of wildfires around the west hung in the air, obscuring views of the high peaks. The trailhead was like a Target parking lot, with over a hundred parked cars filling it (or maybe just 30 or 40, but seemed like a bunch!) and streaming out in overflow along the sides of the road. I parked quite a distance from the actual parking lot on the side of the dirt road. As I packed my things, it was curiously quiet all around, as all the owners of so many cars were somewhere else, high in the mountains. At 2:00, I was on a dry and dusty trail, heading north. I passed 5 people coming or going on this section of the trail. Given my late arrival, I felt some pressure to keep a good pace to get to camp at a reasonable hour. The air was pretty warm and in no time I was pretty sweaty. I tried to drink plenty to ward off a headache. Around 3:00 I reached Meeks Lake, a shallow lake in a large meadow surrounded by gently sloping shoreline and a phalanx of pines. Moving on north I passed through a typical montane forest of pine, Douglas fir and some spruce, until reaching Dads Lake at 4:30. I kept feeling like Dads Lake should be Dad's Lake, but that's not how USGS sees it.

Dads Lake was quite a bit more interesting than Meeks Lake, as it had a rocky shoreline, several peninsulas and a few small rocky islands. It was very scenic, with the peaks along the Continental Divide visible to the north. I reached one of the two inlets of the lake, and turned off the trail, uphill, to find a camp. I wandered up near the inlet stream for a hundred yards or so, then, obeying regulations, walked away from the stream at least 100' and found a flattish spot amongst large boulders to pitch my tent. Limber pine shaded the area, and it was really a nice little spot.

After setting up my tent, I took my food down towards the creek and made dinner of Ramen noodles after filtering a liter of stream water so clear I wondered why I was even filtering it. I found a large sloping boulder to lean against while I ate, and enjoyed a very pleasant dinner. A slight breeze wafted through the trees and the orange afternoon sunlight dappled the ground all around me. A line from Paul Simon came to me, "I've got nothing to do today but smile."

At 5:30, I heated water and walked it in a collapsible bucket a few dozen yards from the stream to bathe. Very refreshing. I stowed all my food in the bear canister and hung my stove and cookset (inconveniently, the cookset doesn't fit within the bear canister). I spent the remaining daylight walking along the lake shore, fishing unsuccessfully for trout, and enjoying the pillowy liquid play of sunset colors on the water. Because of the smoke in the air, the sunset was unusually pink and brilliant. I was back at my tent around 8:30 as it got dark, reading Natural Acts by David Quammen, an interesting volume that I picked up from Powell's Books, purportedly the world's largest bookstore, in Portland, Oregon, just a week before.

---
August 17, Saturday
"I Lost My Sole on Washakie Pass"
Slept poorly, tossing and turning a lot. I used a new ultralight Thermarest mattress on this trip. Only a pound in weight, but it sounds like a crinkled trashbag everytime I moved in the night. Not sure I like the design. As soon as it grew light I got up and around. I ambled down to the creek and had coffee and a Pop Tart for breakfast. There's almost nothing better in life than steaming coffee by a quiet creek at dawn in the forest. I packed up my gear and hit the trail a little before 8:00. I walked north under a perfectly sunny sky to Marm's Lake and decided I should've camped here. The lake was deserted and very picturesque. I slipped off my pack and assembled my fly rod, then spent half an hour retrieving a few types of streamers and then floating a dry fly just below the water surface, all to no effect. All the trout were nowhere to be seen, watching and snickering from the shadows, I'm sure. Perhaps the water was too warm, and they were hiding deep.
I returned to the trail, heading north. I reached a fork in the trail that said Shadow Lake to the right, and I knew I didn't want to go to Shadow Lake, so I went left. Mistake. I wasn't at the turn I thought I was at, and instead I began heading northwest. Had I looked at the map, I would've immediately seen my error, but I was in a hiking daydream. I was half a mile up the Fremont Trail before I got that feeling that something wasn't right. Examining the map, I saw that I could save myself a backtrack by continuing on north, then taking a right turn at Washakie Creek up to rejoin the Hailey Pass Trail. I stopped for water and a Snickers bar in the shade of a large boulder by a small tarn off the trail, and relished the feeling of being so remote and alone. If you've not backpacked solo you've not lived. When I reached Washakie Creek, the trail all but vanished, and I scouted around for some time before finding it. This stretch of trail apparently receives very little use. At 11:00 I was at the Washakie Creek junction with the Hailey Pass Tr, and though I was tempted to fish the swift waters of the creek, where trout were darting about in the shallows, I pressed on so I could be sure to get over Washakie Pass before any thunderclouds built up. There were some clouds all around, but as yet none looked threatening.
North of Washakie Creek, I rested in the shade of ancient limber pines. While I sat quietly, two squirrels quarreled noisily, and chased each other around in the pine duff, running only inches in front of me and apparently not noticing, or at least not caring. When I reached the Washakie Pass turnoff, I was out of water, and I wasn't sure if there would be any until after the pass, so I diverted towards Skull Lake and filtered water from the inlet stream a few hundred yards above the lakeshore. I sat and gulped water, and enjoyed the phenomenal view of the cirque surrounding Pyramid Lake. During the 10 minutes I sat there soaking in the view, I resolved strongly to return and spend a few nights at Pyramid Lake. What a cirque.
Up on the trail again, I huffed and puffed up the long, relentlessly uphill trail towards the pass. I left trees behind, and entered the krumholtz of the alpine zone. I passed a couple of ponds where I could've gotten water had I passed up my chance at Shell Lake. Perhaps it was because it was the first serious uphill stretch of the trip, but in retrospect, it was easily the hardest hour of hiking I did in 5 days. There's a bout 1200 ft elevation gain in under 2 miles from Shell Lake to Washakie Pass, and I was panting by the time I reached the barren saddle north of Washakie Peak. I actually got a little cell service on this pass, amazingly. I called Andra to let her know I was OK, but only got voicemail. I didn't get cell service again for 3 days.
The wind whipped up a frenzy on Washakie Pass, and the clouds congealed together to form what seemed to be a thunderstorm in the making. I hiked on down through the tallus below the pass, and passed two guys on their way up. I was a little surprised to see anybody this far in. Not far below the pass, I began feeling a slap on the bottom of my foot with each step, and looked down to see that the sole on my right boot had partially delaminated from the heel up to the instep. I had no duct tape, so I wrapped a strip of cloth medical tape over the instep and under the heel. That lasted about 20 feet before the tape came unstuck. I cut a short length of parachute cord and tied it under the heel of the sole and up over the instep. This worked OK, but slipped off every 10 minutes of walking. I decided it would work until I got to camp. The trail became indistinct near Macon Lake, with multiple faint paths leading down through the tallus. I decided that hiking Washakie pass E to W looks more difficult than the way I had come. I fished Macon Lake with no success. I considered hiking over to Pass Lake below Washakie Peak, but it looked like a difficult scramble through boulders and tallus, and I decided not to. Instead I sat on a large boulder and watched the water chop and sparkle under the sun. Below me in the rocks I saw an old weatherbeaten straw hat, and wondered how many years it has been laying there. Just below that detour, and probably as a result of my delaminated boot sole, I took a ridiculously clumsy step and fell down. Attempting to break my fall with my walking stick, I only succeeded in bending it into something resembling a long bow. Luckily it is aluminum, and I was able to bend it back to something resembling straight. I walked on down to Washakie Lake and scouted out campsites, settling on one near the north end of the lake, well off the trail, by 4:00.
I set up my tent, hung my cookstove and cookset, bathed and filtered water. While squeezing water through the filtering tip, the bladder bag sprung a leak. From then on I had to pinch the seam on the bladder bag while squeezing the bag and aiming it into the water bottle. Not easy, but at least it was workable. I'll need to remember to bring a spare water bladder on the next trip. I cooked Ramen noodles at 5:15. With a full belly and clean skin, I returned to the boot dilemma. With 21 miles left to hike, I needed more than a quick patch. Also by this time the sole had detached all the way up to the curl of rubber on the toe. I used three lengths of parachute cord, wrapped around the boot and sole at heel, instep and ball of the foot, knotted on top. It added an extra minute or two to putting on my boots, but by having three lines on there it kept he sole from slipping forward or sideways and bunching up. Worked OK, but I still found I had to stop every 15-20 minutes of hiking and retie everything.
I fished Washakie Lake with no success. I began to really marvel at how bad the fishing was in these remote lakes. I'd always had fantastic luck fishing the Winds prior to this trip. I can only guess that it was a water temperature thing. The sky was completely overcast and it was very windy. I hiked downstream to the outlet and a little beyond to a small unnamed lake where I finally broke the drought and pulled in 4 fat brookies. Count on the brook trout to bite when nothing else will. When it began to rain, I raced back to camp and dove in the tent. I was asleep by 8.

---
August 18, Sunday
For the first and only time of the trip, I set my alarm. I was up at 6:10 in the dim light of pre-sunrise, packing. I had the longest day of hiking ahead of me, 10.5 miles with 1800' elevation gain and 2200' loss, with most of the day's action scheduled to happen above treeline. Not knowing how early lightning storms might amble over the plateau, I aimed to be over it before mid-afternoon. After packing my gear, I walked down to the shore of Washakie Lake and set up for a picture of the early morning sun on the lake and peaks beyond, but a stubborn cloud bank on the eastern horizon hid the sun until it rose above the clouds, by which time the orange light of sunrise was replaced by the white light of morning. I returned to camp and had a quick breakfast of coffee and a Pop Tart, a breakfast that mysteriously tastes infinitely better while camping than it does at my house, then hit the trail at 7:30.
The first stretch of trail was all downhill, 400' to the Wind River. Reaching the range namesake seemed significant, and it was beautiful besides. What a nice river. I wished I had scheduled time to simply pitch a tent on the shore of the rushing white water and hang out for a day or two. Instead, I spent only long enough to filter water and take a few pictures before fording the river (there is no bridge) and beginning my uphill slog through thick forest. As I gained elevation again, I couldn't keep my eyes off Wahsakie Peak to the west, lit up with brilliant glaring sunshine. What a sight.
At 8:45 I crossed the outlet of Valentine Lake, and decided to go check it out. Again, I had this feeling that I was passing too much beauty too quickly, and I seriously considered simply spending the rest of the day at Valentine Lake, and camping in the trees by shore. The mountains that frame Valentine Lake are spectacular. I filtered water again, and had a snack as I sat on the short ledge on the lakeshore, admiring the view to the south. All was quiet, though the series of established campsites and fire pits let me know that Valentine Lake, while remote, attracts a steady crowd. I can definitely see why.
Leaving Valentine Lake, I soon left the trees on my way up past Little Valentine Lake, which sits at treeline. I thought I heard voices in the woods, but I saw nobody. The trail switchbacked up through tallus, and I was surprised and pleased to find a fresh creek running swiftly through the rocks. I stopped and filtered water here, too, and filled up all my bottles since I was fairly sure I wouldn't find water on the plateau where I was heading. At the pass, I turned south on Lizard Head Trail, and headed uphill past the snowfield that was feeding the stream I had filtered water in from below. During this stretch I had to stop frequently to tighten up the cords holding my boot sole on. Walking uphill seemed to dislodge the sole more than walking downhill.
The path led up through barren rock on the west side of Cathedral Peak. Once I was even with it, the terrain became relatively benign, rising and falling in long gentle swells while the cirques around me cut over a thousand feet down to pristine lakes. The Lizard Head Trail simply traverses a swell of rock that has never eroded away, and the hiking was actually quite easy and pleasant. I cruised along at a good clip across the rocky expanse. Very few plants grew here. The dominant feature of the landscape was the craggy string of 12,000-foot peaks bounded on the north by Payson Peak above Washakie Lake and on the south by Lizard Head Peak. Fleeting glimpses of the South Fork Lakes came into view now and again. In the planning stages I had initially considered spending time at these lakes, but dismissed the idea as impractical on a 5-day circuit. In fact, on this trip, I was finding that spending much time doing anything but walking was impractical. Around noon, I hit the high point for the trip at 11,800 feet. Instead of it occurring on a mountain top or at Washakie or Jackass Pass, it occurred by stealth at a gentle rise in the plateau. If I didn't have a map, I would have missed it entirely. I passed by two day hikers who were attempting to get to the South Fork Lakes from their camp down by the North Fork Pop Agie. As it was noon and they were only halfway to the lakes, I wondered if they were really going to be able to get there and back by dark.
At 12:15, I could see the North Fork Popo Agie drainage and knew I could slip down quickly if thunderstorms approached. So far, puffy white clouds that had been hanging around all morning were still innocently hanging out without much vertical expansion. Feeling relaxed that I had beaten the storms, I stopped and allowed myself a leisurely lunch overlooking the valley east of Lizard Head Peak, the drainage that leads down into Bear Lake. I could see trout rising in the lake at 11,260' below the wicked north face of Lizard Head Peak. After I ate I napped a bit on a rare piece of grassy tundra amongst the boulders.
The trail on the way down to the river was quite rough, and heavily eroded in many places. Again I thought how fortunate it was that I was going down this trail and not up. At the Bear Lake trail fork, I turned right and headed up to Bear Lake and the unnamed Lake below it. At the first lake, I cached my pack and set to work with my fly rod. Par for the trip, I saw no fish, felt no fish and caught no fish. After half an hour of swinging my fly rod, I gave up and continued on down to the river. At 3:00 I finally reached the trail junction with the North Fork Trail. The sky was completely overcast with threatening clouds, and thunder rolled down the valley. I was might pleased to have a thick forest of spruce and limber pine around me.
I hiked up the drainage to Lizard Head meadows, where I had planned on camping, but there were several tents pitched just where I had planned on pitching mine. I had to scout around further up the drainage to find a campsite. The difficulty in this area is that the valley is narrow, and much of it is boggy. Most of the high and dry terrain that is flat enough to camp on is proximal to the trail. There are few areas that are far enough from the trail and water to legally, or enjoyably, camp at. I think I found one of about 4 that exist. Luckily, it was empty, though the fire rings and fresh cuts on live tree limbs told me it is used often.
I pitched my tent quickly under a patch of limber pine. A stiff wind blew down the valley, and I knew it for the gust front of an approaching thunderstorm. No sooner had I gotten the rainfly cinched down then the rain came, right at 4:00. I had no time to unpack anything else from my bag. I dove into the tent and pulled my entire pack under the vestibule as fat drops of cold water began pelting the area. Small hail pellets came down with it, pinging the tent ferociously. I sat snug in my tent and pulled out my sleeping pad and sleeping bag and relaxed. It's not often fortune smiles on me so well as to get my tent set up before the rain comes. What an excellent development. Fifteen minutes later the sun was back out, and so was I.
I hauled water from the river, and bathed. Then I did laundry. The entire trip I did laundry every night. In order to save weight, I only brought two shirts, two boxers and 4 socks on the trip, washing one outfit every night and thus always having clean clothes to wear. My pants never got washed, but somehow I never feel like pants get as gross as my socks or my sweaty shirt. I washed everything in my canvas bucket, and the whole system worked flawlessly. I imagine back to the days when I would pack in 4 shirts and 10 socks for a 5-day trip. Back when I was twenty I could get away with such frivolity, but I have to watch the weight now days. On this trip, I went further than I'd ever gone to reduce weight, shaving pounds off my tent weight by purchasing a 2lb 2-man tent, and ounces through other careful planning. All told, my pack weight was sitting at 31 pounds when I left the car, and was getting lighter every day.
At 5:00 another storm cruised through, throwing rain and hail into the valley. I sat it out in my tent. When it abated I fished the river for about 30 minutes. Wily fish here. I couldn't find a way to not spook the fish when casting or even walking towards the river. They saw everything. If I casted long, no matter how gently the line would hit the still water, the fish would scatter. I'd get within 15 feet of shore and dark shapes would be zipping away from me at top speed. I tried casting to water I couldn't even see, but who knows if there were any fish left after the line hit the water. It's a good thing I wasn't depending on fish for food this trip. I cooked Ramen at 6:15 and enjoyed the sunny, gorgeous evening. Wind picked up at 6:30 and it got chilly. I layered up and went walking up the valley, taking pictures and studying the line of peaks at the head of the valley called the Cirque of the Towers. I had saved this spot for last on the trip on purpose. Such a fantastic geological feature deserves more than a day of passing by, so I reserved 2 nights camping in this valley to check these mountains out. I watched the sun slide down behind Pingora Peak, then hiked back to camp and was in the tent by 8:30. Perfect day.

---
August 19 Monday
As I lay in my tent last night, I went through a mental checklist of the equipment on this trip that I was using 10 years ago, and it is a short list: MSR Whisperlite Stove, MSR red fuel bottle, aluminum hiking stick, grey first aid kit (restocked some), Cascade Designs rain jacket and pants, aluminum REI cookset, Brunton compass, Leatherman multitool and my EMS shell jacket. This list also constitutes an array of very good equipment. I've not reason to complain about any of these items.
I was up by 6:05 in anticipation of the day. I hiked up the valley in the pre-dawn light to the spot I had watched sunset the evening before. I was there by 6:20. Sunrise was officially at 6:26, but the sun didn't hit the peaks in the Cirque until 6:45, starting with south peaks of Pylon and Watchtower and ending with the peaks north of Pingora around 6:55, as the sun rises high enough to shine around the southern flank of Lizard Head Peak. Unfortunately, a heavy smoke lay in the valley, akin to the smoke from the first day of the trip, and obscured the peaks somewhat. I stood in the river valley amongst the willows, freezing my tail off in the frosty shadows, snapping pictures. I think that was the coldest conditions I experienced the entire trip. The haze grew worse as the sun rose higher, and by 7:30 I could hardly see the mountains, and the smell of smoke was very strong. I hiked on back to camp and packed up. Had a quick breakfast, then hit the trail for a quick walk up to Lonesome Lake.
Following regulations, I camped east of Lonesome Lake ¼ mile, which put me east of the creek that flows down from Lake 10,702. I slogged uphill from the valley trail through a thick forest until I reached a flattish meadow just at the upper limit of the woods. I pitched the tent around 9:30 and then hiked meanderingly up to Cirque Lake by 11:00. The trails in the basin below the Cirque are numerous and confusing, none of them signed. I walked trails that went the way I was going until they vanished in a patch of rock, and then crossed open country until I happened upon another path that seemed to be going my way. The day was clear and the smoke seemed to clear up as the wind picked up a bit. Soon the sky was brilliant blue.
At Cirque Lake, a group of climbers watched the ridge north of the lake for their buddies, and we all saw when they appeared, far, far above. Gave me goosebumps to think about the heights. I took a lot of pictures of the lake and the peaks around it, then walked slowly back down the trail. I watched a guy climb a near vertical face near the Pingora summit. It amazes me people do such things. Lots of campers had their tents in the meadow below Cirque Lake. I counted 4 different compounds of 3-4 tents each. On my way back to camp I began to wonder which of the myriad trails lead up to Jackass Pass. I scouted several of them, but they all seemed to peter out in the woods.
Getting hungry for lunch, I walked back to camp, and though it was far off the beaten path, I had no trouble finding it. I encountered a young bull moose with tiny antler nubbins. In camp at 1:30, I had lunch, then read my book in the sun. I took a nap in the shade of nearby spruce trees (too hot in the tent), then bathed while the sun was still high and hot. While I was standing naked in my small bucket of cold water, I smelled a strong musty smell like horses. I looked around, thinking that a group of horseriders were upon my camp with me in my birthday suit, but instead I saw that young bull moose plodding lazily up the slope in the woods. What a smell that guy had! I watched him warily for a few seconds, and once I was satisfied that he was heading away from me (and in fact didn't even seem to notice me), I continued washing. After laundry was washed and dry, I sat on the grass and contemplated Mt Mitchell across the valley, lit up in afternoon sunlight, slowly falling apart one rock at a time. A couple of climbers were scaling the north face. I was glad to be sitting comfortably on grass amongst trees and not dangling from a climbing rope hundreds of feet above the rocks below.
As near Washakie Creek, the squirrels were particularly loquacious and bold, and several times a couple of quarreling squirrels ran with a foot or two of me as I sat in the grass. Perhaps in this particular corner of the woods, these squirrels, with their limited range, have not seen a human before? Or anyway have found no cause to fear them.
One benefit of camping up high off the valley floor is the utter absence of mosquitoes. While they were not bad at Washakie Lake, they were still there, humming and buzzing around my face and stealing blood from my neck and elbows. Up at this camp, I neither saw nor heard a single one. A few flies buzzed around but they were not the biting kind, just the annoying kind.
There seemed to be mostly spruces around camp, with rough dark gray bark and splayed needles with pendulous cones. Mixed amongst the spruces were subalpine firs, with whitish, smoother bark and upturned needles with upturned cones. I found the subalpine firs to be better looking trees. All afternoon I heard the occasional thud of a purple fir cone, and finally I spotted why: the squirrels were harvesting the cones by chewing their peduncles until they fell to the ground, then retrieving them from the ground to their midden nearby. They were very industrious and seemingly very territorial.
At 5:00 I cooked Ramen for dinner, then hiked over to Lonesome Lake and fished the south shore until the lake was in shadow at 6:45. Plenty of fish cruised the shallows, and I hooked 4 of them, though all 4 got off the line before I could get them to shore. Sounds like a fish story right? I thought it ridiculous, too. Makes a guy want to use a barbed hook. I could see that at least one of them was a cutthroat, and probably they all were.
I scouted out where I wanted to be standing on the shoreline when sunrise came the next morning, then went back to camp and to bed.

---
August 20 Tuesday
It was a very warm night, and I failed to find a happy balance between freezing without my sleeping bag, and sweating profusely with it. I got up at 5:00, dissatisfied with laying in my tent any longer. I packed up in the dark and ate breakfast of coffee and a Pop Tart (no variety needed on this trip) and by 6:00 it was bright enough to turn off my headlamp. By 6:15 I could not deny what I had suspected since I got up: it was completely overcast. I left camp at 6:15 and hiked down to Lonesome Lake to the sunrise spot I picked out the previous night. I set up my camera and right at sunrise I photographed the lake, as planned. Only problem was there was no sun. The cloud cover was complete.
I hiked south into the chaos of trails and took the widest path heading south towards Jackass Pass. It curled around and soon had me heading towards Cirque Lake. I could see the pass to the south and so I just ditched the trail and hiked cross country straight at it. As I neared it, a well-trod path from the east came into view, and I hopped on that for smoother hiking. I thus remain completely ignorant about what trail leads from Jackass Pass to Lonesome Lake. By 7:20 I was at Jackass Pass, looking back at Lonesome Lake, and a big moose wading in the southern shallow end, sending out ripples across the glass water surface.
Still cloudy and calm, I began descending from the pass towards Arrowhead Lake. Then I saw some folks heading over the pass to the west of me and they were hiking down the west side of Arrowhead Lake. Meanwhile my trail was heading uphill via rocky switchbacks. The route by Arrowhead Lake looked easier than going over the south hump of Jackass Pass, as I was. Unlike most mountain passes I've hiked that simply go up and then down, Jackass Pass is a series of three high points. The first is on the Continental Divide, the second is above Arrowhead Lake and the third is above Lake 10105. Incidentally, the route on the west side of Arrowehead Lake is no shortcut: I reached the junction with that side trail ahead of the group that started even with me north of the lake.
As I descended towards Big Sandy Lake, I encountered increased foot traffic in the opposite direction. Loads of hikers with lots of gear were heading in. One fellow had a guitar strapped to his pack. Big Sandy Lake had lots of campers around it, virtually all of them within throwing distance of the trail. I wouldn't expect any sort of wilderness experience at Big Sandy Lake. Seems like most of the trailhead parking cars' owners were here.
By the time I reached the south end of Big Sandy Lake at 9:00, it began raining. It wasn't a short thunderstorm sort of rain, that you wait out under a big spruce, but a light long-term kind of rain that you just walk in and get wet. I pulled on my rain jacket and hiked quickly downhill as water streamed down my jacket and down my sleeves. The trail was smooth in the forest and I reeled off miles in short order. Closer to the trailhead, I stopped and fished the river and caught 3 brookies and a brown trout on a hopper, ignoring the light rain. It was fun. Catching fish can make you forget minor things like rain, food or water. I once had a great day fishing the Poudre River in Colorado that was so engaging I fished for 5 hours before remembering to take my first drink of water. The sun peeked out as I neared the car, and by 11:45 I was dumping my pack into the back of my car and changing out of my doomed boots. Then I relaxed for in the front seat for the long ride home.

Starting the hike along the Big Sandy River

Camp above Dads Lake

Dads Lake in the morning

Marms Lake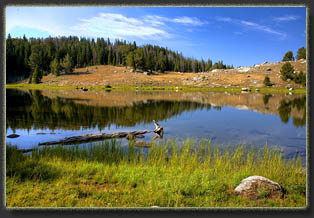 Unnamed tarn along the trail

Pyramid Lake Basin, Raid Peak is the highpoint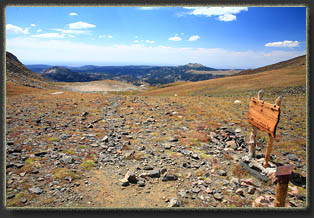 Washakie Pass looking west

Washakie Pass looking east to Macon and Washakie Lakes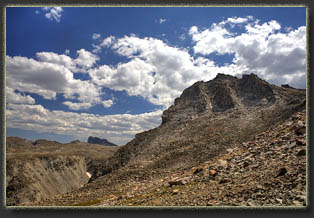 Washakie Peak

Washakie Peak

Macon Lake

Pass Lake below Mt Washakie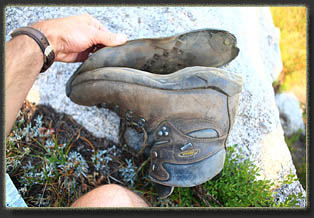 Hiking boot fail

Washakie Lake

Comfortable camping near Washakie Lake

Washakie Lake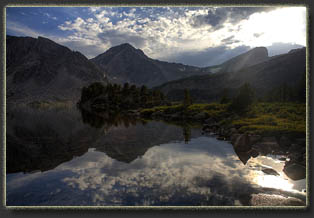 Washakie Peak from Washakie Lake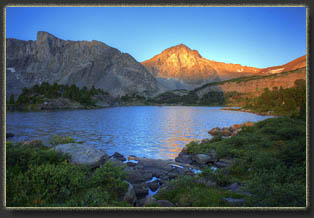 Washakie Peak sunrise

Payson Peak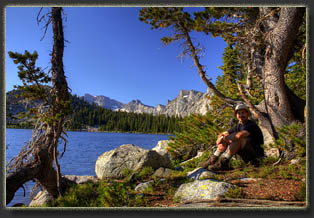 Valentine Lake

Valentine Lake

Bears Ears Trail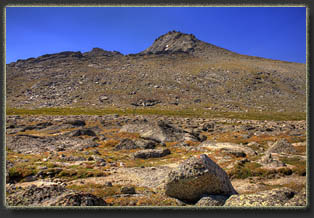 Cathedral Peak from Bears Ears Pass

Lizard Head Peak above Bear Lake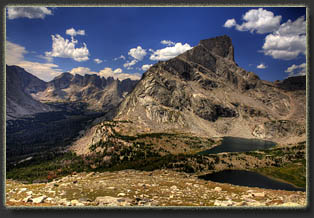 Lizard Head Peak with Cirque of the Towers beyond

Lizard Head Peak, Bear Lake, Unnamed Lake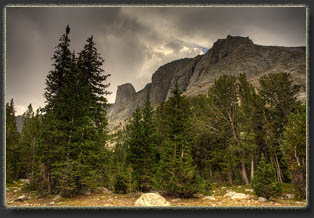 North Fork Popo Agie Canyon

Camping along the N Fork Popo Agie River

Sunrise near the Cirque of Towers

Sunrise along the North Fork Popo Agie River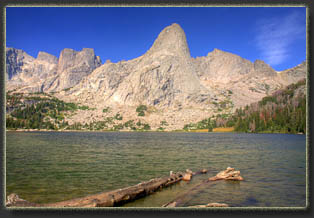 Pingora Peak above Lonesome Lake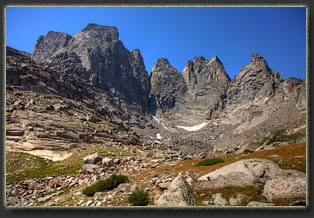 Cirque of the Towers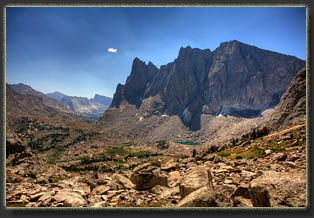 Warbonnet Peak

Mt Mitchell

Mt Mitchell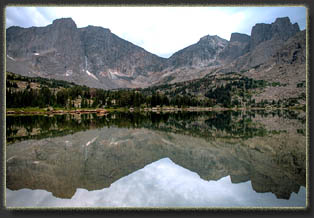 Lonesome Lake

Arrowhead Lake below Jackass Pass

Final look back at the Cirque

Looking south in the Big Sandy watershed

Best fishing of the trip along the Big Sandy River. Small, but fun to catch.