Location: Seven Lakes, Mt Zirkel Wilderness, Routt National Forest, North Park, Colorado
Maps: USGS 1:24K Quads: Pearl, Davis Peak
Access: From Cowdrey, CO, take 6W about 19 miles to Pearl, then go south on 6A/FR600 about 6 miles, avoiding turns, until you arrive at the edge of Big Creek Lake and the Seven Lakes TH.
Trailhead: NAD83 zone 13 364214e 4532926n Elevation: 9000'
Trail: 6-miles, elevation gain of 1700 ft, moderate difficulty
Fees: None
Dogs: Voice-control
Webcam: Steamboat Springs, 15 miles to the southwest
Weather: Current and recent Local Forecast
---

June 30, 2007
As the summer reached and then passed itís zenith, Andra and I once again got that camping itch. Like a good appetite that is ruined with just one chocolate chip cookie and yet always comes back again, that old backpacking itch seems insatiable. We were powerless to resist the call of the winding mountain trail. The dogs were powerless to resist the promise of 10,000 unmarked trees, so we loaded all our gear into the Saturn on Saturday morning and sped off west through Laramie, then southwest through Woods Landing, Mountain Home and steered west at Cowdrey in Colorado. From there it was a short cruise on a dusty gravel road under a turquoise-blue sky with little puffs of clouds to the small settlement of Pearl, and then finally south to the shore of Big Creek Lake. Along the way we noted the devastation wrought by the insatiable appetite of the minute mountain pine beetle. About half of the forest was dead and brown, with another quarter dying and exhibiting various shades of brown and red, such as one might see in Vermont in September. Not, however, the usual sight for Colorado in June. All of North Park, South Park and locales in between have been blighted by the mountain pine beetle. Though it is the natural cycle of things, it is not pretty to watch. Such a forest is destined to burn in a towering conflagration, but then that is what lodgepole pine is ideally suited to. The Denver Post stated that over 1000 square miles of Colorado lodgepole pine forests, which are typically 99% lodgepole rather than mixed with other species, have sustained 80-90% tree mortality.

Due to our late start, which Iím sure was largely Andraís fault (OK, really it was my own), we stepped off smartly on the trail at around 1PM, way too late for seasoned mountain hikers. Nevertheless, the forecast did not predict thunderstorms, so we felt alright about things. The heat was the only downside, as even at this lofty altitude of 9000 ft, the air was still and stifling. Luckily, frequent stream crossings allowed Frank and Makenzie to wet their feet and lap up some cool water to keep them happy. The first section of the trail was a self-guided nature trail, you know, the kind where youíre supposed to walk along, stop at a numbered post and open up your guide to read about how water carves canyons, or beavers chew down aspen to dam streams. This trail was the most ambitious self-guided trail Iíve ever seen: We only walked ½ of it before forking off up towards Big Creek Falls, and we passed 21 numbered posts. At that rate, it would take someone all day to complete the 2-mile hike around Big Creek Lake.

Once we were on the trail uphill away from the lake, we lost most of the people we encountered on the trail. Only a couple of ladies ahead of us remained. We cruised through aspen patches and dappled sunlight under slightly -alive lodgepole pines until we came to a sidetrail that led down to the base of Big Creek Falls. Roaring with spring runoff, the falls was impressive, and the air near it was indulgently cool with the fresh spray of mountain water. We tarried for 10 minutes or so by the water, and the two ladies near us on the trail took a photo of us and the dogs (the dogs never cooperate and look at the camera).

Back on the trail, we walked another mile or so before the heat slowed us down to a crawl, whereupon we ditched the trail and took to the waterís edge for 15 minutes. Andra soaked her feet at intervals in the bone-numbingly cold water while I simply aired my feet out without dipping. Makenzie eagerly fetched rocks thrown into the swift current, and Frank watched us quietly from the tall flowers 15 feet away.

Shortly after our break, we left water for awhile, and followed the trail up a multitude of switchbacks that gained significant elevation in a short time. Laboring under our packs and the heat, we made poor time on this stretch, but the woods were beautiful. Much of the conifer population was dead in this area, and many trees had fallen across the trail and not been cleared away. At the upper elevations, where lodgepole pine is not so predominant, the spruces are all dying in a seperate infestation of spruce beetle, which specifically likes to eat weakened and dying spruce trees. In the late 1990ís, a freak wind burst blew down living trees across thousands of acres within the Mt Zirkel wilderness. So many dead spruce trees attracted large numbers of native spruce beetles, which then built up a massive population that soon spread to attack neighboring living trees. The result is that almost every spruce tree over 10 feet tall in the wilderness is dead. I found a few of appreciable size that still lived, but very few. Many small and vigorous spruces still remained, as they were still healthy enough to fend off the beetle attacks with prodigious amounts of sap. With the pines and spruces mostly dead, firs alone provided significant green to the forest. I lament the passing of the conifer forest, but I look forward to the massive, horizon-to-horizon aspen stands that will grow up quickly as the overstory of conifers melts away. Mt Zirkel will be THE place to be on around September 20, 2087. You heard it here first. Make your reservations now. Maybe Iíll at least be able to drive past it at that point. As the trail rose up, we were able to catch glimpses of North Park and Big Creek Lake in the distance. We surprised a deer rounding a corner, and it froze for a moment before bounding off into the forest. Scattered columbines and numerous blue Jacobís Ladder lent color to the understory.

The trail leveled out at around 4 miles, and for the remaining 2 miles, we walked a series of slight ups and downs along a generally elevating ridgeline to a split in the trail leading to either Davis Peak or Seven Lakes. We hiked on up to Seven Lakes and arrived at around 5:00. After surveying the area briefly, and contemplating what definition should be used to count the actual number of lakes, as there were dozens of small tarns that hardly qualified as lakes to my way of thinking, we chose a flat camp site near a clump of conifers (mostly dead spruce), and pitched the tent. The Seven Lakes (or, really 5 lakes and 2 or more shallow pools) lay in a wide basin, with some lakes separated by only a thin strip of boggy material. Clumps of conifers rise up in areas, but much of the area is wet meadow. As such, about a billion mosquitoes call this basin home. We quickly slathered ourselves with insect repellent and then took a walk around to tour the lakes. As far as I could tell, we were the only humans in the basin that night.

We wandered south to a lake that had giant iceburgs floating in it, bubbling ominously from the parts below the surface. Makenzie and Frank both hopped in for a brief dip, Frankís briefer than Makenzieís, before we moved on to another lake with a shallower bottom. Here we entertained ourselves by throwing rocks into the water for Makenzie, who would search around with her paws until she felt what might be the rock, then dunk her head underwater and retrieve it. Sometimes it was even the same rock. Sheís always good for a laugh.

As the sun sank lower, we cooked a gourmet dinner of Ramen noodles on a rock outcropping near camp. Anytime we sat in one place for longer than 5 minutes, the bugs called in their reinforcements and netted headgear was absolutely required. If you ever go here, neglect the bug gear at your own peril! Consider this of the lowly mosquito: Swarms of these little devils will likely be sucking the blood of warm-blooded mammals long after all memory of humankind is erased. Think about that. I spent some time snapping photographs using the reflective lake surfaces to reflect the firs and spruces along the shoreline of the lower lakes. We all took a walk east to the largest of the lakes, then back up to camp and into the tent. While Frank slept and Andra and I read, Makenzie continued to wander around outside, working off but a small portion of her boundless energy. As dark fell, I called her in, brushed off the mosquitoes as she entered the tent, and we all went to sleep.

July 1, 2007
The next morning the sun rose on our tent at 6, and I noted Makenzie was already awake and standing near the tent flap, ready to go outside and work off some more of that limitless energy reserve she has. I let her out, got dressed, and pulled Frank out with me as I left Andra to snooze awhile longer in the tent. The dogs and I walked around the south side of all the lakes, then returned in a circuit to camp, taking perhaps an hour to explore the glens and meadows of the place. Millions of white and yellow marsh marigolds covered the boggy interspaces between the lakes, and the water was running across every surface. It is one of the wettest places Iíve been. At the basin outlet, snow shelves 8 feet tall still remained on this first day of July.

Back in camp, Andra was up and about so we had breakfast of Clif bars near the waterís edge. We filtered water and watched small leeches swim gracefully along the sandy bottom of the lake. Iíve never had a leech dig in on me. Hope not to. We leisurely packed up our gear, and began the hike out at around 8:30, intending to stop lower down the trail where the bugs werenít so bad to rest and read for awhile. Going downhill, we made good time, although our knees felt it. A small fire burned on an opposing slope, nothing significant, but it did send up a steady plume of white smoke. With all the dead trees in the woods, it is not surprising to see smoke. I harbored a secret desire to see all the dead trees burned away, wiping the slate clean for that aspen revival I keep picturing. The day grew hot quickly, and when we reached the first stream crossing, we stopped for a break. Andra waded in the water, briefly, and I sat on a log and enjoyed the sound of rushing mountain water, the feel of the cool shade, and the sight of the lush banks of grass and delicate blue Mertensia. No bone-chilling, heart-stopping mountain water for my warm feet, thank you.

On down the trail another couple of miles and we stopped again along Big Creek for a nice long break. Andra napped in the shade and I threw sticks and rocks into the creek for the dogs to fetch. Makenzie swam in the deeper parts, but Frank was content to simply splash around in the shallower reaches of the wide stream, snagging unsuspecting sticks from the current and utterly destroying them in his bloodlust. I even waded for a few steps, which is about all I could take before my feet began to hurt terribly in the frigid water. After Andra woke up, I took a 10-minute nap, and then we had a small lunch of peanut butter and jelly tortillas.

We cruised down the remainder of the trail with no stops, and reached the car at around 1:00, almost exactly 24 hours after we had left. The car was baking inside, and we had to let it air out for several minutes before we could hop in and drive off.

The only downside to the entire trip occurred after we left, when a road crew shut down highway 125 to Laramie for over an hour. We detoured back through Walden and took the Laramie River Rd to Laramie, but it eventually took us 5 hours to return to Cheyenne. Yipes! Thatís a long time in the car. The dogs agreed. The only solution that seems workable is to make sure we stay more nights next time!

---
THE MAKENZIE SERIES: A dog dives for rocks
See also: Canine dimensia

It must be down here somewhere....

Where the heck could it have....
This water is kind of cold...

Shoot! Hate it when water gets in the ears.

Okay, let's see, this feels promising....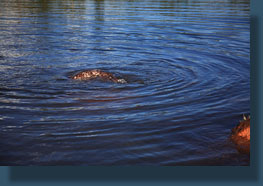 Let's just check this out....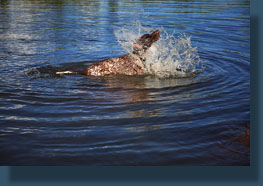 Shake it off! Shake it off! Try again!

Aha!! Here it is! Success!!! I think I'll bring it to the humans so they can throw it in the water again and laugh wildly at me. I like that.