Mt Richthofen
Location: Colorado State Forest at Cameron Pass, on the northwestern border of Rocky Mountain National Park, Colorado
Access: From Tedís Place at Hwy 287, head west on CO-14 for 60.1 miles, just over Cameron Pass, to the well-signed Lake Agnes turnoff on the south side of the highway. Turn onto the dirt road, drive past the guard shack, and at the first intersection, turn right and follow signs past the campground to the Lake Agnes TH.
Maps: USGS Mt Richthofen 7.5í quad
Trailhead: UTM NAD83 z13 423487e 4482520n 10,300í
Trail: Total to Mt Richthofen is 2.6 miles with 2,590í net elevation gain. Only the first 0.6 miles to Lake Agnes follow an established trail. Beyond that, there are faint social trails around the lake, and once your above the lake, there are no established routes at all. The route meets loose tallus near the saddle and then steep pitches and class III scrambling above that.
Fees: $7 daily pass
Dogs: Not recommended since the route consists of loose boulders. Leash law in effect in Colorado State Forest, and they seem to be a bit anal about enforcement
Weather: National Weather Service Forecast
---

July 2, 2010
Throughout so many trips to the incomparable Lake Agnes near Cameron Pass, Mt Richthofen loomed over the cirque, dominating the skyline. The climb, however, is not inviting, consisting of over 2000 ft of vertical elevation gain over a loose, steep boulderfield. Thatís my least favorite type of hiking since itís slow, and requires full attention at your feet all the time, so you end up missing the scenery unless you stop to look around. Naturally, I have been eager to hike Mt Richthofen for many years. Finally got my chance. Christine and I began at the Lake Agnes trailhead around 7:00, and were the only ones around, apparently. After braving the mosquitoes to put on our hiking clothes and pack our bags, we started the hike up to Lake Agnes under a nice clear sky.

Iíve described Lake Agnes elsewhere, but the description is rather poor. The trail to Lake Agnes was rerouted in the late 1990ís to counter erosion, and the new trail gets you to the lake almost as quickly, but with a little less steepness (as physics would dictate). The trail to the lake runs through spruce and fir, all dripping with moss, rising 363í feet in about 0.6 miles. The lakeshore sits at 10,663 ft, and as such, is mostly rocky and barren. Trout have typically been abundant in Lake Agnes, but I am sure only due to recurrent stocking by the Colorado Division of Wildlife. This lake freezes hard, and is under ice over half the year. Iíve been to Lake Agnes on July 4 to see ice still on the lake. The crystal clear waters all around the lake make an awesome mirror for the snow-rimed cirque to the south, and the little island in the lake adds even more interest. Iím so glad they didnít cop out and call this Island Lake, which seems to be such an overused lake name in the west, along with such unimaginative names like Blue Lake, Bear Lake, Deer Lake, etc. etc.

At the lakeshore, we headed west, rounding the lake counterclockwise until we were just about to the south edge, at which point we had to head uphill dramatically to get past cliffs that blocked the way around by the waterís edge. Later in the year, we could simply have kept to the waters edge the entire way, but the high water level covered the flatter parts of the shoreline, so we headed upÖway up. We ascended almost 200 ft before we passed the southern edge of the lake. From there made our way slowly south on the steep slope, passing over a cascading creek emptying from the small lake above, and then into the boulderfield. I was leading, so I had to make sure Christine was never directly below me, lest I kick loose a boulder that goes tumbling down the hill. Additionally, I had to make sure I didnít knock loose a rock that would send me stumbling, or falling, or twisting an ankle. This is why I donít like boulder fields. Too much work!

We pegged along slowly through the boulders, and it ate up lots of time. By the time we reached ~11,600', the sky had turned ominously cloudy, and with the giant cirque wall blocking views to the west, we didnít really know how bad it might be getting. The wind was pretty fierce, and clouds were racing across the sky, not much higher than where we were, all of them exhibiting a cycle of being ripped apart, spiraling around, then reforming. To the north, the Diamond Peaks were apparently being hit by rain, and we determined that not only shouldnít we continue, but weíd be lucky to get down without getting stuck in a thunderstorm. Yes ladies and gentlemen, it was 10:30 in the morning.

We headed down, bearing further east than the ascent in an attempt to avoid the steeper, and apparently less stable, sections of the boulder field. The descent was complicated by rain, which made the rocks slick and my hands cold. We reached a braided stream that was thick with Mertensia and Trollius, and fell into the relative safety of the krumholtz fir forest, whereupon the hail began. Tiny pellets of translucent ice bombarded us, but luckily only for a few moments before the rain returned. I slipped on a big rock and fell down the 10-foot rock face, ripping the seat of my pants. Other than hurt dignity, I was OK. We crossed several large icefields, and Christine skied down on of them in her boots while I stuck to the more pragmatic rock access, though sticking to the rocks hadn't worked out for me that well so far. We reached the lake, and the sun came out. The sky cleared, and all looked fabulous once again. As quickly as it had rolled in, the storm moved on out. Still, no regrets on turning back, as the day was still pretty active, and Iím sure storms developed again shortly after we moved on.

Reaching Lake Agnes, we headed again in a clockwise direction, sticking to the shoreline which is nothing but barren loose rock that has tumbled down from the Nokhu Crags above. Several hikers and their dogs were having fun on the north edge of the lake in the trees, and we stopped too to enjoy snacks and the tremendous view of the cirque. Eventually, we turned away and hiked back through the woods to the car, leaving the summit of Mt Richthofen for another day.
---

August 14, 2011
A little over a year later, I gave it another shot, this time solo. I got up super early, leaving Cheyenne by 5:00. The sky was a little cloudy heading west, but I figured it could change, and it did. By hike time at 7:30, the sky was mostly clear, and I was feeling great. I hiked up to Lake Agnes, enjoying the fact that a year passes but the trail looks exactly the same, as if it were only yesterday I was here. I skirted around the east side of the lake, which Iíve concluded is far easier than the west side, despite the fact that you have to navigate a boulder field. The tundra south of the lake was full of color, with Mertensia and columbine dripping from the rockfields. Marmots chirped at me from above as I slogged uphill through the meadows, and over boulders. I avoided snowfields by careful route planning, and finally made it up to the edge of the big boulderfield that starts around 11,600 ft, and the spot that Stein and I turned back last year. From there on, it was slow going over loose scree and unstable boulders, up to the saddle between Mt Mahler and Mt Richthofen. Awesome spot. Thereís a little rock dugout there, and fantastic views of these intimidating mountains. About this time clouds rolled in, but I could see they didnít have much height, so I wasnít worried about lightening, and they didnít look to be packing much moisture so I didnít fret too much. More annoying was the stiff gusty wind that cropped up.

I began the ascent of the west face of Mt Richthofen, and I just couldnít believe how steep it was. The entire mountain is covered with scree and boulders, few of which are anchored. I was constantly kicking down scree and boulders, and was glad there was nobody below me to worry about. The first 200í were especially bad, but it slacked off a bit, and there were portions of solid rock to cling to here and there. I scooted on up in spurts, planning my route carefully to avoid getting into a tight spot. This was a fun section, with amazing views of Mt Mahler across the saddle. Man, what a fierce looking mountain. I pondered that while you gain fabulous vantage points of nearby mountains as you climb up, you never really see the mountain you're actually climbing. There's probably some deep meaningful parable about life buried there, but I'm not going to explore that.

Thereís a chute that leads naturally up this side of Richthofen, and eliminates any exposure to the stupefying north face of the mountain. The west face is scary enough without any views down to Lake Agnes below. I slogged on, very slowly, very careful of any misstep that would spill me down the chute. At 12,500, I reached a pitch so steep that I immediately decided to abandon the attempt. Thatís hard, being only 400í vertical from the summit, but with the clouds, wind and extreme slope covered with loose rocks, and the fact I was all alone, there was no question of continuing. When it stops being fun, itís time to go home. I slowly backtracked down the steep pitch as if descending a ladder, watching below me to make sure I didnít get cliffed out, to a point where I could turn around and face downhill to pick my route better. I took off my pack because the pitch was too steep to wear and face downhill without the pack pushing against the slope behind and pushing me off balance. I set my pack down and thought I had it stable, but when I let go of it to inch my way down, it rolled about 200í down the chute, luckily coming to rest in a place where I could get to it. I wish I had brought rope for this section, which would have made lowering a pack much easier. The bright side was it was much easier to descend without a pack! I crawled down until the pitch leveled off a bit, and retrieved my pack. The pack was unhurt, and I continued on down to the saddle, glad to make it down to sane terrain.

I enjoyed the views from the saddle and let the adrenaline dissipate from my blood, then hiked on down to the lake through more beautiful wildflowers and upset marmots. Quite a few people milled around the lake, and I even got sprinkled on from passing showers, but it soon passed and the sun came out again. I burned a lot of time checking out the wildflowers, man what a show. I watched for trout in the lake, and saw quite a few near the outlet, all red-bodied for the fall spawn. Beautiful fish. I had my fishing rod in the car, and debated hiking down to get it and coming back up, but I was already far later than I expected Iíd be on getting back home, so I decided to bag that plan and just drive on. Ended up reaching the car at about 1:15.

I know folks hike this mountain fairly regularly, but itís just not for me. That loose rock is unnerving on the steep pitches above the saddle, and itís just workÖnot fun at all. Every article Iíve read classes Richthofen as a 3, but having been on numerous Class 3 climbs, I can tell you this is at the upper end of that group. Longs Peak is also a Class 3, but this hike makes Longs Peak seem like a routine walk. For so long I had Richthofen on my summit list, but Iím crossing it off without catching it. When it gets to be no fun, thereís just no reason for doing it. On the other hand, the hike above Lake Agnes to the saddle has to be one of the most spectacular hikes I've made, good enough to do twice and take more pictures the second time around. It reminds me that the summit is not the goal, just a convenient turn-around point.

The trail to Lake Agnes

Agnes Lake, with Mt Richthofen center,
Mt Mahler on the right

Lake Agnes

Stein picks her way around the west side of Lake Agnes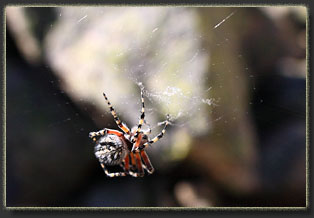 Boulderfield spider

The boulderfields above Lake Agnes

Lake agnes with Diamond Peaks behind, Nokhu Crags on the right

Snowfields at the saddle between Richthofen and Mahler, July 2

Steiner at 11,500 ft

Ominous clouds send us heading down

The day clears once we're near the lake

Looking south at some of the
Clouds Peaks from the saddle

Looking north to the Rawahs. Clark Peak, tallest of the bunch, is tallest on the skyline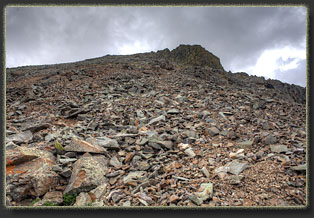 The cheerless and difficult pitch up
the west side of Mt Richthofen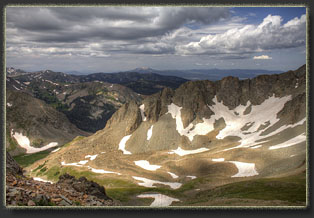 The fluted south ridge of Mt Mahler

Mt Mahler and Seven Utes Mt

Mt Mahler from the slopes of Richthofen

The route up Richthofen..near where
I decided I'd had enough