---
Tuesday September 3, 2002
In late afternoon we passed the Oregon/California border, had our apples inspected, and an hour later stopped at a KOA near Crescent City for the night. This was the first time we saw redwoods, and in fact our camp was smack dab in the middle of a redwood forest. Andra went to shower first while I set up camp and cooked dinner in the quiet of the dark woods, growing darker all the time. Just before complete pitch black enveloped us, we ate dinner. I then went off to shower. All the trees were second growth, having been logged in the last 100 years, but darn huge by Colorado standards. The stumps in the area were immense, up to ten or eleven feet in diameter.

---
Wednesday, September 4, 2002
We awoke to the sound of old women, apparently out on an early morning walk from the RV section, giggling and carrying on and shouting to each other in the perfectly still morning air. They had found a log wedged under another log that acted like a spring board, so that it was apparently quite fun to sit on it and ride like a cowboy. Of course, this generated much noise and since it occurred only 10 feet from our tent, much frustration. Andra poked her head out of the tent and glared, as only Andra can do when woken up prematurely in the morning, and they left. But the damage was done, and we were awake for good. I secretly didnít mind, since I like to get an early start, but I had to feign indignation to mollify Andra. It was a short drive south to the Redwoods National Park and I had to stop every now and again to check out the trees along the Newton B Drury Parkway. We were both tired and took a nap in the car for an hour, then arrived at the State Park HQ at noon. We got our backcountry permit and set off up the trail under a spotless blue sky, or at least what we could see of it beyond the immense canopy of trees. I had seen pictures of the Redwoods all my life, so it was not a shock to see how big they were. I expected them to look the way they do, but I was pleased to soak in the sight nonetheless. I had that first moment of hiking in the redwoods playing in my head since I was 10, and it didn't dissapoint as it finally arrived. What did surprise me was how close together they grew, and how large the ferns in the understory were. Going off the trail was never really an option like it is in so many forests. You're pretty much walled in the whole way. We walked slowly and took a long time to get to camp. The camp was located 4 miles west of our car right next to the beach. We were a tad disappointed to find a road laid within 50 yards of the camp, and a car camp located only 1/8 mile SW of us. The map had not clearly shown that this was the case. But our campsite was secluded, sheltered by hemlock and spruce, and very cozy. We set up camp and then walked down to the beach where we watched a group of seals eat fish in the surf for about an hour. The sunset over the ocean was the cleanest I have ever seen. The orange globe flattened in the cloudless sky, then seemed to fall apart as it dipped below the horizon. We walked back to camp in the pale blue glow of dusk and went right to bed.

---
Thursday, September 5, 2002
The next morning we were awakened by the cries from an angry bird overhead. Andra commented that I must have paid the bird and the ladies yesterday to wake her up in the morning. We fixed oatmeal for breakfast and began to pack up camp. Everything was soaked with dew so it took awhile for things to dry off in the dappled sunlight. While we were packing up, we began hearing lots of rustling and twig cracking on the slope opposite where our camp was stationed on a bluff. A thin draw separated us from the activity. Andra asked me what Iíd do if it was a bear. I said Iíd pack up real quick and get the hell out of there. It was indeed a bear. A black bear with golden brown fur was peacefully stripping berries off plants in full view about 50 yards away. We packed up camp, but not with real urgency since the bear was not coming toward us and was obviously not at all concerned with us. I watched the bear close up with my monocular. Good looking creature, that. Few animals convey such a sense of cognizant thought as I could see in this animal. He had a goal, and he went about it with as much efficiency as a human, and almost as much dexterity. We stuck around 10 more minutes watching, Andra getting more and more nervous, then left. Should we have been nervous? I donít know. The books and guides say we should, but I think most of what the books and guides say is BS, so perhaps personal experience is the best learning tool. This personal experience taught me that bears busily eating berries donít care jack squat what's going on around them. I would speculate that particular observation would fall apart if one were roasting T-bones over an open fire, but again, that's just speculation.
The route back was a lot longer than the trail distance advertised on the signs, or I am losing my mind. It took us over 5 hours to travel an official 6 miles, and hardly any of it was steep or rough. I donít believe it. By the time we got back to the car we were famished. We drove into Orick and ate burgers at Jackieís Snack Shack..a horrid little grease pit that sent my intestines into
brutal civil war. I'd rather eat D-Con than have another Jackie's Snack Shack burger. I was amused by the posted anti-governement slogans and conspiracy doctrines put up by the few remaining inhabitants of this decrepit logging town. What a dump. Just nuke it and start over. We enjoyed walking along a beautiful beach near Humboldt Lagoon that we had all to ourselves. Seals were in abundance and we watched them for a long time. We stayed the night in Arcata at a Super 8 Motel. I avoided the next door Motel 6 because of the experience in Boise with the short mattresses. After we had checked-in and showered, we drove to find the beach. Turned out the beach was many miles away and we got there only just before dark. It was a heavily utilized beach and at least a dozen folks were out surfing, with twice that number in the immediate vicinity of our entrance onto the sand. It was cloudy to the west, so the sunset was muted, but seemed to make the water shimmer with more color than had the one the night before. The Army helicopter on maneuvers over the water tended to spoil my preconceived notion of California coast. We drove back into town and ate at Round Table Pizza. Very tasty. Back at the hotel we watched Total Recall. At 1AM we were both awakened by a man screaming obscenities and banging on walls in the hallway. We listened for a while before calling the front desk. The front desk clerk called the police who came and opened his door (2 down from ours) and interrogated him. Apparently the man had drank bleach and sounded like a drunk or a retard. He could barely say his name, let alone what happened, or why. The cops kept asking him if he had drank the bleach they found in the room. Whether he did or not, I donít know, but they took him to the hospital in an ambulance after awhile and things settled down. Should have stayed in the Motel 6 again. Better yet, shouldíve backpacked into the woods 2 miles away from the nearest human...the only surefire way to find peace and quiet.

---
Friday, September 6, 2002
A cloudy morning sort of ruined our beach plans, so we went to the Redwoods again and hiked short trails in the National Park. We visited the "Big Tree", which turned out to be a lie, since the real "Big Tree" was located down a 5 mile trail to the south. The Park Service, of course, has to give the average motor-car RV fat-ass tourist what they want, and do so within a 5 minute walk or else the masses revolt. Hence the lie that can be conveniently overlooked by anyone showing their vacation pictures to friends back home. Myself included. The amusing thing was standing around watching everyone try to figure out how to get the whole tree in the picture at once. Myself included. Down the road we reserved a tent site at the State Park campground and headed for the beach at Humboldt Lagoon. The weather had briefly cleared while hiking in the forest, but by the time we arrived at the beach it was completely gray again, and colder than ever. We still spent about an hour walking down the shore and watching seals as they watched us from just offshore. Three surfers were giving it a go, but other than that no humans were in sight. I fed seagulls a few mussels I pulled off the rock and pried open. One would grab a treat and prance around like Frank, my dog, showing off to all his friends. We ventured back to the State Park and set up camp where Andra stayed near the tent to read while I took a 2 hour hike on the trail nearby through the big trees. A lot of that time was spent sitting quietly just off the trail in the giant ferns, enjoying that incredibly scarce commodity, silence. At dark we walked around a little together, then went to bed.
---
Saturday, September 7, 2002
The next morning was bright and sunny again, but our gear was soaked with dew nonetheless. It took hours to dry everything out, during which time we cooked oatmeal and walked a short trail to check things out for the final time. We passed through Arcata at 11 and ate at Round Table Pizza again. We also played a short game of Mrs Pacman where Andra beat me 16,000 to 500 or something like that. A little scary that she's so good at that. On the road, we listened to "The Library Policeman" by Stephen King as we drove east from Arcata into the Sierras and toward Redding. I stopped to pick up Digger Pine cones along that road, cones that are 4-5 lbs and heavily armed with spines. We saw what we believe to be a fatal pedestrian-truck accident on the road, and Andra got pretty ill on the curvy road that snaked to Redding. Somewhere it seemed as if we lost a couple of hours because the trip to Redding took about twice as long as it should have. Lot of time-warps in California, apparently. I've always heard that reality is a little warped out there. We ate at a Taco Bell in Redding that required tokens to open the restroom door...rough neighborhood, I guess. We scrapped our hopes of going over the eastern swell of the Sierras into Susanville that night, and instead called our friend Felicity who lives in Davis. She invited us to stay the night and we made it there by 7. We met at Dos Coyotes and had a nice dinner before going back to her apartment to talk and carry on until midnight. Felicity works at UC Davis, and was hosting a visiting professor from Uraguay, who was very animated and talkative. It was a fun night and a nice little reunion since Felicity had moved away from Fort Collins more than a year before.

---
Sunday, September 8, 2002
We left at 7:30 for Salt Lake City. Both of us were tired and we took turns snoozing as the other drove. It was a bright and cold day as we drove through the mountains. Providence stepped in and allowed fresh-baked donuts to be on hand at a remote gas station we happened to stop at. Armed with donuts and chocolate milk, we drove on fearlessly. We shall overcome. Unfortunately, Andra crashes like a plagued sparrow if she eats sugar before 5PM so she slept the whole way starting 5 minutes after consuming the donut. Near Lake Tahoe, I stopped on a side road and picked up three Sugar Pine cones, the longest cones of any pine tree at about 18". The trees were very unique for pine trees and were very beautiful. I especially remember the rich, sweet smell of those forests. I tried to get Andra to get up and see the cones and the trees. She glared at me for 3 seconds, then closed her eyes and went back to sleep. Some people just donít appreciate a good pine tree. We motored on with very few stops through Reno and across Nevada. We had to make our own rest stop in the middle of nowhere since the official rest stops are about 100 miles apart the whole way, and we had a lot of chocolate milk to get rid of. Lunch was taken at a seedy Burger King in Winnemucca. We arrived in Salt Lake City at around 7:00, completing the trip from Davis in about 10 hours. We stayed with Andraís high school friend, Larisa, and her husband, staying up once again very late engaging in pleasant conversation and being entertained by the antics of their two chubby cats. You just don't see two male cats trying to hump each other very often. They should get out more.

---
Monday, September 9, 2002
Morning came early with the alarm prompting Andra to question if I had set the clock ahead and was it really 7 already? Maybe it was 6 and we could sleep longer? I assured her the clock was correct and we got up, showered, ate breakfast and left by 8. We started the Rainmaker, by John Grisholm, on tape and I have to say it was awfully corny. I'm sure it would make an excellent Hollywood movie. Did it already? We drove south from Salt Lake City to Green River where we had entertained hopes of stopping and exploring canyons. Time was short, however, and we decided to save that activity for another day. We had lunch at Subway in Grand Junction (avoiding the Fruita Subway that does not give free refills on soda), and shortly after that, we ran into cloudy weather. Just past Copper Mt, the rain came down very hard and interstate traffic slowed to a moderate 40 mph as visibility sunk to nearly nothing. We arrived in Aurora at 5, just in time for rush hour traffic, to pick up Makenzie, who was staying with Andraís sister while we were gone. Then it was up I-25 to the Fort where we split company at around 8. I got home and greeted the frantic Frank and unpacked before going to bed early to get up and go to work at 6:30 the next morning.
---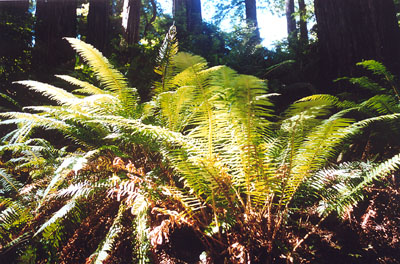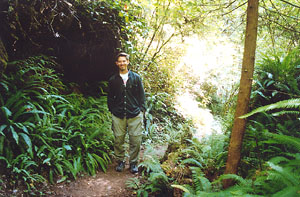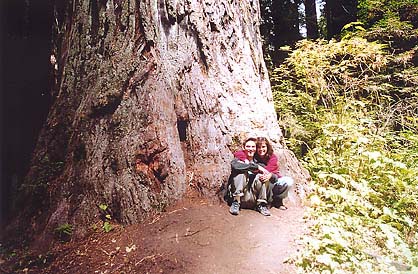 ---
Main Camping Page
Next
---

Visit the image galleries at www.landscapeimagery.com for more scenic photographs

---
Page Created 11-19-02
Updated 1-16-06