Bull Gulch, Colorado
Location: South of Burns, Colorado, along the Colorado River
Access to the north side: From I-70 west, take the Dotsero Exit (133) and head north on Colorado River Rd 23 miles to Burns, and then another 3.1 miles to the Eagle County Rd 41 junction. (If coming from I-70 east, take the Wolcott Exit (157) and head north on Hwy 131 for 21.3 miles, then west on Colorado River Rd for 8.6 miles to the Eagle County Rd 41 junction, as above). Turn south onto CR 41, then immediately veer right on to Road 8540, a graded dirt road that has a Castle Peak sign along it. Head southwest on this rough but occasionally-graded road for 3.5 miles to a fork in the road and veer right to stay on Rd 8540. Road 8540 ends at a locked gate on private property in another half-mile, but just before the gate there is a rough jeep road (Rd 8544) that heads west. The route is very rough, and requires high clearance and four-wheel drive. I found it a good spot to park and start walking. There's another jeep road a bit further north, Rd 8543, that also heads west, but also requires a beefy rig to navigate. Both roads provide decent informal campsites. The BLM has a good travel info. There is also access from the Colorado River and from the south via Gypsum, but I have no knowledge of those areas.
Trailhead: UTM NAD83 z13 340640e 4410549n 8568'
Trail: What trail? Head west along the private property fenceline via game and stock trails for almost a mile, then turn south at the fence corner and head southwest through the forest to the rim of Bull Gulch at about mile 2. There's a trail on the USGS topo that connects Black Mountain with the private property fence, and that is a good route to find and use for access to the northern rim and Black Mt. There is no easy way down into Bull Gulch from the north rim, but a passable, though steep, access appears likely from the west and south edges.
Dogs: Fine
Fees: None
Weather: Current Conditions Local Forecast
---
View Larger Map
---
September 21, 2013
Arriving around 11 in the morning to Eagle County Road 41, Andra and I spent the better part of the next 45 minutes cruising rough dirt roads and examining maps and aerial photographs of the area, trying to figure out where best to go for access to Bull Gulch. I had no such detailed directions as above, so we were winging it. Luckily the day was clear and dry, the roads were hard-packed, and overall it felt like a nice day to be out exploring. I attempted to cross a small creek on Rd 8543 and got stuck halfway across, and this accounted for most of our 45 minute road exploration. The old Forester just wasn't beefy enough to get over the rocks. Luckily, reverse was still an option, and I managed to extract our car to higher, dryer ground after a few tense minutes. After deciding that Rd 8544 also presented some sketchy spots, we parked on Rd 8540 just north of the spiked private property gate and started walking.
Stock and game trails weaved through the sagebrush, providing easy passage. We generally followed the sturdy boundary fence to the west, passing by a General Land Office survey monument from 1916, and shortly thereafter entering a thick aspen woodland filled with an understory of prickly rose. The game trail provided easy passage west and when we reached the private fence corner, we turned south, and continued following games trails towards the northwest rim of Bull Gulch. At this highest point of our hike, the trail passed under large Douglas fir, many of them dead and skeletenized.

We happened upon a very faint two track that is noted on the USGS quad, and followed that to the southwest, right to precipitous edge of the canyon. Sandstone cliffs dropped straight down about 100 feet to jumbled tallus and a steeply-sloping clay embankment below. Beyond, the red rock sloped down steeply under a smattering of Douglas fir and pinyon pine to the deepest channel of Bull Gulch, well over 1000 feet below, completely hidden by a coniferous canopy. The carved canyon walls above the Colorado River, some 2500 feet below, gleamed orange amongst a solid conifer carpet a little over 3 miles to the west, beyond which lay the Flat Tops Wilderness. The southwest wind funneled up Bull Gulch and streaked over our cliffside viewing area like a jet engine. I gave up all hope of keeping my hat on my head and simply took it off. I set up my tripod, which is heavy 4-pound model, and had to hold it with white knuckles to keep it from jittering and shimmying in the wind. Thirty or forty feet back from the rim, the wind was manageable, so we only approached the rim for brief periods.

Andra and I followed the faint two track downhill along the rim, making our way towards Black Mt. I had schemes of climbing it, but I had to admit that the wind was taking a lot of the fun out of the experience. After descending several hundred feet and taking in a few more natural perches on the rim to admire the country beyond, we turned around and hiked back exactly the way we'd come towards the car, stopping on the eastern edge of the aspen grove to snack and enjoy the quiet. We arrived back at the car around 3:30, but in the late fall sunlight, it felt like evening was about upon us. We backtracked down to Rd8543 and camped there, building a cheery little fire to ward off the evening chill while we scarfed down some instand lasagna and chocolate mocha "pie" (in reality just a pudding with crushed graham cracker on top).

September 22
Next morning we slept in until almost 8:00, surprisingly late considering the bumpiness of the hard ground we were sleeping on. It had rained lightly during the night, and everything was wet when we got up and around. I boiled water for coffee which we drank down with Pop Tarts, then we packed up the Forester and drove back towards pavement. Along the way, I admired the rocky canyon we were driving along, and we decided to step out and explore it. This canyon is not in the WSA, but is still on public land, being the next drainage west of Castle Creek, at times only about 100 meters west of Rd 8540. I pulled off the dirt road near a visible side drainage that I hoped would provide us a passage through the vertical canyon wall, and it did. We picked our way down through very thick brush to a thin ribbon of flowing water in the bottom of the canyon, which sat a modest 100 feet below the rim. Towering cottonwoods and willows lined the watercourse, and a riot of chokecherry, serviceberry, snowberry, wild rose and gambel oak grew so thickly that travel would have been very impractical were it not for the well-trod game trail in the bottom. Under an increasingly-cloudy sky, we followed this upstream for about half a mile, noting frequent black bear scat piles, then we turned around and headed back downstream to our starting point and just a little beyond, before retracing our steps up the canyon wall and to the car. The little canyon was nothing huge or amazing, but it provided a very pleasant walk. The rain came about 15 minutes later as we drove to Glenwood Springs, and persisted virtually all day.


---

On the open savannah northeast of Bull Gulch

Lots of Douglas fir moving out into the grassland here. Go man, go!

Approaching the rim

The gulf is visible beyond the trees

Looking soutwest into Bull Gulch

Bull Gulch north rim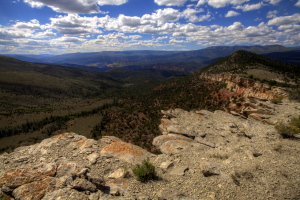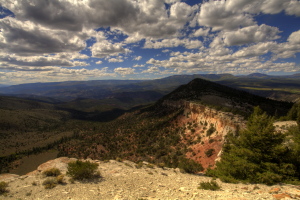 Black Mt hidden in a cloud shadow

Trekking back to the car through a nice forest

Wild rose in the woods

Really nice aspen along the way

Andra relaxes with a good book.

View from camp

Unnamed canyon worth exploring

A jungle of hardwoods in the narrow canyon

Lots of nice Gambel Oak in the drainage