Location: Rawah Wilderness, north-central Colorado.
Maps: USGS 7.5' Quad: Rawah Lakes; Trails Illustrated 1:40K: Cameron Pass #112
Access: From Ted's Place at the entrance to Poudre Canyon, drive 51 miles west on Hwy 14 to the Laramie River Rd, 2 miles west of the Big South TH. Go north for about 11 miles to the Rawah TH.
Fees: None
Trails: The Rawah Trail starts at the Rawah TH and leads to numerous lakes that are interconnected in a series of trails. The center of the lakes area lies about 10 miles and 2500 ft up the trail.
Trailhead: NAD83 zone 13 426089e 4510707n Elev: 8400'
Dogs: Officially, 6-foot leash law in wilderness areas.
Weather: Current and recent conditions Local Forecast

Day 1

Though close to home, the Rawah wilderness is one of the more spectacular wilderness areas in the west. High alpine lakes with bare, jagged mountains perpetually decorated in snow and dense subalpine fir/blue spruce stands carpeting the hills to the horizon define this area. I began my hike on a sunny Monday morning in the first week of August 2003. The grass was wet from the previous nightís rain and small puddles pockmarked the gravel trail as I stepped quickly
down the public right of way through a private ranch. Frank trotted along beside me, fresh and alert after a 2 hour nap in the car on the ride up. That dog sure knows how to relax. August is monsoon season in Colorado, and the storms always seem to start right at the continental divide, which lies about 20 miles west in the Park Range. No clouds could be seen in the brilliant blue sky, but I had a feeling that could change, so I walked quickly, eager to reach one of the many lakes up near the high peaks before the rain came. The air was cool, so it was easy to hike quickly. Soon I came upon a lama train, spread out over about ½ mile, and Frank and I were detoured around them each time we passed a group of lamas and their paying human customers. Thatís one way to do it, I suppose. I prefer my own way. Less shit on the trail my way. Immediately after passing them, I started through the unbroken lodgepole pine zone of the forest, where evenly-spaced trunks, 5-9 inches in diameter, grow so close together that practically all one sees is a solid wall of greyish bark, almost giving the sense of a smoke-filled hollow. It always seems to be most quiet in the lodgepole zone. Almost nothing grows in the understory because the shade is too complete. It is a pleasant, quiet area
that I was pleased to have by myself. After one hour of hiking I congratulated myself on being about 1.5 miles away from the car, meaning I had hiked at least that much on the windy, curving and steep trail. The path continued to wind through deep shade, and the air remained cool. I remained, for the moment, thankfully unspotted by mosquitoes. Near the end of the second hour, I passed a group of Boy Scouts, and the sky clouded over. It was noon by then, and I braced myself for the icy pelt of raindrops that looked imminent. None came. By the time hour 3 ended, I was back in sunshine, and making the turnoff up to Camp Lakes. I made another turn away from Camp Lakes, where I had camped (and been rained on) almost exactly a year before, and headed instead up to Sand Bar Lakes. I encountered a pack of horse riders but they turned off the trail before I got there so I donít think they actually noticed me. I searched for a good, secluded campsite for about 20 minutes, and finally found a reasonably flat spot on the hill between Upper Sandbar and Big Rainbow Lakes, about 7.5 miles from my car by trail. I stopped and reflected on my first trip to the Rawahs, where I was amazed to meet a backpacker who intended to hike from parking lot to Sandbar Lakes in a single day. My ability as a hiker has definitely improved in the last 8 years. A grey Kelty tent went up under a dense grove of fir and I hung my food about 100 feet away in a giant fir overlooking a clearing, convenient for cooking and hanging out. Frank scouted the area,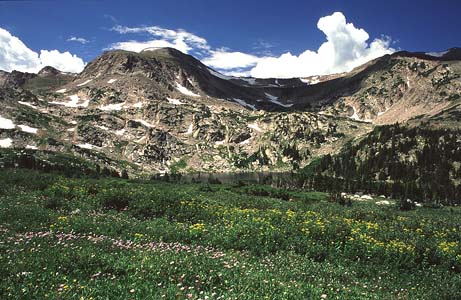 nose to the ground. After unpacking my gear and resting up a bit, I grabbed my flyline, flybox and leatherman and headed for Upper Sandbar. I fished around the lake with no luck until I got to the far side where suddenly I began hauling them in. Within an hour I had landed 8 small to medium-sized brook trout. Now, among fish, trout is my favorite as far as taste and texture are concerned, and normally I would have gobbled up a few of them for dinner. On this night, however, it came down to not wanting to take the time or trouble to kill and clean them, not wanting fish smell on me for the next 5 days, and not wanting every critter for 4 miles investigating my campsite that night. Thus, they all went back into the lake, happily, or perhaps not so happily.
From the lakeside, I began to walk uphill through a lush ravine with a spongy peat bottom. The shallowest route was steep, but I eventually rose up about 600 feet over 2 miles to a beautiful perch overlooking Rawah Lakes #2 and #3, as well as Grassy Pass and the drainage beyond. Not a soul in sight. They say the human population density is 45 humans/km2. Not here. It was getting on toward dusk when I returned to camp, and my head was beginning to pound. I found to my horror that I had failed to restock my aspirin supply prior to the trip, so I just had to stick it out with a pounding headache all night. I cooked a boring rice dinner and read my book in the tent for awhile as the last rays of sunlight dappling my tent wall disappeared and night fell.