Ptarmigan Lake & Jones Mt
Location: San Isabel National Forest, Colorado, west of Buena Vista and just east of Cottonwood Pass off of CR306.
Access: From Buena Vista, CO, head west on CO 306 toward Cottonwood Pass for 14.5 miles and pull into the Ptarmigan Lake TH parking area on the south of the highway.
Ptarmigan Lake TH: UTM NAD83 zone 13 380610e 4295861n elev=10,660'
Ptarmigan Lake: UTM NAD83 zone 13 379734e 4292979n elev=12,147'
Jones Mt: UTM NAD83 zone 13 378916e 4292554n elev=13,221'
Trail: Trail 1444. Well-trod, though not well-marked, route through forest and up through treeline to Ptarmigan Lake at 3.1 miles with 1,460 ft elevation gain, and the saddle to the south of the lake at 3.5 miles and an additional 280' elevation gain. Expect a moderate climb with plenty of shade up to treeline. The trail then descends into Grassy Gulch and the South Cottonwood Creek drainage. From the saddle, Jones Mt is another 0.6 miles and 941' elevation gain cross-country over open tundra with a bit of scree near the summit that is easily bypassed to the east.
Maps: USGS Mt Yale 7.5' quad. Trails Illustrated #129 Buena Vista Collegiate Peaks is also useful and interesting.
Fees: None
Dogs: Allowed, no special restrictions. Good hiking trail for dogs. Not much water available between TH and the lake.


---
View Larger Map
---

July 5, 2012
We started the hike at almost exactly 8AM on what can only be described as a perfect morning, a phrase that should, in the Rocky Mountains at least, conjure before your eyes a scene of placid green conifers, a chattering bone-numbingly cold creek rustling through a shady forest, white morning sunlight of a high-summer variety slanting through the vertical columns of sweet-smelling bark to light the trail, chirps and unseen wing flutters from tiny birds foraging among the currants, and above all a deep, oceanic sky of blue, utterly unbroken by clouds. Mike, Mandy, Shuresh, Jane, Andra, Henry and I, arranged single file, walked steadily up the trail through the thick spruce-fir forest. The first 4 were from Texas, and as such, were experiencing the mild anemia associated with a 30% drop in available oxygen at 10,500 ft relative to just above sea level. Andra and I chugged along OK, and then there was Henry, our four-legged friend, who loped up the trail as if it were heading downhill rather than up. It took constant nagging to keep him with me, and not far ahead of the group as was his inclination.

We passed through a rockfall, then back into the shaded forest, and that was the state of the trail through most of the 4 mile ascent. At about 11,500 ft, the mosquitos became quite a nuisance, and I had inexplicably failed to bring along deet. We were not tormented too badly as long as we were in motion, but as soon as we stopped to take a water break, they zeroed in our location and attacked. Good motivation for not taking long water breaks! Puffy white clouds skated overhead, and I was anxious to get up high before too many of those puffy white clouds joined together to form a nasty gang of giant slate-grey clouds.

We reached a shallow lake near timberline at about 11,750, and Mike, Mandy, Shuresh and Jane went down to the inlet, which is Ptarmigan Creek, and filtered water. I snapped some photographs of the surrounding hills and the few shallow tarns surrounded by grass that sit proximal to the trail. By 12,000 ft we were climbing out of the trees and into the alpine tundra, which seemed strangely brown and colorless. Only in a few wet depressions did the wildflowers bloom in profusion. Dry year.

The sky to the south looked ominously dark. Only Andra and I (and Henry) had any desire to ascend higher than the lake, so in order to beat the weather, we left the group and raced ahead to Ptarmigan Lake and then continued along the eastern shore to the saddle at 12,275' south of the lake. The lake was busier than I anticipated, with perhaps 10 anglers and hikers milling about on the grassy shore. From the saddle, the trail descended to the south towards Grassy Gulch Rd, where two jeeps were parked, presumably having carried their occupants most of the way up on their journey to Ptarmigan Lake. Andra decided that the saddle elevation was enough excitement for her, so she begged off when I suggested we continue higher still to the Jones Mt summit at 13,221'. I took my shirt, hat, camera and tripod and gave her my pack for safekeeping. She found a comfortable spot off the trail and out of the wind to wait, and I took off to the west, trailing Henry, who seemed to know the way to go without any instruction. Not hard, I guess, since we'd been heading uphill all day.

The weather deteriorated, and the sky was filled with wet, heavy clouds that chugged past on their way to the front range. They weren't very tall and developed, though, and there was no sign of lightening, so I continued on up, zig-zagging my own custom switchbacks on the trail-less slope. At the northern end of each switchback, I stopped to admire Ptarmigan Lake below, and the u-shaped cirque drained by Ptarmigan Creek. Tiny specks of neon around the lake indicated anglers and hikers, several of which I knew were my hiking companions. The entire hike up was a straightforward march over the tundra, with a narrow stripe of scree near the top that I bypassed by contouring over to the south ridge. Thirty minutes after leaving the saddle, I reached the summit, which was marked with a rock cairn. I snapped a few pictures of Henry and the lake below before it started to rain.

I hightailed it down through a light rain. Thankfully, there was no thunderstorm activity associated with it. I reached the saddle in about 10 minutes, whereupon Andra and I strolled down to the northeast corner of the lake to catch up with the rest of the party. Mike was busy fishing, but Mandy had already ceased, though she allegedly caught a 17" cutthroat on her first cast ( I never actually saw any photographs of that fish, and you know what they say about fish stories). The sun actually came out, and before long the sky was mostly clear. I really was surprised to see a positive change in the weather come so late in the day, as it was now well after noon. Andra, Mandy, Mike and I sat on the lake shore and snacked on cheese and crackers while Mike continued to fish with sporadic success. There were some obviously large fish lurking in the gravel shallows, but they were pretty finicky. Shuresh and Jane fished down the shore a bit. Henry lounged in the sun, occasionally attempting to sneak off to cavort with the two dogs up the lakeshore.

The afternoon wore on and by about 2:00, everyone mutually felt it was time to begin heading down. We took the descent at a leisurely pace, enjoying the forest and the uncommonly good afternoon weather. Rarely in the summer does one get to leisurely stroll down from 13,000' in the late afternoon (usually one is slogging along in drenching, cold rain by that point in the day). After returning to the car, we drove to town through a torrential downpour of rain and hail, the likes of which I feared we would encounter on the mountain, but had luckily avoided until safely behind steel and glass protection. In Buena Vista, we rendezvoused at K's Dairy Delite, a no-frills burger-ice cream stop off of Hwy 24 that, judging by the constant crowd it attracted, must be the most popular fast-food location in all of Buena Vista. I thought it was OK.

Ptarmigan Lake and Jones Mountain

Early morning start in the woods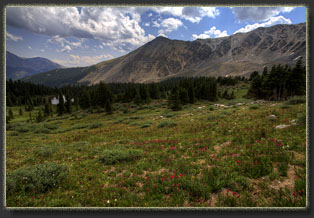 Ptarmigan Lake with Jones Mountain beyond

Up the side of Jones Mountain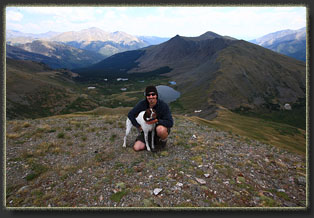 Henry and I on Jones Mountain