Peekaboo , Spooky and Brimstone Gulches
Location: Escalante National Monument, Utah
Access: From the town of Escalante UT, drive 3-4 miles east on Hwy 12 and turn right on Hole in the Rock Rd. Head southeast for 26 miles to a small road that heads east, which I believe was labeled Peekaboo Gulch. Anyway, itís one of first couple of roads you come to after passing the road to Early Weed Bench. Follow this little road another 2 miles as it curves north to the trailhead.
Trailhead: UTM NAD83 z12 480519e 4147747n
Trail: Not well-defined, but marked with cairns over sandstone. Once in the canyons, the going is obvious. We did a loop up Peekaboo, down Spooky, then down Dry Fork Coyote Gulch to Brimstone, up Brimstone as far as possible, then hiked back up Coyote to the car in about 5 hours, a distance of approximately 8 miles (GPS won't work in these canyons, so distances are hard to measure!).
Maps: USGS Big Hollow Wash quad
Weather: Local forecast
Fees: None

---

April 24, 2010

Travelling great distances from home for vacation somehow makes the vacation more exciting, I find. I canít say why a trip to southern Utah should be more anticipated than a trip to Rocky Mountain, but it is. Thereís something about removing oneís self geographically that really gets the wanderlust going. So, itís great to be here in southern Utah once again, though, admittedly, itís only been a year since I was last here.

Larry and I left last night from Cheyenne, only an hour or so after I left my office at work for the last time. There was a going-away lunch with some gifts: a birdhouse, a Wyoming coffee mug and an excellent fly reel from my boss, Terry. After lunch, I went back to my office and pulled the final pictures off the wall and put them in the box with the rest of the stuff accumulated over the last 8 years. The office looked very empty and small. I shut down the computer one last time, and then left. I drove home in the rain, which reflected my mood. Itís hard to quit a job you like after being there that long.
At home I said a reluctant goodbye to Andra and Ada, and then took off for Larryís house to pick him up for our trip. I was excited about the trip, no doubt, but I also felt the urge to stick around the house for the final week of our residence in Wyoming. We plan on moving to Tennessee a week from tomorrow.

Larry loaded his stuff in the Subaru, and we drove south into Colorado, braved Denver traffic to make it to I-70, and then headed west through sleet and a bit of snow around Vail Pass, stopping for dinner in Glenwood Springs at Qdoba, that most excellent maker of burritos. Although we had planned on camping near Grand Junction, the rain and the cold convinced us to spring for a $70 Comfort Inn hotel room. I believe Griff was so anxious to stay in a hotel room he would have paid the whole thing himself, but I enjoyed my nice, warm bed, too.

Today we left Grand Junction under a beautiful, sunny sky at 7:15 and drove across the immutable beauty of Utah to Green River, Boulder, Escalante, Hole in the Rock Road. The landscape here is unchanging, and in a world of change, that is comforting. The Hole in the Rock Rd looks the same as it did 7 years ago when I first came here. Itís nice to step into geological time for a bit, I think, as we roll down the dirt road kicking up a tower plume of chalky dust behind us. The road is washboarded, and I employ my time-honored strategy of dealing with washboard: go fast.

We reach the Peekaboo Trailhead at 2:15, and under a beautiful desert sun, I anxiously lace up my boots and slather on sunscreen. Off, down the trail, enjoying the sound of the crunch of gravel underfoot and the dry, dry air evaporating sweat directly from the pores in my skin. Itís so dry, that when I stop to take a drink of water and spill a bit on the sandstone, the rock soaks it in like a sponge, and not a drop rolls down the incline. The trail leads down into upper Coyote Gulch, and in short order, to a crack in the north wall of the canyon that leads up Peekaboo Gulch, the first stop on our afternoon agenda.

The climb up into Peekaboo is steep, and a little tricky, but not scary at all. A couple in front of us have some difficulty because of their slick-soled footwear, but my vibram-sole boots grip the rock well enough to climb right up. The canyon after the initial climb is extremely narrow, perhaps 5 feet wide, and about 15 feet deep. A narrow crack of blue shines overhead, and all within is smooth sandstone, sculpted by wind and water into undulating scallops, twisting and weaving northward. Itís dark in the canyon, and I stop often to pull out my tripod and take photographs, but continuing on requires the use of my hands, so I have to take time to strap the tripod back on my pack and put the camera away each time I wish to move forward. Slowly, I drop further and further behind Larry, who is motoring on up the canyon, until I canít hear any voices from the group ahead, or footsteps from Larry, who is also somewhere up ahead. All is quiet in the canyon, and I take a few minutes to sit and listen to the still, quiet sound of a million years of water drops cutting through rock. I like to picture the process in fast-forward, a kind of geological time-lapse, where the sandstone gives way to running water like ice in spring, carving a deep canyon in minutes.

I catch up with Larry at the top of the canyon, where it opens up onto the bench. A few scrubby junipers and indian rice grass flash some green on the scene, and we find some cairns to the right that we follow towards the presumed head of the Spooky Gulch narrows. Spooky Gulch starts out as a wide sandy wash, then files into a deep, narrow slot as it heads downhill, choked with boulders and exceedingly narrow. We pick our way around big sandstone blocks, and as I catch up to Larry again, he is pondering how to get around a stack of boulders. There is a steep dropoff on the far end, and a narrow squeeze under the boulders on the near end. I try out the near end, and shimmy down through the boulders, hoping none of them decides to break loose at this moment in the millennium, and Larry hands my bag to me after I am down. He hands me his bag, then follows. We continue down canyon, enjoying the cool air in the canyon after the hot bench walking to get here. The canyon is even more narrow than Peekaboo, and a bit deeper. There are many spots where the sky is not visible. The walls are rough, with tens of thousands of small rocks jutting out from the sandstone matrix. I stop to take pictures, and again, Larry gets ahead and out of hearing. I pass under a small arch, and through another several twists and turns. Awesome canyon. Better than any carnival funhouse. At the mouth of the canyon, Larry is kicked back on a sloping slab of sandstone, sipping water. I join him. The sun is slipping lower in the sky, and the afternoon light is orange and blunted. It feels a bit cooler.

Itís about 4:20, and we continue with the plan on of heading downcanyon to check out Brimstone Gulch. The narrows in Coyote Gulch along the way are pretty cool, and the hike is enjoyable. Turning north into Brimstone Gulch, we begin a long slog through a wide canyon filled with powdery soft sand that clutches at boots and drags us down. Man does that loose sand sap the energy! We slog away for some time, stopping a few times for water in the shade. The few boxelders that rise up from the sand are silhouetted against the bright canyon walls. The air is still and quiet, with only the croaking of a raven and the buzzing of flies to break the silence.

After a bit of walking, the canyon begins to narrow quickly. Rounding a corner to the left, the canyon drops down to a narrow slot no more than 6 feet wide, and narrows up from there. Itís dark and wonderful. We go in about 600 yards, both of us removing our packs and holding them in front of us, walking sideways, to get even that far. Larry leads the way, but when he gets to a point where he canít comfortably squeeze through, he calls it good. I am anxious to see if I can squeeze through, so I get in the lead, drop my pack and break out my headlamp. Itís so narrow I have to leave even my camera behind. Sliding sideways, I hung the sandstone, and feel it graze my back, pinching my body right around my hip. My hip canít slide any further, but I find that by spreading my legs a bit, my hips drop down to a slightly wider spot, and I squeeze through the crack and to the relative spaciousness of the 2-foot slot beyond. The walls of the slot bend and twist, so that most of the time there is no view of the sky. The light within is dim and blue, and without the headlamp, Iíd not be able to see where my feet are stepping at all. The canyon is so narrow at the base that my boots canít stand flat, but are instead inclined towards the diminishing crack at the ground. Wonderful. Slots like this are so rare and unusual, itís a real treat to get to experience them. I reach a spot in the canyon that is fairly large, at about 10 feet, with a jumble of rocks and boulders strewn about. Thirty feet beyond, it narrows up again, and this time, I find I canít get through. I measure the distance between the walls at 8.5 inches. I think, perhaps, if I had to, I could take off my shirt and shorts and slide through, but thatís getting a little bit extreme. I take a long look at the continuing narrow crack ahead of me, and decide to head back.

Walking back, I count my steps, and in so doing estimate the distance to the really small crack that turned me back was 400 yards from where I left Larry, which was about 600 yards from where the canyon first narrowed., a total distance of nearly half a mile through the narrowest canyon Iíve ever experienced. What a treat. What a fantastic place.

The hike out of Brimstone Gulch is tedious as we again have to negotiate the soft sand. Once we reach Coyote Gulch, the going is a little easier, as the sand is coarse, and mixed with rock and gravel. The shadows grow long, and the sunlight turns to an amber-red color as we ascend the south side of Coyote Gulch to the parking lot. We reach the car at 7:55 and head quickly west to find camp at Early Weed Bench, where we conclude the evening by cooking burritos under the stars and sleeping under a clear, cool desert sky.


Dry Fork Upper Coyote Gulch



Dry Fork Upper Coyote Gulch (aptly named)



Lower Brimstone Gulch



Griff walking through deep sand in the lower portion of Brimstone Gulch



Lower Brimstone Gulch



Brimstone Gulch, desolate hiking



Brimstone Gulch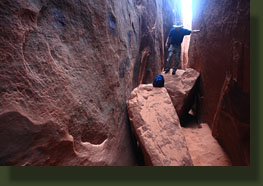 Scrambling over chokestones in Brimstone Gulch narrows



Entering the incredibly narrow narrows of Brimstone Gulch.



Rock strata in Coyote Gulch



Exiting Coyote Gulch in late afternoon

Heading down into Upper Coyote Gulch



Narrows of Peekaboo Gulch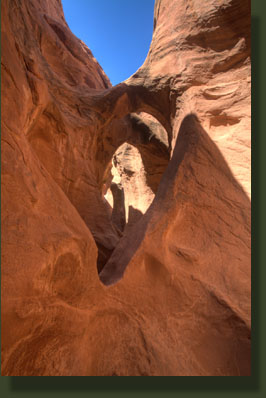 Narrows of Peekaboo Gulch



PNarrows of Peekaboo Gulch



Crossing over to Spooky Gulch



Spooky Gulch above the narrows



Griff entereing the narrows of Spooky Gulch



Beginning of the narrows of Spooky Gulch



Spooky Gulch



Spooky Gulch



Spooky Gulch



Small natural bridge in Spooky Gulch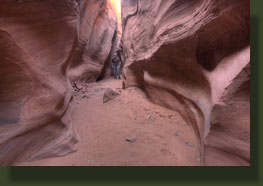 Sam in Spooky Gulch



Spooky Gulch



Spooky Gulch



Spooky Gulch



Extremely narrow section of Spooky Gulch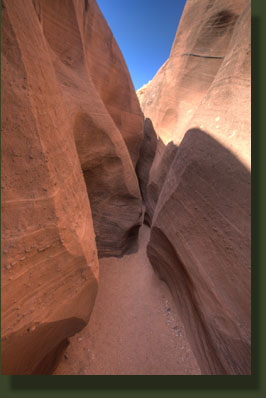 Spooky Gulch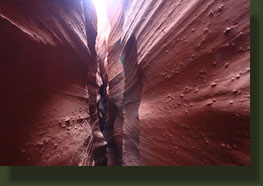 Spooky Gulch



Spooky Gulch


Dry Fork Upper Coyote Gulch