Lake Agnes
---

Location: Lake Agnes, Colorado State Forest, north-central Colorado
Maps: USGS 7.5' Quad: Mt Richtofen; Trails Illustrated 1:59K: Rocky Mountain National Park #200
Access: From Ted's Place at the Poudre Canyon entrance, drive 60.1 miles west on Hwy 14 to the Crags/Lake Agnes turnoff just past Cameron Pass. At the first road fork, go right over a bridge and past a dumster. The road is rough and steep for about a mile. You'll pass the turnoff for the Crags campground, go right. Trailhead is at dead end of road. Driving time from Ft Collins is around 1:45.
Trailhead: NAD83 zone 13 423489e 4482521n Elev: 10,290'
Fees: $5/vehicle/day; $2/hiker/day if no car
Trail: .5 mile one-way. Elevation gain of about 300 ft.
Dog Regulations: 6' leash control
Weather: Snow, temp and the all-important dew point from the NOAA National Weather Service forecast

---

Lake Agnes is a glacial lake sitting high up on the continental divide around 10,000 ft inside Colorado State Forest. It gets it's first snow in September, and it melts sometime in July. I've camped at Lake Agnes 7 times since first visiting there with friends from band in September of 1995, right at the beginning of my college years. Seems like such a long time ago now. In all, I have been there four times with the Bruces of the CSU Marching band, once with Chuck, Rob, Jen and Mark, once with Andra, and once with Mike Mendez and his wife, Mandy. It is well worth revisiting. I've tried my hand at fishing for trout several times, but have as yet to show anything for it. Ah well, I always bring plenty of food anyway.




Overview of the lake from a peak nearby. Lake Agnes is also called Lake Bruce by the
Bruces who embark (embarked?) on annual pilgrimages to its shores. 7-96

The mountains around Lake Agnes in January 1998.
The lake is only accessable by foot this time of year, although you better have skis or snowshoes to get there. Not that it would do you any good, as the lake is under 15 feet of snow this time of year. The Nokhu Crags rise up on the left to form one edge of the lake, and the snowy mountains in the rear form another shoreline. The small lake is nestled just right in the middle.
Dave Burns and Scott Parker move a sitting log into position in preparation for the evening fire-side festivities. 9-95
The first time I saw Lake Agnes in September of 1995 was on a morning following a fresh snow fall. I had never been to the mountains before this, and it was an amazing first sight. 9-95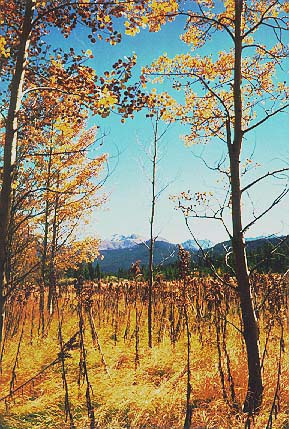 This view is actually closer to Michigan Lake, but looks towards Agnes Lake. The mountains you see in the distance are the mountains that form the cirque of Lake Agnes. I took this shot in September of 1997 with the aspens in full fall color.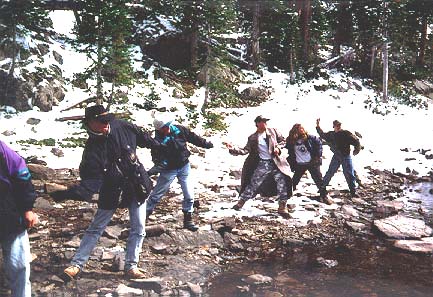 Rock-skipping at Lake Agnes. Bruces Chuck, unkown,
Tom, Carlene and Rob strut their stuff. 9-95


Matt Perry and Susan Hindes on Bruce Rock, September 1999.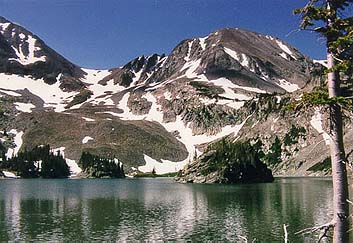 Lake Agnes. 7-97