Horseshoe Canyon
Location: Horseshoe Canyon Unit of Canyonlands National Park, which sits apart from the main park to the northwest.
Access: From Hwy 24 south of I-70, head west on the Hans Flat Rd 23.6 miles to a signed for in the Rd, and take the left fork 6.8 miles to the Horseshoe Canyon TH.
Map:USGS 7.5' quad: Sugarloaf Butte
Trailhead: UTM NAD83 z12 569756e 4258672n 5320í
Trail: 4.3 miles one-way with 520í elevation loss to the Great Gallery. One can follow Horseshoe Canyon (aka Barrier Canyon) much farther up to the Hans Flat Ranger Station, but Iíve not.
Fees: None
Dogs: Not allowed
Weather: National Weather Service forecast

---

April 19, 2011
Some days rise above the rest in the sea of memory to float on the surface, always in sight. I can well remember April 19. The day began in Rock Island, TN with an alarm going off in the dark at 2:30. I showered, dressed, ate breakfast with Makenzie and woke Andra out of her deep slumber long enough to say goodbye at 3:00. I drove to Nashville. It was a warm morning, and all the trees were crushing out deep green buds into vibrant green folds of leaves. In the fog of morning, I boarded an airplane, and arrived in Denver at 7:45, where I met my old pal Griff, who was enjoying his first spring in retirement. We cruised west to Grand Junction under a sunny sky, with snow on the ground and in the trees. Just east of GJ, I received a telephone call offering me a job in Cheyenne. I ate lunch at Qdoba with Griff, grinning about my new job, grinning about being in Grand Junction, grinning about the trip to the Maze we had planned. It was a great lunch. I recall it very clearly. From there, we drove on out I-70 into the desert scrub country, the Book Cliffs looming on the northern horizon. Traffic thinned as we passed Rabbit Valley, Crescent Junction, Green River and the vast expanses of open country in between. We stopped for last minute groceries at a small grocery in Green River that had 3 checkout lanes, and fueled up the truck. Then it was south towards Hanksville, into the deepest part of the Utah outback. The sky was clouding over, and a stiff breeze was blowing by the time we reached the turnoff to the Maze. Rumbling over the sandy road that cut through a sea of rock and sand with scattered sagebrush, one could hardly think of a less inviting place to camp the night. When we pulled into the parking area at Horseshoe Canyon around 5:00, several tents were set up and billowing in the wind. A faint pinkish light filtered through the clouds. It was cold, and the snow on the La Salle Mts to the east emphasized that point. I pulled on my jacket and hat, and we scouted out a spot on the southeast side of the enormous parking lot to set up camp, right next to a deep ravine that we figured we could take shelter in if the wind got too bad during dinner.

Setting up a non-free-standing tent in high winds on bare rock is no easy task, as you can undoubtedly imagine. I wrestled with the tent, frantically jumping around it as if in some primitive dance, trying to keep it grounded, pinning it down under rocks, until I could thread the poles through the sleeves and gradually anchor the corners with big rocks from the ravine. Even then, it wasnít all that sturdy, and the floor billowed up with each gust, trying to take the whole contraption airborne, but after I loaded it with my pad and bag, it settled down. I ensured that I had set up my tent far away from Griff, who snores deeply. He says the same thing of me.

Meanwhile, Griff, always the master packer, had thought of apparently everything one could desire for this camping trip. He lit the hibachi, and began cooking the burgers. Cracking a soda, I sipped Coke and ate chips while the burgers sizzled, then we sat down in lawn chairs around the tailgate of his truck, huddled with our backs to the stiff wind, gobbling the tasty burgers. Simple pleasures dominate when youíre camping. You make do with almost nothing, and youíre strangely happy about it. Itís a chance to cast off the complexities of the suburban lifestyle, and itís awfully nice.

The pink rock we were sitting stretched east to where my tent was parked, and from there down a deep ravine towards Horseshoe Canyon. The sun came out for a little while, and though it didnít warm anything up much, it was pleasant to see the orange glow on the landscape. As the sun set on an eventful and wonderful day, I retreated to my tent and read a bit before dozing off to a wonderful sleep.

---

April 20
After a comfortable nightís rest, orange sunrise warmed our tents and rousted us out by 6:30. We enjoyed a leisurely breakfast of hot coffee and steaming oatmeal bundled in jackets, gloves and wool hats, followed by a thoughtful packing of the dayís supplies, as well as the nightís camp. A few minutes before 8:00, we were off down the trail into Horseshoe Canyon, stretching out leg muscled grown tight by a night in a cold tent.

As is common in the uncluttered landscapes of southern Utah, the trail impresses from the very first step. It led down gradually through layers of sandstone via switchbacks and dropoffs, all by way of a very clearly marked chalky trail. We passed by a corral with a pipe for the watering trough that dropped over 500í into the canyon beyond. An enormous amount of effort to bring water up to the rim, yes, but apparently they had no choice.

The day was pristine. Clear. Chilly. A perfect day to hike in the clean, dry air without breaking much of a sweat. We descended steeply into the canyon, following ledges on the wall and long stretches of deep sand that taunted us with how difficult hiking would be on the way back up. In the canyon bottom, we headed upstream, away from the Green River, passing by puddles of water here and there, but largely walking on dry, loose sand. The temperature perked up very fast, and by the time we were in the canyon bottom, I was sticking close to the east wall to stay in the shade, sweat beading up on my brow.

Further upstream the canyon narrowed, and the first pictographs appeared on the right. Horseshoe Canyon is purported to have some of the best pictographs anywhere, spread out in groups all along the canyon. We stopped and examined the first group of red and pink figures and designs, most looking like childís doodlings.

Down the canyon we went, passing by cottonwoods, newly leafed-out. Wet sand near pools of clear water caught our footprints in minute detail, while the loose sand beyond left no imprint other than a vague depression underfoot. In the silence of the still canyon, the lilting tones of the canyon wren echoed repeatedly, a call that is at once exhilarating and mournful; a call that is the essence of desolation.

We passed by a second group of pictographs on the right, this one in a shaded alcove depicting a hunter with a bow and arrow aiming at a bison, with elk or deer beyond. These forms were more realistic, though still misproportioned.

The final panel we reached is called the Great Gallery, and the art here is much more sophisticated than elsewhere in the canyon. We used the available binoculars to observe the panel for a long time. Large, ominous humanoid forms line up in ranks along the wall, most without arms or legs, just torsos and blank faces often adorned with large vacant eyes. One figure clearly has horns. Many are just blank shadows, druidlike. In one group on the far left, six shadow forms with no arms or legs are gathered around a larger form with patterned dress, large hollow eyes, perhaps a mouth and what seems to be horns. What the hell were they saying here? Whatever message the people who made these were trying to convey, it gets through, and itís not pleasant. Among the large torsos that conjure thoughts of embalming and mummies, though Native Americans had no such traditions, there are scattered a few small forms that have thin cresecent legs and arms and seem to be dancing around the larger forms like hellish sprites. The whole scene is a bit disturbing, really, perhaps speaking to desperate times, famine, death, despair. Thatís my interpretation. Somewhere thereís a guy with a PhD who will give you an official line, and you should probably listen to that guy instead of me. Various methods have been used to date the rock art and associated artifacts to between 1500 and 4000 years old. Griff observed that we need to study this further, since these people knew how to paint something on a wall that would last for 4000 years, but they canít make a paint that sticks on a house more than 10. Good point.

After enjoying the panel and the surrounding canyon, we marched back downcanyon, passing by a panel on the east side of the canyon, high up on the wall, that we had not seen before. It was high enough up that seeing detail was difficult.

The slog up the canyon wall was not as bad as it seemed it would be. Warm, yes, but fun. We got to the truck and headed south towards the Maze.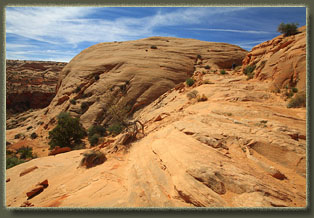 Campsite on Horseshoe Canyon rim



Hiking on the canyon rim



Horseshoe Canyon



Looking downstream in Horseshoe Canyon



It's a hard life for this cottonwood



Sandy bottom in Horseshoe Canyon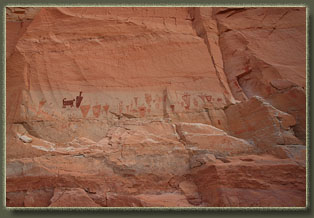 Petroglyphs


Eerie petroglyph panel


The Great Gallery