Harris Wash
Location: Glen Canyon National Recreation Area, Utah
Access: From the town of Escalante UT, drive 3-4 miles east on Hwy 12 and turn right on Hole in the Rock Rd. Head southeast for miles to a small road that heads east about 10 miles, and turn left at the road labeled Harris Wash. Follow this road all the way to the official trailhead. It's a rough road, but most people should get there fine in any vehicle.
Maps: USGS Red Breaks, Silver Falls Bench quads; Trails Illustrated Canyons of the Escalante is a nice map, but smaller scale
Trailhead: UTM NAD83 12s 469862e 4165265n ; 5000í
Trail: Follow the gulch downstream. You canít miss it. Itís 11.3 miles to the Escalante River, with only 328í elevation drop. Some water crossings, but itís never more than shin deep even in spring.
Fees: None
Dogs: OK

---

April 25, 2010
After hiking Peekaboo, Spooky and Brimstone canyons the evening before, Griff and I camped out on Early Weed Bench. I tried to position my tent so that the sun would rise behind a large juniper, but I missed it by a few degrees and the sun baked my tent by 7:30AM. We cooked egg and cheese burritos for breakfast, leisurely packed our backcountry gear up, then drove off to the Harris Wash TH by way of Hole in the Rock Rd. Somehow, we didnít actually start hiking until 10:45. Iím just not sure where the morning went.

The initial part of the hike was a bit boring. Having been there once before, I was prepared for it, but still, itís a bit of a drag going along for the first mile through a wide, shallow wash filled with mud, stinking cow shit and rocks, lined with thousands of tamarisk and Russian olive. Itís a good thing the downstream sections are awesome, because the intro is horrible. At 11:25, we began to enter the shadier portions of the canyon, with large cottonwoods overhead, and the walking became more pleasant. A large cave loomed on the south canyon wall, but we passed it by. By 11:45 we crossed the gate separating Escalante National Monument (where cattle grazing is permitted) into Lake Powell National Recreation Area (where it is not). Instantly the vegetation became more lush, and though the Russian Olives were still healthy, we began to see more willows and rushes along the water edge. Yes, water was flowing here, too, and we soon found the easiest mode of travel was to simply walk in the shallow stream than fight with the cottonwoods on shore. The canyon walls rose higher with each step we took, and without being able to pinpoint where it began, we were in the canyon, with high walls of sandstone on either side.

After 2 hours of walking, we reached a side canyon on the right, and ditched our packs to go explore a bit. The day was sunny and mild, and there seemed no hurry to get to camp, wherever that might be. We hiked up through extremely dense vegetation into a narrow canyon with a trickle of water draining out. It twisted around a few corners, and seemed to keep going but the vegetation was so choked up over the stream, we found it very inconvenient to continue, so we did not. We continued on, passing into areas of Harris Wash Iíd never been. The water grew deeper, and cooler and we found ourselves walking on the banks more, crossing the water only when required, and then only carefully so as not to completely soak our boots. The canyon walls narrowed quite a bit, so that typically the canyon was about 75 feet wide, and about 50 feet deep.
At 1:45 we stopped under a shady cutbank with soft sand at about chair height and snacked on jerky, crackers and gouda cheese, that incomparable hiking combination. After resting a bit, we reshouldered our heavy packs and continued downstream, passing under several large overhangs, where maidenhair ferns and columbines dripped out of cracks in the sandstone as if exuded from the earth. Under one such overhang, there was a large flat, sandy area several feet elevated above the creek, and it was here we decided to set up camp. Knowing Griffís penchance for snoring, I set up my tent 100 feet away from his, very close to the canyon wall. Only a few shade-tolerant box elders interrupted the sandy expanse around my tent, and I had a clear view of the water and the downstream canyon.

After tents were up and food hung (from squirrels and mice, not bears) we took off downstream with small packs and tennis shoes towards a particular side canyon shown on the map to run pretty far to the south into the bench. From satellite photographs, it looked lush and inviting, so we set off to check it out. The water was swift and clear, and little fish darted about in the current. Locoweed bloomed abundantly along the shore, their purple flowers attracting bumblebees. Honeybees by the undreds flitted around the coyote willow, which was also blooming with small white catkins. The absence of Russian Olive in this stretch was conspicuous, and we noted the abundant stumps that remained from the amazing efforts of a group at removal of this noxious weed. Kudos to you guys! I really enjoyed the native vegetation much more, which principally included equisetum, rabbitbrush, sagebrush, willow and boxelder.

We found the canyon entrance well enough, but steep cliffs on the eastern side of the outlet prevented access. We backtracked around some dense vegetation and approached the canyon from the west, where we gained access up a steep hill, and then found our way blocked by another cliff. The only option left was to drop down into the canyon bottom, where the vegetation looked extremely thick, and proceed from there. Griff decided he wasnít up for it, but I was anxious to at least get a peek around the bend, so I hopped down through the box elder and Gambel oak and picked my way along the rush-choked stream. I could proceed no more than ¼ mile through the intensely thick bulrush stand before I surrendered and turned back. I donít know how far one would have to thrash through the vegetation to get to even moderately-easy walking, but I wasnít keen on spending any more time at it than I did. It was somewhere in this area, while climbing up a simple hill, that I felt something in my back tug. That little sinister give plagued me for the rest of the trip.

I met up with Griff at the canyon entrance, and we decided to simply head back to camp and save further down canyon adventure for the morning. We both retired to our respective tents and napped for about an hour. When I awoke, my back was so stiff I couldnít stand up straight. Worst back ache Iíve ever had. I limped around to gradually loosen it up, but it was pretty painful, and really dampened my spirits for the evening. Griff made dinner around 7:00 of rice, veggies and salmon, then brownies for desert. Extremely tasty. After dinner we enjoyed the cool breeze in the alcove, the reddish cast of sunlight on the high canyon walls, the sweet dipping lilt of the canyon wren, and the bats flitting around silently amongst the cottonwoods. Around 9:00, I went to bed, and slept pretty well.

---

April 26
I awoke at 7:30 with a terrible sore throat, but my back felt better. I hoped the sore throat was just allergies from the willow pollen, but later events revealed this was the start of a cold that lasted about two weeks. Still, hiking with a cold is easier than hiking hunched over with a bad back. I had cocoa krispies and powdered milk for breakfast, while Griff made coffee and oatmeal. It was pretty chilly in the shade of the alcove, and it felt good to get going around 8:30.

We passed 4 campers down near the side canyon we explored the evening before, and continued on at a leisurely pace down canyon, usually walking right in the water since it was never more than sock-line deep. As the day progressed, walking in the water felt better and better. The canyon deepened as we went, with cottonwoods and boxelders shading much of the route. Ravens were abundant, as were lizards, seldom seen but often heard rustling in the leaves in their frantic retreats. A snake glided across the water of the creek, and we saw 6 vultures roosting high on the canyon wall. Everywhere in the creek, small yellow fish darted about. We even saw a turkey, after seeing itís large trident tracks in the soft mud alongside the creek.

By 11:30, we were at the edge of the Escalante. Crossing it this high up the canyon was no big deal, hardly reaching above my calves. On the other side of the river, we stopped and requisitioned a cottonwood log for a lunch of tuna, crackers, jerky and cheese. Still not a cloud in the deep blue sky overhead. We discussed the end of work. I had just finished my last day on the job with ARS in Cheyenne, and Griff was looking forward to retirement at the end of the year. All things must end, sometimes you look forward to them, and sometimes, as in the case of a good walk down the canyon, you donít. We decided since the day was so nice and the hike back to camp not so long, to check out Silver Falls Canyon, which was, ironically, dry as a bone. Very little vegetation graced this rock canyon, and the sun beat down like an iron mallet. No fun. We hiked less than 30 minutes up this baking rock wash, beautiful as it was, before deciding Harris Wash offered a much more reasonable hiking experience. So, we returned across the Escalante and headed for camp, which we reached at 4:15.

The hike really loosened up my back, but I found that if I sat down for more than a minute, it stiffened up and I had to walk 5-10 minutes to loosen it up again. Ibuprofren was my friend. Upon return to camp, I endeavored not to sit and let it stiffen up. I took my collapsible bucket up onto the bench amongst the monster basin big sage and took a full-body bath in 3 gallons of water. Most refreshing. We made dinner at 5:30 of ramen noodles with chicken, thenheated up a backpacker foil pouch of tasty raspberry crumble for desert. One of the many wonderful things about camping is how it makes everything taste delicious!

After dinner we took a walk up canyon towards, but not all the way to the top of, the south bench. That was the goal, but after bulling our way through the Gambel oaks to bare rock and up the sandstone face a few dozen meters, the slope got too steep for comfort, so we stopped. Still, it was a nice perch, and we enjoyed the lazy afternoon sunlight on the canyon walls and cottonwood tree tops before heading back down. I filtered more water from the stream, and got in the tent at 8:00.

---

April 27
Up at 7:30 and my sore throat was really bad. It felt like I had a rock stuck down there alongside my tonsils. In the quiet shade of the alcove, I had a breakfast of Rice Krispies, and then packed my gear. Neither of us were in a big hurry, and we left camp at a leisurely 9:20. The hike back in the cool of the canyon, with a clear blue sky overhead, was fantastic. My back was stiff, but not as stiff as the day before, so it wasnít something that weighed heavily on my mind. My constant sniffling and sneezing, however, got pretty annoying real fast. We retraced our steps from two days prior up the canyon, seeing the canyon walls get lower and lower, and the water get shallower and shallower. We passed through the gate and back into Escalante National Monument, stopping shortly after in what we knew was the final shady spot for a quick lunch. From there it was simply a slog through the hot, dry open wash to the car. Iím telling you, that stretch from car to fence is a real crapfest. We reached the car at 12:30. I changed my shoes and sweat-soaked shirt, chugged some water from the reserve jug which was, amazingly, still cool in the car, and we headed out around 12:45 for Grand Junction.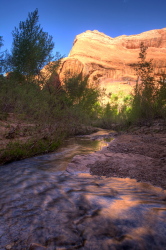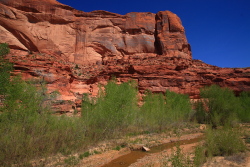 The Escalante River



The Escalante River, easily fordable this high up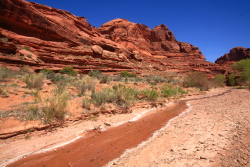 Dryish, hot Silver Falls Creek



Silver Falls Creek is NOT Harris Wash!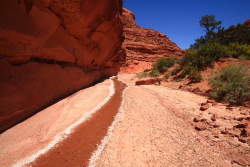 Baking hike up Silver Falls Creek



Back in Harris Wash



Ferns can live even here in the desert



Griff checks out the upcanyon view from near camp



Downcanyon in Harris Wash



A plausible canyon exit/entrance halfway to the river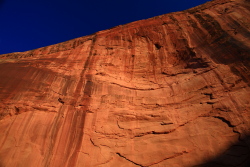 Towering Navajo sandstone walls



The upper "wash" part of Harris Wash



Patterns in the sandstone along Harris Wash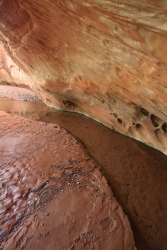 Into a few nice overhangs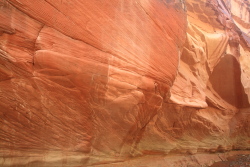 Beautiful Navajo Sandstone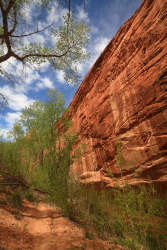 Typical Harris Wash scenery



Clear water in Harris Wash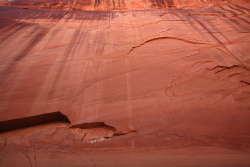 Box elders in the sand along the creek



The sweet spot of the canyon



Our nice campsite under a large overhang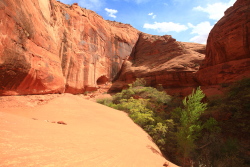 A bench above one of the side canyons heading to the north



Above Harris Wash to the north



Sunset from an overhang



Early morning in camp



Griff packs up for the hike to the Escalante River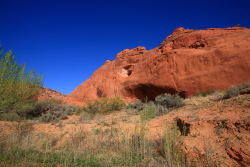 Small cave high up on the rocks



Perfect spring day for hiking



Griff checks out the desert varnish on the Navajo sandstone



Algae and moss paint the rocks



Griff splashes his way across the ever-deepending Harris Creek



Paradise