Grundy Lakes
Location: Grundy Lakes State Park
Access: From I-24 south of Manchester, TN, take exit 134 and head east on Main St (US 64/US 41/TN56) 1.1 miles, then turn north on Fairmont Ave (US 41/TN 56) and stay on US41/TN 56 for 5.7 miles into Tracy City, then turn right to stay on Hwy 41 (aka Altamont St) at the Flower Cottage. Head east on Hwy 41 for 0.8 miles, and turn left (north) onto Lakes Rd, which reaches Lower Grundy Lake in 1 mile.
Maps: USGS Tracy City quad (does not show actual trail)
Trailhead: UTM NAD83 zone 16 616703e 3903563n
Trail: Very easy stroll of 1.2 miles through woods and along the lakeshore, with 80' elevation gain.
Fees: None
Dogs: OK on leash
Weather: Local forecast

---

December 31, 2010

On an unusually warm winter day, Andra, Ada and I headed down to Tracy City and hiked The Grundy Forest Day Loop (under the Fiery Gizzard hike description) and then scooped up a lunch at The Lunchbox, a small diner in town. Then we headed east a bit to Grundy Lakes, and sough out the advertised hiking trail. We drove in and found the lake easily enough, but saw no obvious trailhead, so we kept driving slowly on the quiet road, rounding the lake counterclockwise, and occasionally noting TRAIL signs, but as there were no areas to park in, or even pull off the road into, we were obliged to keep heading up the road until something more obvious presented itself. Soon, we had made a complete loop around both lakes, and were back at the only parking area on the lakeshore. So, we parked.

Across the road to the east a line of brick-lined holes in a 12-foot earthen furrow stretched out for several hundred yards next to the pavement: Coke Ovens, pits where coal was burned under low oxygen conditions to remove impurities and yield coke, a substance that burns much hotter than coal, and hot enough to melt iron in a smelter. They are no longer used, but retain their structure from so many decades ago, looking very much like burrows of some large woodland creature, or perhaps like hobbit holes might appear. We wrangled Ada and her flailing feet into the backpack, and were off. We climbed up the earthen furrow of coke ovens, and descended the other side to a trail, which we followed north. We paralleled the road, albeit out of sight, for a few hundred yards, whereupon the coke ovens ended, and the trail crossed the road.

On the west side of the road, the trail followed the edge of the lower lake through typical hardwood forest of oak, hickory, tuliptree and the other usual associaties, all denuded of leaves at this point of deep winter. We crossed over an earth dam, inspecting upper Grundy Lake as we went, and then descended wooden stairs back to the shore of the lower lake. The trail continued around the lake, then emptied out on the road that crossed over the lower lake dam. Where the dam road met the man road, a trail sign pointed into the woods, and led us back to the trail we started on.

Near the car, the trail unexpectedly forked, and I decided to head uphill on the new fork and meet Andra back at the car. The uphill fork also paralleled the road, although much farther to the east, until it too dropped down and crossed the road near the coke ovens. I crossed the road with Ada, and walked back to the car through the large parking lot.

In all, a nice stroll, but not much of a hike.


Grundy Geese



Ice near the coke ovens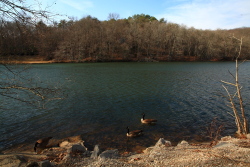 Lower Grundy Lake


A closeup of one coke oven,
washed out so the inside can be seen



Along the north shore of the lower lake



Lower Grundy Lake



The woos around Grundy Lake



Upper Grundy Lake from the dam



Lower Grundy Lake



Coke ovens along Lakes Rd