Location: Rocky Mountain National Park, CO
Access: From Interstate 25, take Highway 34 through Loveland and Estes Park to the Beaver Meadows entrance. Just beyond the entrance gate, turn south on Bear Lake Rd and drive 9 miles to the terminal parking lot, or in summer, take a shuttle from the shuttle lot 5 miles up Bear Lake Rd.
Map: USGS 1:24,000-scale McHenry Peak or Trails Illustrated 1:59,000-scale Rocky Mt National Park (#200)
Bear Lake Trailhead: NAD83 z13 445112e 4462591n Elevation: 9475'
Trail: From Bear Lake, head counterclockwise around the lake and watch for a trail branch to the right with signage for Flattop Mt. Follow this trail uphill to the north to the fork with the Bierstadt Trail and keep left. At the next fork with signage for Fern and Odessa Lakes, keep left again, and from there it's a long switch-backed shot up to Flattop Mt. The trail is wide and well-kept until treeline, where it becomes narrow and easy to lose in wintertime when snow-covered. It is 4.5 miles with 2,849' gain to Flattop Mt.
Fees (2010): $20 7-day park pass; $40 annual park pass; $80 annual Federal Lands Pass
Dogs: not allowed
Webcam: A view of the divide from Glacier Basin, 5 miles to the east
Weather: Local Forecast Snow Depth
---
January 9, 2010
It was a beautiful morning, but cold, so we planned our arrival to the trailhead well after sunup, and actually began our hike at 10:30. It's nice to wait until it gets above 20 degrees to begin. There were no clouds in the sky at all, and the temperature was fairly warm, considering the date and the time of day.
The snow on the trail by Bear Lake appeared pretty-well packed, but a dozen steps on the soft, collapsing surface convinced us to slap on the snowshoes before going further. We skirted Bear Lake by using the horse trail, and continued north, uphill, through a sun-drenched boulder-field with aspen poking up through the powder. Hallet Peak loomed to the southwest, its north face covered in shadow. The trail was quiet, but the footprints attested to it being well-used since last Tuesday's snow. We shuffled along at a steady pace, and before long we had to stop to remove layers of clothing. There was virtually no wind, and the sun was shining very brightly. Who would have thought that a simple long-sleeved shirt would be sufficient when hiking at 10,000 ft in January?
We headed uphill through limber pine and subalpine fir, all yellowed with deep winter dormancy. The snow was very deep, and as we ascended, the snow got softer and softer, attesting to fewer and fewer people tramping it down. A lone skier came down the trail and swished past us, his skis sliding easily through the powdery snow. Looked like a very efficient way to descend a mountain, though were I to try it, I'd probably ski right off a cliff.
We passed the turnoffs for Bierstadt Lake and Odessa Lake, and continued uphill almost due west, cutting back and forth across the mountain face on switchbacks. One such switchback cut back just at the cliff edge overlooking frozen, shaded Dream Lake. I wonder if during deep winter the sun ever hits Dream or Emerald Lakes, they being so much in the shadow of Hallet Peak.
Not too long after, we began to see signs of treeline, and before I had much time to consider it, we were at treeline, looking north across a slanted tundra of tawny grass and slate-gray boulders, each with its own snowdrift streaking out to the east. The Mummy Range dominated the horizon, its peaks covered in streaks of snow. We headed in that direction for a bit, and somewhere amongst the stunted fir trees, lost the trail in the snow. This became pretty apparent, but there were footprints heading on up from our location, so we simply followed them. The mountain face is not that wide, so we reasoned we would intercept the trail soon no matter what as long as we headed uphill.
The uphill was quite steep, and I used the climbing bars on my snowshoes to good effect as we headed straight up the 40° snow field. We had to cross a few rocky bands, and the higher we got, the less snow there was to dig into. We never saw a trail, but the snow obscured everything. We were soon at the cliff looking down again into Tyndall Gorge. Because of the lack of snow, we pulled off the snowshoes and strapped them to our packs. I also took the time-out to put my jacket back on, as well as my balaclava. This felt more like January! The wind became a factor, howling over the summit to the east and freezing my hands as I tried to work the cumbersome clips of the pack straps. I became a little concerned about how cold my hands were, and balled them up inside my gloves to warm them, wishing I had brought hand warmers with me (within 24 hours I had restocked my pack with handwarmers). We continued west, but my hands wouldn't warm up, and I stopped again to strap my poles onto my pack so I could keep my hands balled up inside my gloves. I really need to get mittens for these hikes.
As we continued, it became apparent that the trail was pretty far below us. We eventually reached it as we continued west, and then followed the gravelly path past a dramatic snow cornice to the actual summit. The Flattop Mt summit location is a matter of interpretation. My interpretation is that the tallest point lies at the top of one of the large man-made cairns that line the trail. The natural summit is almost impossible to spot since the mountain top takes its name extremely literally. And, actually, by rights it's not really a mountain at all, but simply a pass up to the Continental Divide, as there is virtually no elevation loss between Flattop Mt and nearby Hallet Peak. Looking at a map, one can see how Flattop Mt is actually a bump on the northern flank of Hallet Peak itself, separated by Tyndall Gorge which was formed by glaciation a million years ago. We reached the intersection with the Continental Divide Trail at 2:00, took a few pictures and retreated towards larger boulders near Tyndall Gorge to have lunch.
The wind was not as severe up top compared to a thousand feet down the east face of the mountain, and we were able to lunch in relative comfort on the lee side of a boulder pile where the snow had been swept clear by the wind eddy. We watched a couple descend Hallet Peak and pass behind us on their way down. I think we may have been the last hikers up on Flattop Mt, a feat that would be very difficult to repeat in summer time when this trail sustains incredibly high use.
By 2:20 we had our packs back on and were heading back down, descending with our backs to the brisk breeze, which nudged us along at a good clip. We followed the trail down until we once again lost it in the snow. It was very bazaar: we were clearly on it, and then 50 feet later, no trace of it could be found, and footprints seemed to spray off in all directions. We followed a likely direction through a boulderfield, and eventually caught the trail again near treeline, where the snow deepened and we found we once again needed our snowshoes.
The hike back was quick, as we let gravity do most of the work and the powdery snow cushion hard footfalls from long strides. We stopped once at the Dream Lake Overlook to examine Longs Peak, its west face turning a nice bronze color in the afternoon light. Otherwise we booked it down at a steady, quick pace, arriving back at the car around 4:15, well after the sun had dipped below the crest of the divide, leaving Bear Lake in cold shadow.


The slope down into Tyndall Gorge



The Never Summer Range from Flattop Mt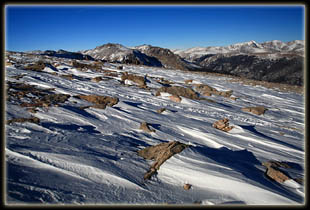 Hallet Peak and Longs Peak behind



Longs Peak



Longs Peak

Flattop Trail just beyond Bear Lake



subalpine fir near treeline



Wind-blown firs near treeline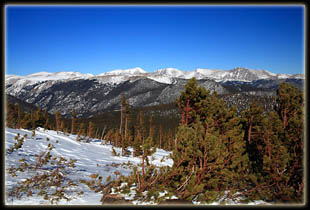 Mummy Range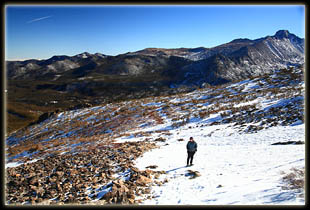 Up the east face of Flattop, with Longs Peak in the background



Looking north to the Mummy Range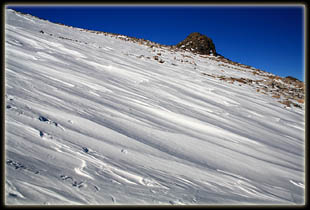 Nice cornice on Flattop Mt



The last steep stretch up to the summit plateau



The flat summit of Flattop Mt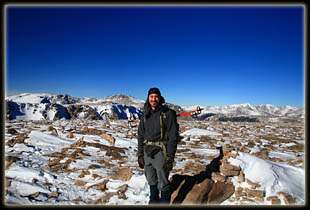 Nice weather at the summit