Location: Collegiate Peaks Wilderness, Colorado
Access: From Buena Vista, CO, drive 2.8 miles north on Hwy 24, turn west on CR384 and drive 1.2 mi, then turn north on CR361 and drive 1.6 mi, then turn west on CR368 and drive 1.2 mi, then turn south on CR368A and drive 0.2 miles, then turn west again on a dirt road leading into the woods and drive 1 mile to the trailhead or as far as your car will allow. Because of residential development, the trailhead is hard to find, and differs from several guidebook descriptions. The main trailhead seems to have been recently relocated by the Forest Service. We spent about 20 minutes driving around looking for the TH, and finally had to ask some pedestrians where it was.
Trail: Five miles, one way, up the eastern cirque of Mt Columbia through lodgepole pine forest, then through alpine meadows. Trail leads through some scree, and ends up at the summit of Columbia, at 14,073 ft. Allow about 9 hours roundtrip.
Maps: USGS 7.5' Quads: Harvard Lakes and Mt Harvard
Dogs: 6í leash, as per wilderness regulations
Fees: None
Weather:Snow detail from NOAA
National Weather Service Forecast

---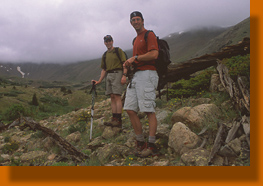 Let me say up front so that I did not make it to the summit of Mt Columbia. Details beyond that are reserved for the ending of my narrative and should the gentle (or barbaric) reader wish to persevere through the exciting details of the hike, everything will be revealed in due course. Let it not be said that I mislead the public with web pages documenting false and extravagant claims such as summiting a major peak when in fact there was no actual summiting going on. If that sounds dirty, shame on you.

Christine and I were parked at the Park and Ride on Highway 285 west of Denver around 5:20, thatís AM, waiting for Mike and Ben to meet us at 5:15. We were late. They were later. A String Cheese Incident Concert at Red Rocks (and a few beers) the evening before had slowed their get-up-and-go time this
morning, and they arrived around 5:30. The date was July 3, 2006, the day before an Independence Day that on this particular year fell on a Tuesday, meaning no frenzied three day weekend for anyone but those with enough annual leave to take Monday off (like me). We surveyed atmospheric conditions beyond the windshield of Benís Camry as we zipped south on 285 over mirrored roads: wet, rainy, drizzly and cloudy for as far as the horizon would show. Obviously, this was not the perfectly blue Colorado morning sky we had anticipated. Ben insisted it was but a "morning mist". After one of the driest Junes on record, the rains had returned in the form of a slow-moving southwestern low that came, literally, to rain on everyoneís parade.
Mike is from Vermont, and was visiting for a long weekend and enjoying the contrast between the Green Mountains of his native state and the supersized Rocky Mountains. Ben and Christine live in Denver. Benís 1-year old dog, Salty, was also along for the fun. I represented the Equality State on this little adventure. As we proceeded southwest, the skies cleared quite a bit, with large patches of blue stretching overhead, lending false hope. We talked about hikes, New England and coffee in the car ride over, snacking all the while on a diabolically addictive Cheerios-Pretzel-Peanut-Corn Syrup mix that Christine had concocted. We reached Buena Vista by 7:30, and after negotiating a litany of wrong turns and vaguely-signed roads, arrived near the trailhead (as near as possible in a low-clearance vehicle, which was 0.8 miles) around 8:00. It was sunny and cool.
We happily walked up the dirt road to the trailhead, then hiked over mostly level terrain for the first ½ mile to a crossing of Three Elks Creek before ascending a steep and long rocky trail that followed the creek. The sweat poured forth as we labored in the suddenly-warm sunshine. After a mile, Ben stopped to filter water and make sure his pup was drinking enough. We all dropped our packs and rested in the shade. Mike detailed the advanced features of his barometer watch. I was impressed. We hiked on, uphill of course, always uphill, through verdant aspen glens where the trail crossed back and forth over the bubbling rush of the creek. Some of our crossings of said creek were superfluous, but were fun nevertheless. All I can say is that I was not leading. We crossed two trails perpendicular to our own, as well as several nice areas for camping.
By the time we reached the 2 mile mark, the clouds had topped over the Columbia massif and spilled over on top of us. The cloud bottoms were dark and threatening, and we all began to feel like simply making it to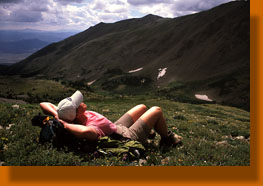 treeline would be the limit of the dayís activities. The trail leveled off, and we followed it through lodgepole pine trees that were grayish green in the smoky light that filtered through the clouds. The forest was dry, but wildflowers were sprinkled liberally in the clearings where one might imagine sunshine flooding in on a normal, sunny day. As it was, the grey clouds had completely covered the sky.
We stopped for a long snack break beside the stream we had been following, and I lunched hungrily on trail mix. It tasted so darn good. Something wakes up inside the body when hiking that makes the ordinarily-listless combination of salty peanuts, sweet raisins and M&Mís seem like a delicacy beyond description. I was in ecstasy. Moreover, the gorging on trail mix brought me new energy and renewed the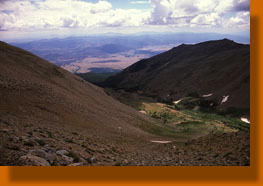 spring in my step.
Shortly after, we approached treeline, and passed a troop of girl scouts on the trail heading down. They had summited the day before, and were on their way out with frame packs on their backs. Heck, if an entire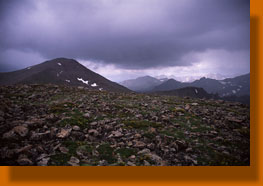 troop of Girl Scouts could do it, I would be ashamed to not make it to the summit myself. Exactly where we wanted to go was a bit of a mystery, as clouds shrouded the ridge ahead and the wherabouts of Columbia could only be guessed at. We followed Mike uphill and lost the trail for awhile before finding it again by noting the large cairns. We stopped again at treeline and drank water and had more delicious snacks. From here, we looked directly west into the cirque below Mt Columbia. Improbably, the sun came out while we rested, and the clouds cleared enough to note the tip top of Mt Columbia. It didnít look too terribly far away. We were encouraged, and shouldered our packs to move on. Mind you, we had no idea where the trail lay at this point, or if there even was a trail. All we had was a postage-stamp-sized map from a page in a guidebook about Colorado 14erís, a guidebook which hadnít exactly facilitated a speedy trip to the trailhead either. Beyond confirming that we were east of the summit, the book didn't help much. Absent a clear trail, we made our own, uphill. After all, the ridgeline was in sight, and clearly where we needed to be.
The first part of it was speedy going over lush grass and amazing wildflowers. A stand of grizzly old bristlecone pines lined the opposing ridgeline on our way up a south-facing slope, and were the highest trees along the trail. We spread out on the alpine hill, huffing and puffing and sweating in the sun. Halfway up, we stopped and rested together. The sun was out and the clouds were thinning and we all had high hopes of making the summit. The view of the cirque was phenomenal, and worth the trip by itself. To the east, the valley and Buena Vista were spread out like a relief map, with plump cumulous clouds riding invisible pressure bubbles a thousand feet above the plains, casting their black shadows on the ground. Onward, I really began feeling my oats and walked out ahead of the group on the ever-steepening terrain. Higher up, the grade increased while vegetation decreased, leaving broad swaths of open scree to negotiate. I began to use my hands to steady myself on the few boulders poking through the loose rock. Often, one step forward resulted in two steps back. It was like walking in sand at times. I shifted back and forth as I went up, trying to find stable areas of rock to aid in the ascent. Very difficult going. I adopted a "20 and rest" program of twenty steps and a breathing break. Everything is tougher at 13,000 feet.
During this time, without fanfare, the clouds returned and blanketed the sky. The wind picked up, and it began to sprinkle. Basically the weather went from marvelous to shitty in about 30 minutes. Nevertheless, thunder had not been heard, so we continued on, cautiously optimistic, perhaps foolishly optimisitic. The rain increased to a drizzle, and we all got wet. In the beginning this wasnít so bad owing to the hot sun we had just hiked in for over an hour. I avoided donning a rainjacket because I knew that my current level of exertion would mean just as much wetness inside a jacket from sweat as outside from rain. Mike and Christine had fallen behind, apparently not feeling their oats today, but Ben and I made it to the ridgeline only to find ourselves surrounded by rainshowers in almost all directions. I looked to the east to see the conical summit of Columbia, 1/8 mile away and only 200 feet up. To the northwest lay Harvard, and several peaks beyond. It turned chilly in a big hurry. I slipped into my raingear and fleece hat/gloves. Mike appeared, steadily clipping along with his trekking poles keeping time. Thunder was now rumbling in from several directions and even Benís enthusiasm for continuing on could not convince Mike or I to try for the summit. We snapped some photographs, and headed down the way we had come.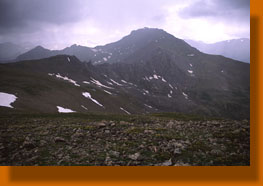 We met Christine about 60 feet down, putting on her rainjacket. She shared no interest in going higher, and wanted only to get down into the trees before the storms came any closer. We all agreed. Getting down the scree slope proved phenomenally easy, almost like skiing. Each step on the loose rocks resulted in 8 feet of descent, and we were well below the ridgeline in only minutes. Christine, Ben and Mike all skied or slid down a snowfield, but I opted to stay on solid rock. Back in the basin, the lightening was hitting the surrounding peaks, and we were all glad to be well below the ridgeline and heading into the spruce/fir forest. There was absolutely no regret at turning back shy of the summit, except perhaps that if we had left Denver an hour earlier, we probably would have made it while the sun still shone.
We stopped in the trees and snacked on a snickers bar and more trail mix. We were all pretty wet by then, and the rain was coming down lightly but steadily. Although frustration at not reaching the very top was evident, I was pleased that I had reached my personal highest-ever elevation at 13,800, some 600í higher than my previous high on Wheeler Peak in New Mexico. I had nothing to complain about. I was already forming my plans for a return trip that would utilize the backcountry campsite located 2 miles up the trail. With a nice early start, say 5 AM, it would be a cinch to reach the top by 10AM and avoid the storms.
The remainder of the hike was a monotonous trek through forest that had lost its sparkle in the dull, grey light. Nearer to the trailhead, it was dry where the rain had not reached, and our clothes dried out so that by the time we reached the car at 3:30, we were all pretty much dry. It had taken us about 4.5 hours to hike up and 3 hours to hike down.
First stop in Buena Vista was a coffee shop where Mike and Ben got sandwiches while I strolled across the street to get chips and a Coke (I always crave that combination after a hike). We sat on the patio of the coffee shop and caught fleeting glimpses of the ridgeline where we had been hours before through the ragged clouds that passed in front of it, marveling that we had hiked that high. Someday, Iíll go back and hike higher.