Location: Mosquito Range, near Alma, Colorado
Access: From the town of Alma on CO 9, head west on Colorado 8 / Buckskin St (look for signs to Kite Lake). Follow this 2WD road west 5.5 miles to the Kite Lake Trailhead.
Kite Lake TH: UTM NAD83 z13 402662e 4353775n 12,022'
Trail: Class 2 hike on reasonably-well marked trail to Democrat, Cameron, Lincoln and Bross. Note that Bross summit is officially closed by the property owner, but the official route simply bypasses Bross summit to complete the loop hike back to Kite Lake. The DeCaLiBron loop is 7.5 miles with 3700' cumulative vertical gain.
Fees: It costs to park at Kite Lake, but it is free to park just down the road a bit.
Dogs: No posted regulations.
NOAA Snow Depth Map of the Mosquito Range
Webcams: Breckenridge, ~10 miles north
---
September 27, 2009
The season wanes, and already snow has hit the high country. I call up my friend Christine, and we discuss hiking options that will take advantage of one of the last warm weekends in the Rockies this year. I suggest we try a 14er. She's game. We vacillate between Quandary Peak and Mt Democrat, and ultimately decide to try Mt Democrat because if the weather is really good (and it's supposed to be) we can always try for a second (Mt Lincoln) or even a third (Mt Bross) 14er on the same hike, without having to return to the car and drive somewhere else (or hike across several deep mountain valleys).
Saturday morning, I leave Cheyenne at 5:00 AM. It hurts. Getting up that early on a Saturday is just un-American, but I do it. Ah the things we do for….hiking. I get to Christine's in Loveland just before 6:00, and I'm early. She's still in bed, in that post-alarm clock beep state of comfort, enjoying those last few moments before struggling out of bed. She answers the door, bleary-eyed, and then quickly goes to change. With astonishing speed, she gets her bag together and we're out the door.
Traffic is light on I-25 and I-70, and the day dawns perfectly clear and bright. We drive through Frisco, then down to Breckenridge and a little south over Hoosier Pass to the small town of Alma. Christine spots the sign for Kite Lake, and we head up the dirt road. The road has some very large potholes, but there are no deep ruts or obstacles. We cruise up with ease to treeline, and then beyond through open tundra to Kite Lake. There's a small dirt parking lot with a fee-to-park sign, but just south of the lot there's a sign that says it costs money to park beyond the sign, from which I interpret parking before the sign is free. Since the sign is only about 100 yards from the trailhead, I can't see any reason to continue on and pay to park. OK, so I'm cheap! We park and get our gear together. It's pretty dang cold, and the wind is howling, but the sky is clear and the mountains, coated in a light sugar-dusting of snow, look irresistible.
We hit the snow-covered trail at 8:00 and within minutes we take a wrong turn, heading east onto the Mt Bross Trail. A sign at the creek crossing informs hikers that the Mt Bross Trail is closed 1.5 miles ahead. We backtrack and find the Mt Democrat Trail, and begin heading north past Kite Lake. The trail is ice-covered, and I'm glad I've brought my hiking pole and gaiters. As we close into the wall of the cirque, the wind is blocked and it grows warm in the sun. Both Christine and I have to stop to remove our outer jackets. On up the steep trail through snow-covered boulders. We meet a man and his 10-year old son descending, having been turned back at the col by the ferocious wind. Ominous news, but we continue. We can see snow swirling off Mt Bross in great whirlwinds. It looks cold up there, but we continue up. We pass by numerous mining artifacts: old piping, metal scrap, tailings piles, rotting timbers and what appears to be an open mine shaft. There are some signs on the way up advising to stay on the trail because of private property, which I gather the trail passes through.
Near the col, we stop and sit on a conveniently-placed log, no doubt hauled up for the mining operation, and eat a snack. A man comes running fast up the mountain, shirtless. I am impressed, but I refrain from removing my own shirt. We hit the col and the wind is crazy. The compressed wind funneling over the col is so powerful it makes me laugh. I struggle to get my outer jacket back on, and it's a struggle to get the hood cinched down around my face. We turn south and begin the long trek up the barren north face of Democrat. The ridgeline we climb up is beautiful. Mountains in all directions stand out in the crystal-clear air beneath a deep blue sky. Everything is lightly covered with snow. We grind our way up through the boulders and snow, while a few people pass us on their way down. When we reach the summit, there is nobody in sight. It's extremely cold because of the wind, so I take lots of pictures as fast as I can, trying to expose my hands to the wind as shortly as possible as I photograph Mts Arkansas and Tweto across the valley, and the snow-shrouded Sawatch Range on the horizon. Just a couple of miles to the northwest sits the Climax Mine, a 270—acre open-pit molybdenum mine that supplied ¾ of the world's molybdenum at its peak. It has been dormant since 1981, waiting for the price of molybdenum to justify its reopening. We don't tarry at the summit, but come right back down.
We return down to the col the same way we came up, and then decide to eat lunch. Off to the north a bit is a shallow pit in the rocks with windward-side protection, so we find a log and have a seat. The wind is extremely strong, but the sky is clear and no storms are predicted, so we decide it probably won't get any worse and we should attempt to get to Mt Lincoln. So we do. This requires that we first summit Mt Cameron, whose summit sits above 14,000 feet, but because there's not 300 feet prominence from taller Mt Lincoln, Mt Cameron is simply considered a sub-peak of Mt Lincoln. Why is it named, then? Well, in the 1800's, those crazy miners didn't pay attention to the 300' rule and named any old peak that looked prominent enough to name. This area was a big mining region, with lots of claims and lots (thousands) of mine shafts, so it helped to name every peak, even those "unofficial" peaks like Mt Cameron, to make navigation and discussion easier. The topic of prominence and what makes a mountain "official" is the subject of endless academic debate. I won't contribute anything new here. The USGS and the Colorado Mountain Club don't consider Mt Cameron a "14er". So what? It's still a big freakin' mountain with killer views from the summit. After slogging uphill through slippery snow, we hit Cameron's summit, which is a flattish, extremely-barren hump. The wind humming up from the Platte Gulch 2500 feet below is brisk, but the view is outstanding. A cascading waterfall descends the opposite gulch slope, about a mile away, draining Wheeler Lake, a rocky bowl of dark water below Wheeler Peak. Improbably, there is a road that leads up to Wheeler Lake and we watch a red jeep crawl up the grade.
From Cameron, we shuffle down through the snow to the north, heading for Mt Lincoln. From Cameron, Mt Lincoln looks steep, rocky and tricky, but as we get closer, the trail is much easier than it appeared from afar. There is nobody around, and I'm really liking all the alone time we're getting with the mountains today. It's like we went to a concert expecting 50,000 people, but we're the only ones in the audience and the singer is singing just for us. The closest hikers are on the saddle between Cameron and Bross, mere specks from here. We hustle on up to the summit of Mt Lincoln, where the wind doesn't seem quite as harsh as it was on Mt Democrat, so we are able to stickaround awhile longer. Quandary Peak sits just off to the north, and we check out the long, gentle slope that we had almost chosen to climb today. Our friend, Mike Weigand, has snowshoed up Quandary Peak in the late winter, and Christine and I decide that this sounds like a good thing to plan on in a few months. After we've been on the summit for 15 minutes, a group of 3 hikers comes around the rocks and hits the summit. We take our leave, allowing them to enjoy the summit by themselves.
The weather is still great, windy, yes, but clear, so we decide to head on over to Bross. We have seen lots of hikers over there all day, and it doesn't look so difficult. The trail bypasses the summit of Cameron to the east, and on this stretch, the west wind is blocked very well. We stop again on some dry rocks to eat a snack. Looking back at Lincoln, we agree it's the best looking mountain of the 4 we will hike today. It looks very rugged, and is very colorful with a reddish hue to the rocks. All over the east face of Mt Lincoln, Mt Cameron and Mt Bross, we can see mine tailings, piled up and arranged in rows to reduce erosion. One wonders how these mountains looked before they were pulverized. Bross, especially, looks ravaged. There is hardly anything natural about the mountain, it just looks like an especially large pile of mine tailings with roads heading every which way over it, and pipes poking out everywhere from it.
As we sit by the side of the trail, we are passed by the same three hikers from Mt Lincoln who are also on their way to Mt Bross. After they pass, we head on, and catch up to them as they stand studying a sign that says, "Trail Closed". There is no explanation about why the trail is closed. I ask a hiker coming down why the trail is closed. He says he doesn't know and doesn't care. The summit is so close, we just decide to go for it. Later I learn that it is closed because of an abundance of unmapped collapsing mine shafts. If they put that information on the closure sign, I think it would help achieve the goal they are after by placing the sign. Otherwise it just looks like a mining company wants you to stay off their corporately-owned land that happens to encompass one of only 70 14,000-ft peaks in the lower 48 states, to which any red-blooded American will raise their right middle finger in a salute and continue walking. The summit of Bross is very large and flat. We find a storm dugout, and the rocks on the west side of it appear to be the highest point on the summit. Because the summit is so large, the views are not particularly impressive, since mostly you can just see the rock of the summit. Aside from the satisfaction of "bagging" another 14er, there is nothing particularly enjoyable about the Bross hike. Like I mentioned, it is a mountain showing severe ecological impacts from mining, and I wonder if any of what we see is the original mountain, since it all seems to be covered with mine tailings, placed in humps marked by pink-flagged posts, all to promote ecological restoration sometime over the next 23 centuries.
From the summit, we backtrack ¼ mile to the closure sign and head down the "approved" route, which takes us very close to the Bross summit, just a little below it. We could've just slipped down 40 feet of tallus from the summit to the trail and saved a lot of time. After this detour across uninteresting tallus, we head down at a slow rate on the loose rock of the trail. The snow has largely melted by this time of day, but there are still icy stretches. It's a long, long way down but eventually we reach Kite Lake. The day is still clear and beautiful, and it's the only time I've ever finished a 14er hike with the sun still shining (small miracles). As an added bonus, I'm still feeling pretty good: no headaches, no severe leg aches and no ankle soreness. We hop in the car and head home.

Mt Democrat from the Kite Lake TH

The start of the trail near Kite Lake

Stein high above Kite Lake

Kite Lake

The east face of Mt Democrat

Mt Cameron, from halfway up Mt Democrat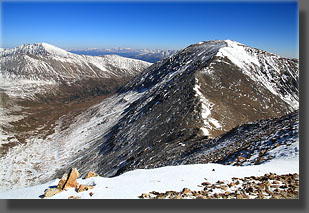 Mt Cameron (right) from Mt Democrat summit

Lincoln (far left) peeks over Mt Cameron (near left), and
Mt Bross is the gently-sloped peak on the right

Looking west towards Arkansas Peak and the
Sawatch Range from the summit of Mt Democrat

Stein on Mt Democrat

More Sawatch Range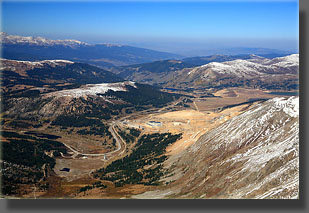 Climax molybdenum mine

Near the summit of Mt Democrat

From Mt Democrat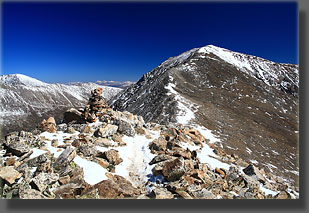 Mt Cameron

Mt Democrat from Mt Cameron

Trail up Mt Cameron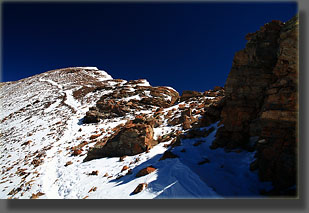 Trail up Mt Cameron

Stein heading up Mt Cameraon,
Mt Democrat in the background

Mt Lincoln from Mt Cameron summit

Mt Lincoln

Mt Lincoln summit

Stein on Mt Lincoln

Sam on Mt Lincoln

Wheeler Lake and Wheeler Peak above Platte Gulch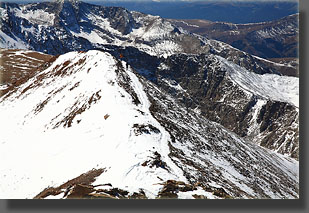 Hikers approaching Mt Lincoln summit

Mt Bross from Mt Lincoln summit

Mt Lincoln

Sam on Mt Bross

The barren face of Mt Bross

Mt Democrat from Kite Lake