Location: Sawatch Range, in the Collegiate Peaks Wilderness, northwest of Buena Vista, Colorado in the San Isabel Natíl Forest
Access: From the stop light in Buena Vista, drive 15 miles north on Hwy 24, then turn left (west) onto Chaffee Cty Rd 390 (Clear Creek Rd). Follow this graveled and oft-graded road for 7.8 miles and watch for the Vicksburg TH on the south side of the road.
Maps: Trails Illustrated #129 Buena Vista/Collegiate Peaks (1:40,000); USGS Quad Mt Harvard (1:24,000)
Summit: UTM NAD83 z13 382113e 4313295n 14,197í
Trailhead: Vicksburg TH380914 4317431 9,633í
Trail: 3.9 miles one-way, 4,564í gain, well-marked, class I
Fees: None
Dogs: Leash law in wilderness areas
Weather: Snow map Nat'l Weather Service forecast

---
September 5, 2009
After a few hours recovery time from hiking Grays and Torreys Peaks, we are packing up our overnight bags at the Belford TH. It is near dusk, and we feel a little urgency to get on the trail and find a campsite before dark, because of the, you know, wolfershnapper that stalks the woods. That and the fact none of us have hiked here before and so have no idea where to begin looking for good, flat ground to pitch a tent on, and that process is made infinitely easier with daylight. We distribute gear evenly among us, Mike, Christine and I, with frequent interruptions of Mike dodging curious wasps that buzz around him. He verbally threatens the wasp, and that actually seems to buy him some time as they fly away. We have arrived hours later than intended, and are still full from our late lunch in Silverthorne, so we ditch the idea of making dinner at camp, which allows us to leave behind weight of the stove, fuel and some food.
By 7:00 weíre on the trail, passing over the bridge on Clear Creek (it is indeed clear) and passing into the Collegiate Peaks Wilderness under a slate-colored sky of thick, wet clouds. Mike hikes in the lead, setting a brisk pace, then me, then Christine. The terrain is densely-wooded with lodgepole pine, spruce and aspen, some of which are hinting yellow already. Not far from the bridge, there is a grave beside the trail of an infant who died in 1884, and whose remains are the only set in this extremely small cemetery bounded by a white picket fence.
Boots hitting dusty rocks, we make our way up the trail, switchback by switchback, through the trees, looking for an opening, becoming increasingly concerned about the utter lack of openings. The slope continues relentlessly, however, and it is sometime before we level out even a little. When the trail ceases the switchbacking, and follows the south side of the Missouri Gulch, it looks promising. But if we thought it would lead to a nice campsite, we thought wrong. As the light fades and objects in the woods start to blend together in a gray haze, we decide to explore a bit off the south side of the trail for a suitable spot. We each branch off into the woods at different spots, but find nothing, absolutely nothing, even remotely possible for pitching a tent on. Wearing shorts, I do get a nice layer of itch from the juniper in the undergrowth. Have you ever noticed that sweat makes you itch more from junipers, and plants in general? On into the dark we hike uphill, spilling off into the woods periodically to check for good spots. Nothing. Mike and I don our headlamps and search around in the gathering dark, but nothing shows up that will work. If we all had hammocks, weíd be set, but there is no area large enough to erect a 3-man tent.
Around 8:45 we come upon an old, roofless derelict cabin with a roaring bonfire out front. Several people are standing around, talking softly in the golden haze, and by that light we can see numerous tents scattered about in what is apparently the only flattish ground along the trail (though nowhere is it really all that flat). Mike makes a quick foray into the woods and sees no unoccupied ground. Itís pretty packed. Short of pitching our tent within a foot of someone elseís, thereís not really a good option. We walk out into the field beyond, and though it is too dark to tell, we pass beyond the final block of tall trees. The field beyond is covered in small willows, but thereís a few places to camp, though heavily sloped and bumpy from the shrubs. Flickers of lightening are coming in from somewhere, and the openness of the terrain unnerves us in light of nearby lightening. We powwow our options, then I prowl up the trail a couple hundred meters and find an area just off the trail, hemmed in by taller willows. Itís not immune from lightening, but the taller willows offer some comfort. I lay down on the spot to test for slope and smoothness. Not bad. We decide to go with this spot. We never intended to have to hike up 1500í to find a suitable campsite tonight, but thatís just the way it is.
In the dark, we set up the tent, roll out pads and bags and hang cereal, granola bars and crackers in one of a few taller spruces nearby, spruces I hope will act as lightening rods should lightening from a midnight thunderstorm pounce this way.
We hop in the tent around 9:45, and instantly realize that laying down on bare ground and not sliding down the hill is a lot different than laying down on a nylon sleeping bag and not sliding down. In fact, thereís a lot of sliding. The tent is severely sloped towards our feet. Mike lays down and slides slowly all the way to the foot of the tent. Everyone agrees that laying on the stomach minimizes sliding. I find that laying directly on the thermarest instead of in the bag reduces it even more. We do a little examination of it, and we three science nerds conclude weíve got a 20% slope to the tent floor. Still, after hiking most of the day, everyone is able to drop off to sleep before too long. Stein is first, I think. Soon, one of them is snoring, but Iím so tired, I canít even care.
September 6, 2009
My alarm beeps at 5:30. Itís completely dark out, and cold. Condensation from our breath blankets the inside of the tent. I notice that Iíve had much better luck not slipping downhill in the night, as both Christine and Mike are a good 2 feet lower than I am. My trick was to put my jacket at the foot of the tent, then bend the bottom foot of my thermarest at a 90-degree angle so I could use it as a ledge to literally stand on all night with at least one leg. Worked pretty well, though I wonít be giving up my flat bed at home anytime soon. We have all slept in our hiking clothes, so thereís only boots to put on and food to gather before weíre on the trail in the dim light of morning at 6:00. Itís cold, but not uncomfortably so.
In a few hundred meters, we reach the branch off to Missouri Mt, and take the left fork. It is all tundra around us, and we conclude nothing would have been gained by continuing on our hike last night: the ground is no flatter or smoother up here than down there. Overall, itís just probably better to camp right along Clear Creek than attempt to find a good place along this trail. At 6:30 we reach a large flat rock on the side of the trail just at the base of where it really gets steep. We stop and enjoy cereal and reconstituted milk as the sun peeks under a thick layer of clouds to light up the mountains in around us. It is an enjoyable 15 minutes of sunshine that is our only sunshine for the day. By 7:00 weíre back at it.
Itís a long plod up the shoulder of Mt Belford, but the views are outstanding. Across the wide valley, Missouri Mountain forms an intimidating wall of rock, though itís part of a long ridge so until weíre fairly high on Belford, itís impossible to declare with certainty which little bump on the ridge is the highpoint. There are perhaps half a dozen other hikers visible on the mountain, a very low number relative to the hundreds we saw on Grays and Toreys the day before. We stopped to talk with a couple of guys and mentioned we had camped down below, in the green tent right along the trail. ďOh, thatís your tent?Ē one of the said, ďWe were thinking that looked pretty uncomfortable.Ē
We keep a comfortable pace that allows conversation, and we reach the summit at 9:15. Mike points out Mt Huron, which we climbed last year, and La Plata Peak, both to the south. Mts Yale, Harvard and Princeton are visible to the south, their intervening valleys filled with fog. Mt Oxford lies only 2 miles away across a saddle sporting a relatively-shallow 700-foot drop. We at first agree to try for it, but after eating snacks and taking photographs for half an hour, the weather begins to look much less benign. Huron and La Plata are both enveloped in dark clouds that are spilling over the ridgeline towards us. We decide to not risk getting caught in snow, and head down.
Not far from the summit, we agree to stop for a time to enjoy the view to the south and to allow the weather time to make clear its intentions. We decided on the summit to forget Oxford, but none of us are very happy with that decision. While sitting on the tundra off the trail, Christine spots a mountain goat, then a few more, and soon a herd of 15 goats is walking north not 500 feet away, down the slope. I snap some photographs, wishing I had a long telephoto lens with me. I really like the mountain goats, and Iíve been lucky this year to have 4 separate encounters with them.
Around 10:40 we continue heading down the mountain, concluding that weather is not getting any better, and reach the tent at 12:05. A light rain is falling, and though I had harbored ideas of napping for 30 minutes before continuing down, the light rain encourages me to pack up everything before it becomes a heavy rain. Mike and Christine agree, so we quickly break down the tent and pack everything up. The rain persists as we hike down the trail, but not for long. It remains cloudy, but the temperature rises as we descend into the woods, past a couple of miles of wildly sloping forest. We reach the car in just under an hour, and head off to eat pizza in Idaho Springs.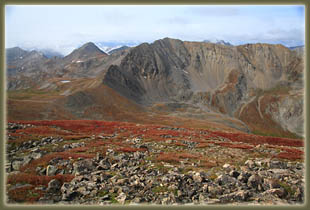 Missouri Mt and Emerald Peak behind



Stein soaks in Missouri Mt



Mountain goats high above Missouri Gulch



Mountain goats in Missouri Gulch



Stein checks out the wildlife



Elkhorn Pass into Missour Basin



Missouri Mt summit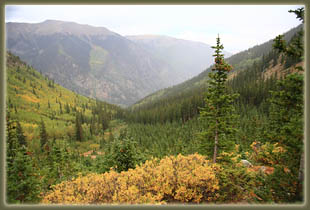 Down Missouri Gulch



Crossing the stream in Missouri Gulch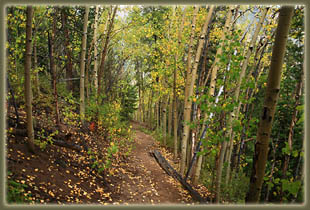 Nearing the Vicksburg TH

Dawn in Missouri Gulch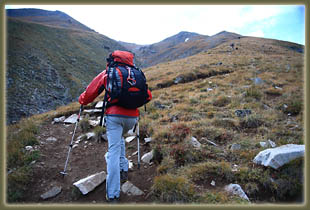 Mike on the long slope up Mt Belford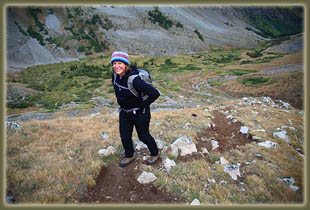 Stein high above Missouri Gulch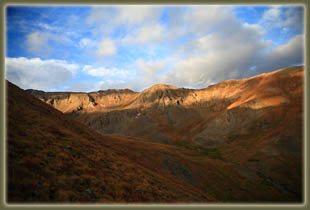 Missouri Mt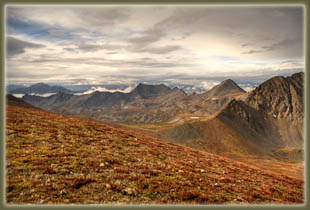 Looking south from Mt Belford over
Elkhead Pass into Missour Basin



Missouri Mt from Mt Belford



Silver King Lake cirque



Looking NW from Belford; tallest peak (left side) is La Plata



The southern ridge of Belford, pointing the way to Mt Harvard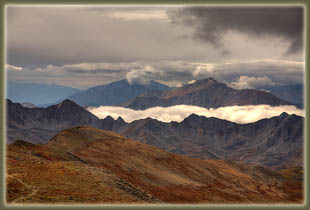 From Belford: Yale on the right, Princeton on the left

Mt Harvard in center from Mt Belford.
The east ridge of Columbia is seen to the far left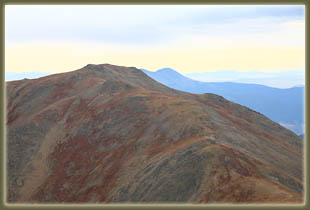 Mt Oxford from Belford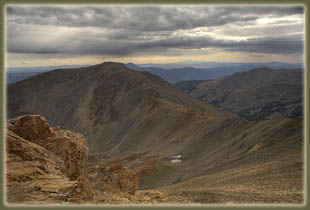 The ridge leading over to Mt Oxford from Belford's summit



Clouds roll in over Missouri Basin;
Emerald Peak far right has a classic shape



Stein and Mike at Belford summit



Clouds thicken in Missour Basin. Time to head down?



Stein, Mike and Sam at Belford summit



Missour Basin



Mike demonstrates "climb like a pirate" day



Stein on Belford



Stein and Mike on Belford, Oxford beyond



On the trail, Mt Belford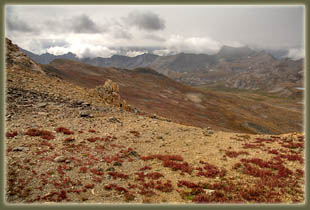 Looking south from Belford



Wonderful Missour Basin



Long north ridge of Missour Mt