Location: Daniel Boone National Forest, north of Stearns, Ky
Map: USGS quad: Hail
Access: Many access points. To get to Bowman Ridge TH, head north on US 27/TN 90 about 12 miles from Whitley City, past the signed Middle Ridge TH turn, to Bauer Rd. It is signed as Bowman Ridge TH, but comes up fast and there's no turn lane. Head east 4.7mi on Bauer Rd, veering right at 2.2 miles. The TH is at the end of the road.
Trails: A network of trails provide access. The Bowman and Middle Ridge trails begin high, and follow old logging roads down to the creek. The trails along the creek are much less defined, some being very overgrown footpaths that are almost unrecognizable. It's definitely wilderness. Elevation gain is less than 500 ft. The USFS has a good trail/road map of the wilderness.
Dogs: No posted regulations
Fees: None
Weather: National Weather Service forecast

---
September 4, 2010
Ah, it was a fantastic day. That first week of fall weather always gets me excited to get out hiking. It's like I wake up after a long summer nap and suddenly realize the clock is ticking down to frost, and I better get out on the trail before the leaves fall. So, with Andra and Ada visiting family in Kansas, thus leaving absolutely no reason to sit around the house all weekend, I piled the dogs into the Subaru and jetted off for the exotic land to the north known simply as Kentucky. Long drive. Being Saturday, there were lots of UT fans on the roads. How did I know? The orange diplomat-car flags were out in full force, as were the large static glass decals. Finally arriving at the Beaver Creek Wilderness around 1:00, I got my backpack in order and let the dogs out to begin their olfactory interrogation of the parking area. Only one other car in the lot, and that was a forest ranger truck with a guy sitting behind the wheel reading something…the new USDA 2011 budget, perhaps? It is approaching year end, after all.
The day was pristine. I say that for many hikes, but this one was even more pristine than most: 78 degrees, blue sky, no wind, crisp, dry air. It literally couldn't get any better. The trail begins right behind the sign, which was not obvious to me at first, and after initially walking 50 meters down the dirt road to a dead end, I figured it out. So, Makenzie and Henry rushed ahead of me on the narrow trail, which intersected the gravel road anyway at the wilderness boundary. The road was grown over, but was easy walking and very scenic. The use of the old logging road reminded me very much of Cummins Creek wilderness in Oregon. The trees were not quite as large as I had imagined wilderness trees might be, but all was still very pleasant as I cruised downhill at a gentle logging truck grade of 7%. There was some poison ivy, but not much. Still, I concentrated hard on avoiding what little there was, and wondered if shorts might just be asking for trouble.
In short order, we reached Beaver Creek. It actually came up so quick it surprised me, and I doublechecked the map to make sure we weren't at a tributary. Nope. This is it. There was a large, sturdy bridge over the creek, and just before it on the east side, a set of moss-laden stone steps leading down to creekside. We took this route down, and after a hundred yards, slipped north into the woods and found a really nice flat area under several large hemlocks. The nice things here was that the hemlock shade was so oppressive that no other plants were growing, so setting up the tent didn't involve trampling anything, or owrrying about our friend poison ivy. I pulled all overnight gear out of the pack, slipped on my pant legs, and threw the rest back in the bag. With the tent up, we returned to the creek, which is a wide, slow-moving, shallow kind of creek, and crossed it to the south to find a food-hanging tree. I found the thought of a large creek between me and a potential food-stealing nocturnal ursine prowler very comforting. The limbs of two hemlocks served nicely to hoist the food bag 12 ft up, and exactly centered between the two trees, 15 feet apart. Only an acrobatic bear could've gotten my food, if it had gone that far…more later.
I herded Makenzie and Henry up the south side side of Beaver Creek towards the bridge, as there is also a path on the south side of the creek, though it is faint. I gather there aren't many hikers in these parts, except perhaps in hunting season (the littering of spent small arms casings tipped me off). At the bridge, both dogs galloped off to the north, back the way we had come. Clearly, they didn't anticipate that I was going to head south, up the hill towards Swains Ridge. I called them, and waited for the sound of their returning panting through the tall grass on the road. All together, we headed south through the sun-drenched woods. The road passed through a boggy spot, but then dried up and headed uphill through gorgeous forest of sycamore, tuliptree, oak, ash, and the usual cadre of southern Appalachian forest tree species, all backlit by a very yellow September afternoon sun. It was a little warm heading up hill in long pants, and my face was dripping sweat by the time we reached the Swains Ridge TH. There were thousands of spider webs across the trail, some spanning 20 feet. I can understand how a spider can glide on a breeze and cover a span of 5 or 6 feet, but how does a spider throw a silk line across a logging road? Super spider? At the Middle Ridge trailhead, I toweled off, chugged some water, and headed back the way we had come.
At the creek, I looked for the trail to the west along the north bank of Beaver Creek that the FS map shows, but found nothing in evidence. I hiked north along the old road for a ways looking for the trail, but also found nothing. So, returning to the creek, I simply plunged into the woods and followed the north bank of the creek as best I could through the heavy brush, catching dozens more spider webs with my face, scratching my arms on low-hanging limbs, stumbling on rocks hidden in the tall grass, you know, the general fun of wilderness. No trail. Owell, I thought, I'll just make my own. And I did, slipping along the north bank with all the grace of a bull, scratching my arms on green briar, making my way from photo op to photo op, and really having a nice time. The exertion was causing me to sweat, and the spider webs on my face and neck made me itchy. Lots of mosquitoes, too, but I hated to deet up since that usually makes me feel worse than the mosquito bites. Finally, near 6:15, I decided I better head on back to camp and cook dinner before it got too dark. It gets dark much sooner in deep woods than official sunset dictates.
Back at the food hanging tree, I boiled some water, dumped it in a foil bag of lasagna and waited for the freeze dried goodness to un-dry. In the meantime, I threw a choice rock for Makenzie, in lieu of a tennis ball, and she retrieved it again and again, with pleasure. Henry found himself a nice leafy bed to curl up in, and generally took no part in the frivolity. Party-pooper. Beaver Creek rustled by with the sun going down in the woods to the west, and I slurped down the bag of lasagna, followed by a small Snickers bar (Q: Why are "fun size" candy bars more fun than larger candy bars?) After dinner I wet down my handkerchief and wiped down my itching neck and face. I hung the food again, and as the sun dipped down below the horizon, we three campers jumped into the tent. It was 7:45, and pretty dark. I slipped off my clothes since it was hot, and got down to my skivvies, then laid back on my sleeping bag in the cool night air and read my book for a few minutes. Then lights out.
Minutes later, I noticed I was scratching my legs a lot, so I flicked on my headlamp to see what was so itchy. Nothing there. Flicked off the light and laid back down. Nope, something definitely there on my legs. I flicked the light back on and took another look, a close look, and what I saw kind of startled me: Hundreds of tiny specks crawling up my legs and feet. What the?! Mites? Tiny spiders? I looked down on my bag and there were hundreds of these guys all over. Then I lit up the dogs at the base of the tent and I literally got chills when I saw not hundreds, but thousands..tens of thousands of small, tiny bugs that started to look more and more like ticks. Ticks have that sinister, thuggish look to them. I couldn't believe they were ticks. But they looked like ticks. So small, though. But they looked like ticks. I flipped Henry, the white pointer, onto his back and took a good look at the pink, nearly-hairless skin near his groin. Thousands of tiny specks were stuck to his skin, and they wouldn't come off. There's only one bug that I know of that sticks to skin like that. With increasing horror, I checked Makenzie, and her face was crawling with them. I checked my arms, and they were covered, up to my shoulders. Dozens per square inch, all on the move upwards, like a Liliputian army. They could not be brushed off, nor were my fingers small enough to pick them off. Diabolical! My stomach, my chest, and a quick check down my drawers…yep, down there too. Oh shit. It was 8:30, well dark, in a tent 2 miles from the car. OK, everybody up, we're getting the heck out of here.
In a nerdy sort of way, I've often timed my camp breakdown speed. Oh, c'mon, all you backpackers out there have done it too, don't lie. Even if you said you were just checking your watch to make sure you got to the car before 4:00, you know you were really calculating if you could be on the trail only thirty minutes after waking up. So, for many years, I've honed the skill of the quick-decamp, as regular readers of my travel logs may already know. Apparently, it was all in preparation for this. In twenty minutes, including the time it took to retrieve my food bag from the other side of the creek in the dark, I had gone from sitting in a tent in boxers to walking up a dark trail with all my stuff crammed into my frame pack, lighting the way with a headlamp and watching my breath smoke in front of me in the ever-deepening humidity of the night. The dogs rumbled along in front of me, tails wagging, seemingly very pleased at this nocturnal outing. I suppose they gave up long ago trying to divine anything rational in the actions of humans and at this point just go along with any crazy-ass plan we embark on. Like walking through the wilderness towards the car in the dark, for example.
I made good time, and by 9:30 we were at the car. I threw in my bag, and zipped off down the road to the highway, feeling creeping insects behind my ears. Amazing how plans change. My planned 2-night relaxation getaway in the lazy wilderness of Kentucky turned into a high-speed interstate voyage lasting well into the following morning. I stopped at a WalMart in one of the many small towns I passed through, and bought some pyrethrin spray and plastic bags. At the car, by the light of sodium arclamps in the large-deserted late-night WalMart parking lot, I sprayed the dogs with the poison, then took the blanket they had been laying on and sealed it in a 13-gallon trash bag. Just before leaving the tent back in the wilderness, I doused my self with the 2 oz of deet I had on hand, yet I considered spraying myself with the pyrethrin also. The label on the tick spray says "harmful if absorbed through skin…in case of contact wash affected area immediately with soap and water for at least 15 mintes". So why is it OK to spray on a dog? Are they intrinsically less sensitive to pyrethrin? Mmmm. Things to ponder as I motored on into the night.
Arriving home, I showered, scrubbing hard with a washcloth. I then spent 20 minutes scratching little ticks off my feet and legs with my fingernails. I didn't seem to have as many on my torso or arms. Then, I bathed both dogs and gave them their scheduled Frontline treatment (it was due anyway). Around 1:30 AM, we finally got into bed.
So, with full memory of the time Andra and I threw our tent, completely assembled, into the back of her Toyota Corolla at Lake Macanaughy, NE and sped off because the biting flies were too ferocious to take the time to actually pack up the tent; as well as the time we cut our backpack into the Wind River Mountains short because of the tenacity of the mosquitoes, I conclude this was the worst backpacking trip ever, and that has nothing to do with the beautiful scenic solitude of the Beaver Creek Wilderness, which was actually quite wonderful. As I write this, my legs, arms, shoulders, chest and back are covered with hundreds of tiny welts that itch like the devil, and you can only slather on so much hydrocortisone to keep the itch at bay. From this trip I got the awful gift that keeps on giving. Hopefully the giving won't last too long.
Since the trip I've learned that what I ran into were tick larvae, most likely from deer ticks, but since I didn't keep specimens for positive ID, it's hard to say exactly. Since these ticks have never bitten anything before, there is no chance of getting tick-borne diseases from them; however, they are still hellish. Here is a diagram of common ticks and their life stages. I've read several other accounts of hikers encountering a swarm of these things, including another hiker who emailed with his own account of how he, his wife and grandkids got nailed at the Beaver Creek Wilderness area with the same little ticks. Apparantly this area must be a hot spot because someone went through the trouble of naming a nearby mountain Seed Tick Knob, which is located just 9 miles to the northwest.
I've found that no cream or pill alleviates the itch. Cetirizine (Zyrtec) and Diphenydramine Hydrochloride (Benadryl) perhaps help a little, but do not contain the itch completely, and the latter just knocks me out on top of that so I avoid it. Topical creams, while effective for me on mosquito bites, do nothing for these little tick bites. Likewise, calamine lotion, colloidal oatmeal and epsom salt baths did almost nothing. A hot shower every 4-5 hours with lots of soap helps, and for days I came home from work at lunch just to shower. I like Lever 2000, but I also found Dr Bronner's castile soap worked pretty well, and lye soap that I picked up from Cracker Barrel seemed to work best. The dry skin, I think, is the answer. The final solution I tried that really worked was a 15-day supply of prednisone. That really did the trick and I highly recommend a trip to the doctor to pick some up if you get into this situation.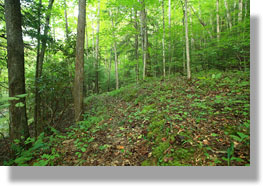 Ticks on Henry's paw in the tent.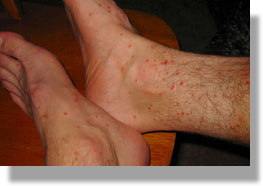 The aftermath of the tick swarm on my ankles. Whole body is like that.