I journeyed to American Lakes a second time in August 2002 with Frank and my overnight gear. From my last overnight trip I had discovered that if it rains, you donít want to be stuck inside a lightweight 1 man tent because you canít sit up in it, or even change pants, without being a contortionist. Therefore I took my spacious 2 man tent and not a cloud graced the sky the entire trip. So be it. If lugging an extra 3 pounds up the mountain is all it takes to get blue skies, Iím all for it. I have the same theory for my rain jacket. I donít think Iíll ever get to use it because if I take the time and effort to carry it along in my backpack, the sky will be clear. If I leave it in the car, it will most surely rain. This, I have found, is an immutable law of the woods.
I had gotten a late start after Frank hurt his leg Friday evening playing a rousing game of frisbee. He had limped all night and I had to carry his pathetic rear upstairs for bed. Nevertheless, the next morning the uncanny recuperative prowess of the dog species had evidenced itself and he was up trotting around and vigorously defending his food bowl from Whitey, a dalmatian with a hearty appetite for all things organic, whom my roommate was watching while his human was out of town. I waited until lunch to make sure Frankís leg wouldnít stiffen up with activity. When, at 12:00, I noted him cruising smoothly around the backyard hunting squirrels, I loaded the car and we left.
We hiked quickly up the slope of the short trail to the advertised destination. This is the problem: Every lake in Colorado is too well-known, and gets jammed to capacity every weekend. We need revolving weekends in this country. I mean, who's to say when the week "ends" anyway? Does it really matter? There's always another one coming right away. I would like to take my "weekend" on Tues and Wed and work Sat and Sun. Being among the fortunate to have absolutely no religious scruples about a good working Sunday, this would work out well for me. This would alleviate congestion at popular recreation venues and provide me with an extra day on which the barber is open to get my hair cut (since most barbers are closed on Sunday, which is 50% of the time normal adults have time off to get a haircut...does that make sense? )
The lakes are at or above timberline, depending on which one you are thinking of. The lowest one is more of a wading pool, the second more like a condo swimming pool and the third an Olympic size diving pool, in that order ascending in elevation. The highest lake, Snow Lake, is in a glacial bowl, with massive rock walls on three sides. It is impressive, and not just a bit daunting. There is not a smidgen of green to be seen from the loose rock shores, just gray blocks of angular and sharp rocks sliding down the mountain with the inexorable march of time. The water in Snow Lake is pretty clear, but the depths are obscured in green murkiness, dramatically evidenced as one watches a 15" rainbow trout glide slowly down from your fly lure and out of sight deep under the shimmering waves. The lower two lakes are shallower, smaller and not rocky. Grass and abundant wildflowers line the shores, in places taking advantage of swamp-like conditions. There are no trees directly around the lakes, and those that are present some 50 yards away are dwarf versions of their lower-elevation cousins, rising no more than 15 feet from the rocky tundra. It was in amongst these dwarf subalpine firs that I pitched my neutral grey colored tent. I always take care to keep it out of sight and away from the lakes. If only every other camper there had my discretion. Herein lay a sore point for the weekend. After I returned from fishing in the evening, two ladies had set up their bright blue neon tent not more than thirty feet from mine, blocking the only logical entry to my area (since those alpine krumholtz patches are pretty darn thick) and displaying their tent for view from any direction. They had crap scattered for a twenty foot radius all around and more than thirty bags and shirts and what
not hanging from every tree and shrub in the region. It looked like a garbage explosion. I was so angry and appalled I couldnít get a word out as I walked right through their camp (they left me no choice) to get to my tent. I didnít say hello. I fumed as they talked raucously into the darkness of the night as I lay in my bag, repeatedly dozing off and being jerked awake by a sharp laugh or cough from my unruly neighbors. One of the Leave No Trace tenets is to avoid loud voices and be considerate of others. As in everyday life, there are many who are not considerate of others. Visions of endless hills of emptiness danced in my head and I wondered why in the world they decided to camp right next to me when there were so many other places to go. So, I dozed off thinking I should camp even farther from any lake next time. And I have.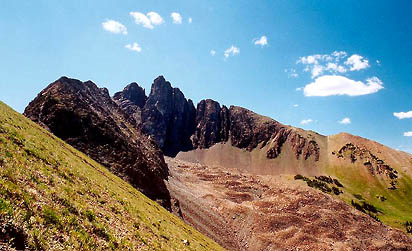 The area was indeed one of the most strikingly beautiful Iíve been to, so I can imagine why so many folks were there. The alpine tundra provided unimpeded views all around and the high elevation ensured those views included several mountain valleys and 13K foot peaks. The sky was an unbroken blue the first day and a half I was there, and only fair weather cumulus rolled in the afternoon I left. The weather was warm and breezy. Not a bad weekend to be outside in the mountains.
As I said, I fished the first evening until after the cirque walls shaded the setting sun and cooled things off by the water. I slept well, and woke up the following morning at 7 when the sun hit my tent in flecks of golden yellow, summoning me outside to soak up the morning light. Frank and I hoofed it to the upper lake, and for about 45 wonderful minutes, I owned it. Not a breath stirred, and the only sound I could hear was the occasional rustle of wind through the pinions of the giant ravens that periodically swooped out of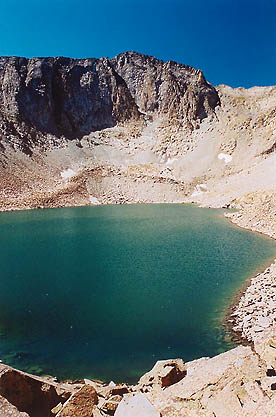 their unseen nests in the crags several hundred feet above. In the deep, clear water I watched trout big as groupers glide along beneath the surface, their scales a reddish tinge in the morning sunlight. I tried several different flies, but these were finicky fish. They would approach the fly resting on the water, examine it and glide away, turn around after 2 or 3 feet and come back, approach it, and then turn away, again and again. Each time I would stand stone-still and quiet, my heart speeding up a bit every time one touched the fly with his lips, my mind willing him to take that bite and reassuring him Iíd let him go after I got a nice look at him on shore. Never happened. It was maddening. I kept changing it up and trying new flies. A noisy kid and his dad came up over the rim, shouting echoing comments to each other from 20 feet away, and shattered the crystal idyllic scene. I mean, it really destroyed the scene altogether, brought human back into the picture just when I was forgetting other humans existed (now that's a vacation!) His boy kept yelling, ďAny luck?Ē while clearly seeing that the man had not pulled in any fish at all. Nevertheless, the boy kept calling repeatedly, ďAny luck?Ē. Any luck with what, throwing you in the water? Too many people have the disease that compels them to say something, anything, even if no words are needed or wanted. Too much jabbering going on. I think it is TVís fault. If you listen to TV you will find, with the exception of some Hollywood movies rebroadcast on network stations, that the chatter and fusillade of sounds never ends. Itís like a circus of sounds spewing from the speakers like maggots from a ruptured, bloated corpse. Beeps, whistles, screeches, bells, and constant talking or laughing. I think too many people come to depend on the constant sound, and like the ticking of a clock comforts a puppy who misses its motherís beating heart, so humans fill the beautiful quiet in nature by hamming it up and shouting to one another about rubbish, lest the silence actually make an impression on them. The man was equally willing to shout back and his replies echoed from the cliffs, making it sound as if he was on the opposite side of the lake. The boy complained from the 5th minute on how there were no fish in the water. I wanted to yell for them to shut up, but then that would be hypocritical and I couldnít assume my position of moral superiority that I like to achieve. The high horse is the best horse. I am not part of the problem (That's irony, for those of you who have written angry letters). After many more minutes of watching fish come and go and ignore my tasty-looking fly (subjectively speaking), I got up and walked ten feet to my backpack to retrieve my camera and tripod. I figured I might as well think about composing shots of the yet unoccupied south shore while I sat there successfully not
catching fish. I walked back to my sitting rock with gear in hand and was about 5 feet away when I saw a giant trout eyeing my fly. He was really givin' it the full casing. I stood very still and watched him violently snap it from the surface and pull it down. I leapt for my rod to set the hook, but by the time I retrieved it, the fish was gone and the waterlogged fly was hanging down in water. I hit myself over the head (figureatively) several times and cursed the luck, but determined that I did have hope in catching a fish. I recast my fly, and promptly snagged it on a rock above me and lost it. I'm no clutch fisher. I tried many other flies and nothing seemed to work. Finally, I tried my last unused fly. I got good vibes from it because it looked so fly-like. The planets seemed to align at that moment, and a hazy voice sang from above. As I was finishing up the knot, I saw a giant whale-sized shape gliding along the bank, ripples of light waving over its dorsal fins and black speckles of its back. A veritable Moby Dick of the alpine. I shot the fly out in front of it, and without hesitation, it sped up and struck it with a lash of its jaws. Violent nature. Breakfast is served. I jerked the line to set the hook and felt the weight of a piano pull back and then....nothing. I saw no fish and no fly, only ripples shedding out in a widening circle and my shiny tippet laying limply on the water, like the soggy muffler from a melted snowman. I reeled in before I believed it. The fly was gone. I can only assume I didnít take the time to properly tighten the knot and the thing slid right off, either that or the trout was a pike cross with razor teeth. I hope it was able to spit the fly out and not get hooked. Seeing these trout in action, I think that is most likely. That was my last bonafide shot and I got not so much as a sniff from the parade of fish just feet offshore the remainder of the morning. After three hours of fishing, I packed it up. By then, there were 6 more people at the lake, and I have to credit two of them for not making a sound that I could hear. Must've been Democrats. Over years of practicing, I have come to certain
conclusions about how things ought to be done and I canít go back on them now. Samís Commandments of Camping: 1. Be quiet 2. Camp away from others 3. Try not to be noticed 4. Camp in a hidden spot. Are these so outrageous? And yet almost everyone I ran into at this lake violated all four. Violators will be persecuted.
I removed myself from the mob forming at all three lakes, campers supplemented by day hikers arriving in groups of 6-10, and hiked up to a ridge to the east of the basin. This put me on the border of Rocky Mt National Park. I looked down to see a road snaking up the valley. From the ridge I could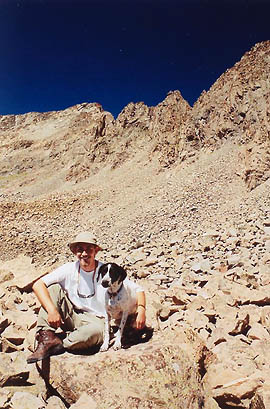 see four 13K foot peaks of the continental divide. I could see Diamond Peaks and Iron Mt, both of which I have hiked. Frank pointed at marmots and was content with that. I contemplated hiking up Lulu Mt which was right in front of me, but the wind was very strong, and I was pretty winded from the hiking I'd already done, so I decided to let it alone.
I slowly made a roundabout route back to camp. The other tent was still set up but vacant, layers of crap still spewed all over the ground and trees. A violent wind gusted now and again, and I secretly hoped it would send their tent bags and Eddie Bauer clothing flying down the valley. I packed up my tent and left. After hiking for 20 minutes, I shed my pack and cached it in the trees to hike to another ridge. I can get away with this because my bag is pale green, not neon day-glo fuschia that emits light like a beacon from the undergrowth. This sidetrip was pretty spectacular. It was a knife-edged ridge that rose in humps toward the Nokhu Crags, whose east face was cloaked in shadow. I could see all three of the lakes below me at once, and also could see more than thirty humans and five tents around its edges.
I stopped once more in the woods to get far off the trail and read a book for a bit and snack on jerky. With the yearning for a cold soda pop dancing in my head, I quickly got back to my car and drove home in the late afternoon sun, enjoying the relative silence inside the vehicle and the whistle of the air rushing through the windows.