Wolverine Peak
Location: Chugach State Park, Alaska; just east of Anchorage
Access: Prospect Heights TH = UTM NAD83 z6 354065e 6781294n. East on O'Malley Road for 3.1 miles, past Lake Otis to Upper O'Malley (just past the 90 degree bend in the road north where O'Malley becomes Hillside. East/left on upper O'Malley for 0.5 mile (brown CSP/Prospect Heights sign). Left on Prospect Dr. for 1.1 miles. Stay left at stop sign at intersection with Sidorof Lane. Right into parking lot/trailhead at Chugach State Park sign.
Maps: USGS 15í quads: Anchorage NE, Anchorage NW
Trail: Moderately-strenuous, easy to follow, though not well-marked (could be problematic in snow). 4.7 miles one-way to the summit with 3,400í elevation gain.
Summit: 4,491í; z6 359200e 6780628n
Fees: $5 day pass
Weather: NWS Forecast
---
View Larger Map
July 29, 2012
Finally made it Alaska. For a decade Iíve wondered how I was going to knock off the big one up north, but a wonderful chance to come do field work on the north slope had me staying a few days in Anchorage, and on my last day there, I broke away for a few hours to get a hike in. Excellent.
Jason and Matt dropped me off at the Prospect Heights TH at 1:00. They had work to do. I did too, but hiking took precedence. Sunny day, clear sky. I hiked east, alone, thrilling at being on the trail in Alaska. Of all these United States, Alaska has always seemed like the most exotic, the most wild, the most remote. And though I was hiking no more than a few miles outside of Alaskaís largest city, in an area hardly remote from the urban influence, it still felt a little more wild than my routine hikes in Southeast Wyoming.
The first quarter of the trail walked me through a thick forest of alder, spruce and fir, with a thick understory of lush grass and forbs. The influence of abundant water was in evidence, and it reminded me of other coastal forests farther south in the Pacific Northwest. Nobody else was about, and I kept my eyes focused far ahead for any sign of bears lurking in the shadows. I had locally borrowed some bear spray from my co-worker Scott, bear spray being one of those obvious items they will not allow on passenger jet airlines, and I kept it dangling from my belt for easy access just in case. Conflicted, I half hoped to see a grizzly and half hoped not to. Perhaps the ideal case is to see a grizzly lumbering away from you on the opposite side of a deep valley.
Iím no judge of weather in Alaska, but it seemed like a fantastic day with few clouds, no wind and a comfortable walking temperature around 65 degrees. The trail grade steepened and as I gained elevation I entered treeline at the unusual elevation of 2,000 feet, entering an alpine tundra very similar to what one finds in Colorado at 12,000 feet. Being late summer, there was not much color about, but the grasses were still green and lush. The trail was very steep for a time as it rose up onto the ridgeline and I was sweating pretty good in the humid air. I stopped and removed the lower legs of my pants.
From the ridgeline, Anchorage can be studied like a map viewed obliquely, and the dull gray-blue of Turnagain Arm and Cook Inlet lay just beyond. Even with my noviceís understanding of the local geography, I could pick out some of the major roads and a few of the buildings downtown. To the east lay long green slopes leading up to ragged ridgelines of rust-colored rock.
I moved on, and for the first time I noticed a pair of hikers above me on the trail, seated and snacking. I approached and chatted with them, then passed on. The wind picked up a bit and soon it felt pretty chilly. I donned my fleece shirt and my knit cap, the latter not so much because it was cold but because the wind was hurting my ears. The trail entered another steep phase and it seemed like the summit of Wolverine Peak was in sight, though I wasnít sure. I moved on, passing the skeleton of an old helicopter or airplane. The exact nature of the craft was hard to distinguish amongst the rusted remains, though the plastic control panel was still fairly-intact.
Upon reaching the ridgeline I could finally get a peek down into Campbell Creek Canyon to the north. The slope dropped away precipitously for hundreds of feet, with jagged pillars of rock rising vertically up from the slope now and again. Very interesting terrain. I followed the dirt path along the south side of the ridgeline up to the summit, stopping frequently to turn around and admire the view expanding to the southwest. At the summit, I finally met the full brunt of the wind riding in over the cold peaks to the east. An ocean of jagged summits stretched to the horizon until met by a wall of clouds that seemed to be closing in. I braced my camera tripod against the wind to snap photographs, but even so many of them blurred. Wolverine Peak lies on a long ridgeline that separates the middle and north forks of Campbell Creek, and from this perch I could see Williwaw Lakes in the middle fork valley, and Long Lake in the north fork valley. If given more time one could continue hiking this ridgeline to Elliot Peak, but this was not in my plan, nor would the wind on this day have made that an overly-pleasant endeavor. I tarried at the summit for a long time, and the hikers behind me arrived and began eating lunch. They clued me in to the presence of a Dall sheep herd further down that I hadnít noticed.
I returned the way Iíd come. From the ridgeline looking west I could see the small forms of airplanes at the airshow in town, some of them leaving long, looping contrails as they circled vertically over the air strip. As I dropped down from the ridgeline, I saw the herd of Dall sheep on the opposite slope to the south, so far away they were hardly more than white dots. I snapped a few photos of them from which I am unable to make out much more than white specks that could be sheep, rocks, or lens-dust catching sunlight.
As I descended, the trail got a lot busier, and I encountered loads of hikers on their way up, easily exceeding 50 bodies. Apparently this is a pretty popular hike, and with good reason. I detoured a bit on the way down to hike out on a narrow peninsula of flattish rock to an overlook point of the city. The faint trail leading out to it told me many others do the same on this hike. Itís a nice detour.
Back on the trail I zipped on down, back into the trees, and towards the trailhead. I had time to kill before Jason and Matt picked me up at 5:00 so I hiked the Golden Grass loop, stopping halfway through to sit in the quiet trees and sip water. While sitting quietly, I spotted a moose about 50 yards away busy ripping alder leaves off a young tree. It never seemed to notice me, and I left it still browsing on that tree.
Around 5:00 I met up with my friends and we headed back to town.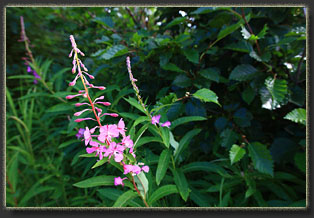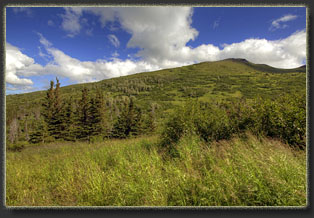 Hitting treeline at 2000 ft

Looking back to Anchorage and Turnagain Arm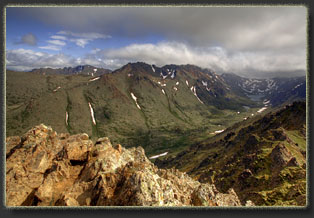 Campbell Creek Valley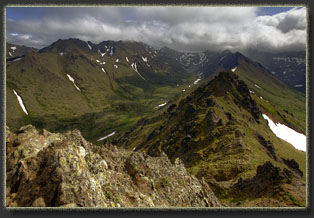 Looking west from Wolverine Peak