Second Creek
Location: Arapaho National Forest, near Berthoud Pass, Colorado
Maps: USGS 1:24K Berthoud Pass
Access: From Interstate 70 west of Idaho Springs, take Exit 308 and head west on Hwy 40 for 15 miles to Berthoud Pass. Continue north on Hwy 40 for 3 miles to the parking area/trailhead on the west side of the Highway
Trailhead: UTM NAD83 z13 434120e 4408361n 10,608'
Trail: 1 mile to the Broome Hut, then another mile to the Mt Nystrom Trail.
Fees: No fee to park at this trailhead
Weather: Local Forecast
Dogs: No restrictions
View larger map
---

July 26, 2015
On our final day in Winter Park, we stopped at the Second Creek TH for a final hike, without knowing anything about the trail. The only thing it seemed to have going for it was that we had noticed there were always tons of cars parked there. It is possible that so many people could be gravely mistaken about the beauty of a place, but it seemed unlikely. So it was that at 9:00 Nolan, Stephanie, Mike, Mandy, Andra and I were lacing on boots and shouldering daypacks for a hike up Second Creek.

Mike and Mandy were intent on fishing, and pulled on their waders. This indicated they didn't intend to hike very far, but that was OK. I wasn't sure how far I'd be hiking either. It's a mistake to get too hung up on goals, and I have to remind myself that often. We all moved slowly up the creek, which is right next to the trail. I snapped pictures while walking through the trees with Andra. Mike and Mandy fished. Nolan and Stephanie checked out the creek up ahead. The creek was beautiful, and the sun filtered through the trees in that classic Colorado alpine forest way that just never ever gets old.

We moved up the slope in a loose group, and at some point Andra and I lost track of the others. We continued up the stream, and then sought out the trail to the north, whereupon we immediately saw the others nearby. By this point, lowlanders Steph and Nolan were feeling a bit of altitude pain, and Mike and Mandy were ready to go no further in their waders. We discussed options, and agreed on a brief split, whereby Andra, Nolan and I would forge ahead, while Mike, Mandy and Stephanie would return to the car, fish a little more, and we'd all meet up for lunch in Idaho Springs.

At a brisk pace, the three of us continued on up the trail. Spruce and pine lined the trail, yet in almost no time we were at treeline, where gradually open alpine meadow began to dominate the view. Tons and tons of flowers carpeted the slopes as we churned up the gravelly trail towards…who knew what? I was very surprised when we crested a rise to find a building on the ridge. This is the Broome Hut, a rentable lodging intended as basecamp for backcountry sports. Loads of people were hanging around the hut, and I felt like this unique lodge was the reason behind so many cars at the trailhead.

Andra, Nolan and I continued on past the hut and followed the trail west up Second Creek to the point where it diverges from First Creek. This is an oddity: The topo map shows a creek coming off the ridgline splitting into two streams as it moves downhill: First Creek and Second Creek. I wish I had known this when I was hiking so I could find the divergence point and check it out, but it was only later that I noticed this anomaly. I'm not sure if this is natural or not. Aerial photos show some obvious ditchworks, and the map shows a ditch coming off of Second Creek to the south, a ditch we noted on the hike, as it is very obvious from the trail. There didn't seem to be any water flowing through it when we were hiking, however. What I think is going on is that Second Creek and First Creek are both natural channels that do not converge nor split, but at some point a ditch was constructed to divert water from First Creek into Second Creek, probably to enhance flows down the Berthoud Pass ditch that flows over Berthoud Pass to effectively transfer water from the western slope to the eastern slope of the divide. The flow through this diversion ditch between the two natural channels was so large that USGS mapped the diversion ditch as the natural channel, rather than correctly showing the source of Second Creek high up on the ridgeline at 12,000 ft. This is my hypothesis. If I'm wrong, somebody please email me and explain how.

Nearing 11:00, we had not reached the obvious ridgeline, though we were painfully close. The trail switchback up the head of the cirque was plain, and not far away, but we had agreed to meet the others for lunch in Idaho Springs, and it was time to turn back if we had any chance of making that appointment. Post-hike examination of this trail reveals that once it achieves the ridgeline, the route follows the continental divide to Stanley Peak, Vasquez Peak and Mt Nystrom. In short order, it tags several 12,000+ peaks and looks to be an awesome hike. One day….

As it was we had to turn our backs on the ridgeline and motor on down to the car where we joined throngs of weekenders attempting to get back to Denver, and thus we spent over an hour in classic, tortuous I-70 traffic just to reach Idaho Springs only 15 miles down the canyon. Probably should have just stayed on the mountain and hiked!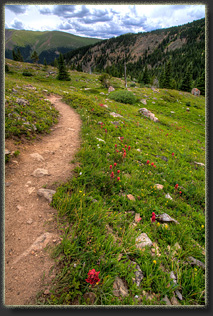 Indian Paintbrush along the Second Creek Trail



Second Creek through the pines
and spruce lower down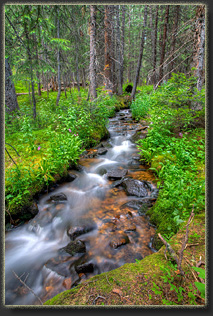 The Broome Hut



Nolan chilling out, at altitude