Wind River Mountains 10-Lakes Tour:
Meeks, Dads, Marms, Shadow, Billy, Barren, Texas, Skull, May and Pyramid
Location: Bridger Wilderness in the Bridger-Teton National Forest, west slope of the Wind River Range, Wyoming
Access: Big Sandy TH. From Farson, WY, head east on Hwy 28 4.3 mi, then turn north on Sweetwater CR 108 for 32.7 mi, then turn west on CR 132 (Lander Cutoff Rd) for 7 miles to a T intersection and turn Left (follow the sign). Drive 9.9 miles to a Y, and take the right fork on FR208. Then cruise another 0.6 miles to the TH. From Cheyenne, this is a 7-hr drive. Beyond Hwy 28, there is little pavement, yet the roads are well-maintained and passable to low clearance vehicles.
Maps: USGS 7.5' quads: Big Sandy Opening, Lizard Head Peak, Mount Bonneville
Trailhead: UTM NAD83 z12T 641659e 4727656n 9101'
Trail: There are lots of trails in the area, and one must be attentive to trail junctions. All trails are signed and well-trod. Our route took us north to Marms Lake, then both west up past Shadow Lake to Texas Lake, and north up to Pyramid Lake, a total route distance of 23.8 miles with a modest 2,200í total elevation gain.
Dogs: No posted regulations
Weather: Forecast
Fees: None (The most amazing deal in all of recreation)
View larger map
---
8-22-14
On the road in late August, burning up rubber on the pavement of I-80 heading west, always west. The summer days are growing shorter, more yellow, shadows are longer and deeper blue, and Iím in a fantastic urgency to spend more time out under the warm sun, in the green forests, in the parched desert wastes before winter comes with short white days and sharp cold temperatures. Iím bending all my thoughts to getting it all in, to ďburn, burn, burn like fabulous yellow roman candles exploding like spiders across the stars.Ē Many years left to see what can be seen, but not nearly enough left to see what should be seen, for, as Tolkien poetically put it, ďin every wood in every spring there is a different greenĒ. You could set yourself on the same mountain pass on the same day of July for 5 years in a row, and would likely see a different sight every single year. So, having seen one spectacular hanging valley filled with sunflowers, lupines and columbines blazing under a keen blue sky, Iím always wondering what it will look like next year. The itch can never quite be scratched. And it is to further scratch the itch that I am heading west, chasing the sun, to the Wind River Range.
Larry has agreed to come along, and itís nice to have company. Having just retired from full time employment, Larry is in the enviable position of having no time constraints to his wanderings, other than self-imposed. My schedule dictates a return to work in 6 days, so we will be hanging out in the Wind Rivers for 5. Having left Cheyenne at 6:30, we reach Rock Springs at 11:00 and have lunch at the McDonaldís by the Flying J truck stop. Itís quick, which is the only savory quality of the meal. We reach Farson at 12:20, and I top off the gas tank under an ominous drizzle. Bikers coming off the highway from Pinedale are all wearing raingear, and drenched.
We reach the trailhead at 1:50. Having been here almost exactly a year prior, I know my way around the large looping pattern of this large parking area, and we are parked and packing in no time. It is significantly less busy than last year. Itís also significantly less nice. The sky is gray, rain is spitting down and everyone in the parking area coming off the trail is sodden, filled with tales of unending rain for days. Two ladies revealed they had curtailed their planned trip by two days as a result of incessant rain, and another man detailed the flooding of his tent the night before. Poor news to start off with, but on the other hand perhaps all the rain is now over and we can look forward to clear skies and sunburns? We top off the gear in our packs, and hit the trail at 2:00, slogging through inch-deep water and 3-inch deep mud. Itís tempting to skirt the mud pools, but I stick to the center to avoid widening the trail.
Right on schedule, just after turning off the Big Sandy River trail and pointing north, the sun comes out for the first time all day. Shadows appear on the ground in an instant, revealing themselves between the yellow splotches of sunshine. A llama train passes us heading in the opposite direction, and we pass two backpackers heading the same way as us. Otherwise, itís a very quiet trail. The sunshine does not last, and soon clouds have rolled in from the northwest. We pass by Dadís Lake under a cloudy sky and I point out the drainage up which I camped last year. We approach Marmís Lake and find a suitable camping site on a high point near the outlet around 5:30. The sky clearly indicates rain is coming, and we hastily set up tents. Not fast enough. The rain begins during tent setup, and I scramble to get clothes, sleeping bag and other gear into the tent before it gets wet. I follow my gear into the tent and lay back on my sleeping bag to wait out the first wave of rain, which is curiously slushy as it slides down the sloped nylon tent fabric. I slide on long johns and a sweatshirt. The sunshine and shadow-plaited path from earlier seems like another year.
The rain calms down after an hour spent lightly napping, and I emerge from my tent to set up for dinner. The rain slackens to a drizzle that is effectively thwarted by the dense spruce canopy overhead. Itís very chilly. We boil water and reconstitute Jamaican chicken and rice, which tastes pretty good, and eat it standing up since there is no dry place to sit. During consumption, rain begins again. With hoods up, we eat in the rain, quickly. Larry gathers wood from the lee side of large spruce trunks where moisture has not yet soaked the duff, and starts a fire in the existing fire pit near camp. I haul in larger stuff and soon weíre standing around a blazing fire. What an amazingly comforting thing a fire is in rainy woods at night. The orange light shows the steam wafting off my pants and jacket, and I can feel the warmth soaking through multiple layers of clothing. But the continuing rain gets me wet faster than the fire can dry, and after an hour or so, the wet starts soaking through the seams in the my rain pants and I get very cold. I retreat to my tent and slip into my luxurious goose-down zero-degree bag that I almost didnít bring. (Who needs a zero bag in August? Man am I glad I didnít listen to that guy!) The rain patters on the tent fabric, creating a white noise that lulls me in to a wonderful nightís sleep.

---

8-23-14
Iím up at 7:45 amidst a dull grey light. Without even looking under the tent flap, I can tell the sun isnít shining, so I delay a few moments and enjoy the homogenous warmth inside in the sleeping bag. Out of the tent, and the morning is gray, but the rain has stopped. Larry is gone, but the cookstove is still warm from the coffee he brewed. I boiled some more water for coffee and downed a Pop Tart. Itís 50-degrees, and low clouds roll in. By 8:30 itís raining, and visibility is cut to 100 meters. Through the rain, I see a bright jacket coming my way carrying a fly rod. Larry tells me of the 7 brook trout heís caught on the north side of the lake while he changes into more waterproof clothes. More coffee is brewed and the rain continues, turning into snow at times. After an hour the precipitation stops and the peaks to the north return to view, covered in snow. We fish the lake for a bit, and I haul in 7 brookies, including a 14-incher that I believe is the largest brookie Iíve ever caught. Certainly a pretty thing.

The morning speeds by, and we return to camp around lunchtime. We down tuna and crackers. More rain/sleet comes down to wet down the tents just before we need to pack them. We pack them anyway, and hit the trail. The rain turns to real snow, and soon itís a blizzard as we round the north side of Marmís Lake and head up the Hailey Pass Trail towards Washakie Creek. We pass a man heading down the trail, wearing shorts, who details his harrowing trip over Hailey Pass this morning in the snow. Iím impressed that his pack is so small for traveling along. I often see my own pack as being super-efficient for a multi-day trip, but I could have placed two of this guyís packs in my own.

About the time we reach Washakie Creek, the sun comes out. We turned east and followed the creek up the Shadow Lake basin. Larry fished the stream and hauled in a many brook trout. I scouted around both sides of the creek and ultimately found a nice spot well south of the trail overlooking the valley. Tents pitched, the snow returns. We leave camp and hike up to Shadow Lake in intermittent snow.

We reach the lake and begin fishing. Larry is on the north side and Iím on the south side, up against the mountain face where the water gets deeper faster. I use a heavily waited nymph and give it plenty of sink time before stripping it back in, and after some skipping around on different rocks along shore to try different holes, I finally pull in a colorless brook trout. Itís cold, and windy. The low clouds obscure the tops of the cirque whose peaks partially comprise what is known on the far side of the divide as the Cirque of the Towers. Less than a mile west is Cirque Lake, where I sat under a sunny sky and photographed the towers at leisure last year.

We hike back to camp. Having Larry along proves an asset since he is keen to build a fire that I would otherwise skip, and I savor the warmth and light of the flames once they are going strong. Not only is the fire a good idea, but Larry has brought along a flammable gel that gets the flame going even on wet wood. The wind is swirly, though, and itís a constant dance around the fire pit to avoid choking on wet-wood smoke. We heat water and reconstitute lasagna. The sun comes out and shines well on the now cloud-free peaks above Shadow Lake, nicely visible from the valley below camp. Night comes and the clouds roll back in. We enjoy the fire until around 10, when it begins to snow again, sending us scurrying for our dry tents. Itís 40 degrees in the tent and my feet take a very long time to warm up in the bag. Since I canít fall asleep until my feet warm up, I make a list of the gear that needs improvement. Itís evident that my 17-year old EMS shell no longer even pretends to be waterproof, and it has also come to my attention that a nice wide-brim waterproof hat would be dandy. These are the thoughts that I mull over as my feet warm up and I finally flick off my headlamp and fall asleep.

---

8-24-14
Up at 7:30 to the distant sound of aluminum cook pans clanking. Larry is making coffee, and I feel itís a good time to show myself around the campfire. Itís 36 in the tent, and damp. I dress and walk down the short hill to Larryís tent in a snow/rain mix. Larry is bent over the firepit trying to get the wet wood burning. It feels arctic. I toast a Pop Tart carefully on rocks near the flame, and we brew some coffee. At 9 we hike up past Shadow Lake on a faint trail to Billyís Lake. The stiff wind and open tundra around the lake are not particularly inviting, but we set up to fish a little anyway. I keep my gloves on and still my hands are ice. I fish the west side of the lake and Larry takes the east. Working my way north, I finally end up on the steep rocks along the trail halfway to the inlet, and though I can occasionally see the flash of silver from a trout rising up from the deep, I can never coax any to take a bite. Larry catches up and I suggest we hike on up to the next lakes. Larry declines to join me so I set off on the trail up Washakie Creek to the next lake in the series, Barren Lake. This lake is not aptly-named since itís the best fishing I have all day. I pull in 3 large brookies in quick succession on heavily-weighted wooly buggers, then hike on up to the uppermost lake, Texas Lake, which sits at about 10,800 feet, just 600 feet shy of a pass that leads over to Lonesome Lake. I fish Texas Lake for a little bit, but it feels very barren and frankly Iím more interested in photographing this spectacular cirque than pulling in any more trout. I spend quite a long time hiking around the cirque and photographing it, until I sense it is time to head back down and catch up with Larry. Iím back at Billyís Lake around 1:30 and Larry is ready to head down. We move downhill through the limber pine forest and it begins to rain. The sun comes out when we are below Shadow Lake, and we stop to have a snack.

Back near camp we fish in Washakie Creek. The sun is out, the sky is clear and the afternoon is gorgeous. Itís the first really dry period of the trip. The trout are eager to bite in Washakie Creek, and the only real problem is deciding which fish to keep for dinner. I haul in 7, and keep 1. Larry keeps 3. In camp, Larry demonstrates how to cook the trout on a spit over the fire, a technique Iíve never attempted. We eat them right off the stick along with beans and rice. Very satisfying. Itís another nice sunset and I walk all over the valley as the sun descends seeking a good vantage point of Wolfs Head above Shadow Lake. Itís a clear sky with a million stars and we stand around a warm campfire, dry and content, until 10PM when itís time for bed.

---

8-25-14
Clear morning. Cold and frosty. 38 degrees in the tent, and noticeably colder outside. When Larry pours water into the pot to make coffee, it freezes on contact. We down coffee and pop tarts, then pack camp and hit the trail. The sun is warm, but doesnít last, and by 8:30 it is overcast again. The weather is as mercurial as Iíve ever seen, changing almost hourly. It doesnít take long to reach Skull Lake, and we find a nice flat spot NW of the lake on a grassy bench near a pond. The sun is out when we arrive and we take advantage of that to lay out tents in the sun to dry. Before they can dry, more rain comes in, and we quickly batten things down and dive into tents to wait out the rain. I have brought an ebook on my phone along with me, and I page through Gone Girl while the rain drums down on the tent. The sun comes out at noon and we have a nice lunch of crackers and cheese.

We hike on up to Pyramid Lake, the ultimate destination of this trip where the fabled golden trout ply the deep inscrutable waters below Pyramid Peak. My friend Griff has a stuffed and mounted golden trout that originated from this lake on his wall, and Iím hoping to hook something like it. Dream on. All observations from the several hours spent fishing all parts of this lake support the conclusion that there are no living fish in this lake at all. Neither Larry nor I hook or even see a fish, and though Larry claims to have felt a few nibbles, I rather believe it is only his weighted nymph dragging on the rocky bottom of the inlet. I pack up my rod and hike around the cirque a bit, photographing this and that. Wildflowers above the lake are the best Iíve seen on this trip. The sun comes out for brief appearances but it remains mostly cloudy. Still, itís pretty warm, and for the first time all trip I am down to a t-shirt.

We hike on down to Mays Lake and fish what seems to be a promising lake, but neither of us catch a thing. Surprising. The clouds roll back in. We arrive back at camp around 6:30 and while preparing dinner, the rain comes in, again. Iíve lost track of how many rain showers have come and gone. Nothing to do but stand in the driving rain while dinner continues to cook, then stand in the best shelter available Ė a large spruce treeóand wolf down dinner as fast as possible before diving into the tent. The wet wins this round, hands down. The 17-year old jacket is showing its age.

One of my weight-saving backpacking strategies is to take only a single change of clothes and ďdo laundryĒ in my little cloth bucket every night. The near-constant rain has made that impossible, and man do I stink. I canít ever recall so many days of straight rain on a camping trip.

Being very wet, the fire Larry gets going once the rain subsides is very welcome. The sky clears and millions of stars twinkle down. Itís cold, but very pleasant. We stand around the fire, watching our clothes steam, until late in the night.

---

8-26-14
Up at 7, and the sky is brilliantly sunny. Both Larry and I begin hauling out loads of gear to dry in the sun. Almost everything has gotten wet over the last several days, and this is the first day of really strong sunlight capable of drying things nicely. While tents and clothes steam in the morning sun, we dive into the food supply with abandon, and polish off the heaviest foods first before working in on the lighter stuff. I take a brief foray up the hill to a high point above camp that looks down east into the East Fork River drainage. We depart camp at 10:30 and head back over Washakie Creek, past Marms Lake and down to Dads Lake where we stop by one of inlets to have lunch. We slog on back to the car as the storm clouds increase, and reach the trailhead around 3:45. The rain begins again before we reach Farson, and follows us east almost the entire way to Cheyenne.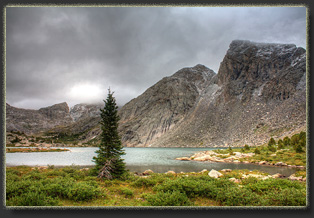 Billys Lake, cold and windy



Wolfs Head, part of the Cirque of the Towers.
This is the west side.



Billys Lake



Billys Lake



Hiking up to Barren Lake



Trout pulled out of Barren Lake,
ironically the best fishing lake in the drainage



Barren Lake



From Texas Lake, looking NW to Bair and Washakie Peaks



Texas Lake. Texas Pass is but a few hundred feet
above the lake, leading over to Lonesome Lake.
So tempting, but just not enough time.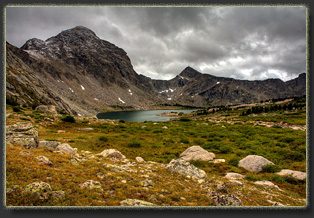 Billys Lake from upstream

Billys Lake

Enjoying the west side of the Cirque of the Towers



Best skyline in the Wind River Range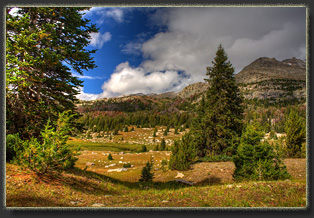 At camp along Washakie Creek



Larry relaxing at camp during one of the few dry spells



Fishing for dinner in Washakie Creek



Preparing dinner



Smoked trout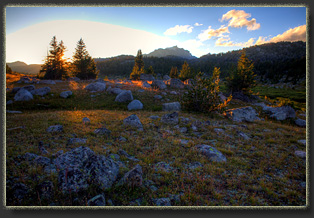 Washakie Creek, late afternoon.



Sunset on the backside of the Cirque of the Towers



Crossing Washakie Creek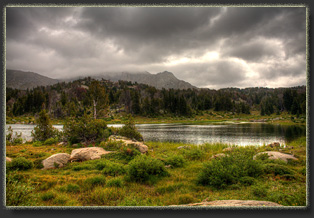 Skull Lake



May Lake, with Pyramid Peak dead ahead.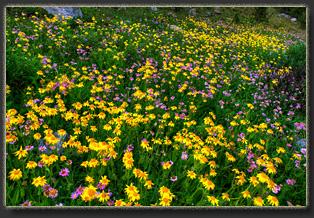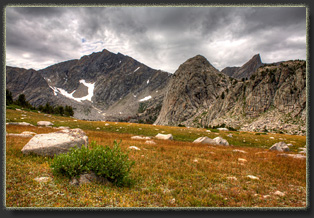 Mt Hooker from ridge above Pyramid Lake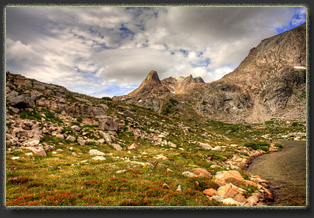 Tower Peak at the head of Pyramid Lake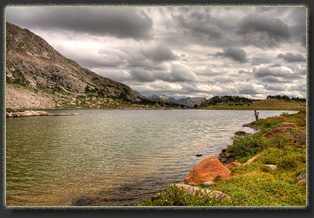 Larry fishing Pyramid Lake



Pyramid Lake



Tower Peak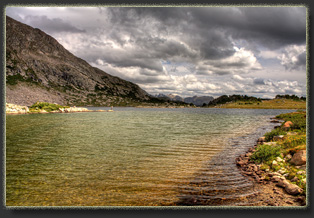 Pyramid Lake, beautiful and apparantly fishless



Pyramid Lake and Tower Peak



New morning snow on Dike Mountain


Mt Washakie, I think. So many
mountains it's hard to keep them straight back in here.



Dike Mt from Skull Lake



Washakie Creek



At Marms Lake, last day


Big Sandy River