Possum Kingdom Lake, TX
I have camped at this unusual lake three times, and once stayed in a motel near it for a family reunion in 1988. It is located a few hours west of Ft. Worth in north-central Texas. The unusual feature of this lake is the 100-200 foot cliffs that surround most of it. Very beautiful. I caught my first big fish at this lake in 1989 with Dad (two catfish and a black bass). He and I camped out only twice the entire time I was growing up, which probably goes far in explaining why I can't get enough of living in a tent now. We camped at a place called Lake Whitney south of Fort Worth, a state park with miserable fishing since it was a flooded valley that still had most of the large trees within intact..thus we lost many of our prized WalMart lures and sinkers. After that we ended up at Possum Kingdom on a sultry July weekend and fished the entire time. Like I said, I caught some fish and Dad caught some fish and I was utterly sickened watching Dad clean the catfish. Also saw a 5-foot alligator gar come up trying to steal our catch. Frightening looking thing. That trip was memorable because I ended up sleeping in the back of Dad's escort with the hatch up for ventilation, worried that the hatch would come falling down in the night if the poker cue which held it up were to come loose for some reason (the pneumatic pressure stand was broken).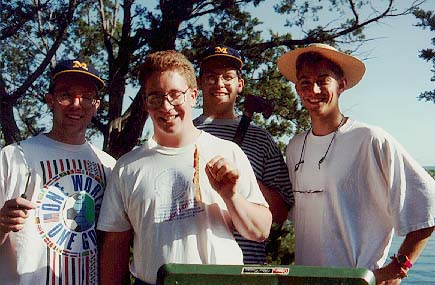 I took my only two camping trips in high school to this lake with my friends. The first of those trips I went with Nolan Springer, Kevin Whitam and Michael Mendez during spring break of my sophomore year, 1993. We had an amazingly fun time. We camped (as always) in the state park campground which was very nice. Near the camp was a large dock that everbody seemed to like to fish off of. We all tried it too. Huge sun lamps hung out over the water gave the impression that fish could easily be caught here. Nolan caught a small perch the size of his hand early in the day, but other than that, nobody had any luck. This was not due to lack of appropriate quarry. The fish were so thick in the water that we resorted to attempts at snagging them with the hooks rather than baiting them. No luck with that either. On the final cast of the night, Nolan threw his brother's rod and reel over the edge and it probably lies there still at the bottom of the bay. I kept a journal of the trip, but it has disappeared somewhere over the years which is really too bad. We all remember best of all the episode on that trip where we returned to camp to find our smores ingredients gobbled up by an
unknown critter which we found out later was a skunk. We named the skunk Charlie, and had many good laughs over the several items of food he absconded with.
The second of the high school trips came the year after in an attempt to recapture the fun of the first one. Take two did not go quite so smoothly. The list of campers grew to include Mark Burkett and Chad Green. The weather was not on our side that week, and the rain came down from the time we arrived until we left two days early, two days later. We drove back in the dark and rain to my house and cooked up the rest of our food on the grill and watched television. A few good memories were taken home, but not so much as the first trip.
The fourth and most recent trip came when I visited TX just after my masters defense in April of 2001. I had tried to round up a good-sized gang of folks to go camping with me, but in the end, only Mike and his wife, Mandy, made the trip. Mairead showed up the next
night. We found that things had changed, coupled with the stark realization that Possum Kingdom State Park was not quite as grand as our youthful eyes had made it out to be. The dock that spanned the slough where Nolan launched his brother's fishing rig into the depths so many years ago was gone, as were the fish...victims of an algal bloom that had devastated the local populations. Of course, nobody told me this at the bait store where I bought my temporary license and bait. I had remembered the park as being very wooded and shady, but it really wasn't at all. The few scrubby junipers that surrounded the campsite provided very little shade and were not pleasant to look at. I was dispirited by the trip, and realized that some things should be left in the past rather than dug up in an attempt to recreate that wonderful feeling. Possum Kingdom would've been better left alone. I decided not to stay the second night, both because it was not very much fun and because my travel plans to Colorado had changed and I figured I should get back to Fort Worth sooner.
The fun of this camping place was not in the scenery, the fishing or the swimming, but in the simple act of getting out of the house at age 15 to go camping with the guys. Good were the days when that's all it took to have a great time.

---
Back to Hiking
NEXT
---

Page created July 2000
Last updated August 7, 2002