Location: Olympic National Park, Washington
Maps: National Geographic Trails Illustrated #210 Olympic National Park (1:100,000).
Fess: $15 park pass + $5 backcountry permit + $2/per/night camping fee
Trail: Very easy for lower portions (I've not ventured into the high portions near Mt Olympus). It follows the river through thick rain forest.
Dogs: No dogs allowed
Weather: Forks station

---

September 7, 2005
At home I have several ferns that I maintain as houseplants. My first fern was a Boston fern that Grandad gave me in high school, which I promptly killed due to lack of water. Lesson learned: ferns like lots of water. I bought a second Boston fern and a rabbitís foot fern at a nursery closing sale during my first semester of college, about 10 years ago. The rabbitís foot fern is still doing great in the original hanging pot I bought him in. The Boston fern grew and grew, until I had to divide him into quarters, which at this point all weigh in at about 30 pounds, with delicate fronds that hang close to 3 feet down from the hanging pots. Along the way I bought a Queen Victoria fern, which I have divided into three separate plants along the way. I dabbled with a Maiden Hair fern, but the dry climate of Colorado did not produce good results, so I started a terrarium. Inside the terrarium, the Maiden Hair fern set spores which produced gametophytes, which in turn produced many more Maiden Hair ferns, three of which are hanging on around the house. I also managed to get a number of plants started from spores I scraped off a dried fern leaf in a floral arrangement. I purchased a 6" birds nest fern that is now about 2.5 feet fall (and a difficult plant to work around in the house). A button fern joined the collection, but is not happy. I hit paydirt when I visited Dave in Hawaii and collected a rhizomotous fern from his backyard, as well as 2 different species of ferns from the woods, one of which I believe is of the genus Doodia since new fronds are pinkish-bronze. My collection of terrariums has grown to 3, with the centerpiece being a 55-gallon aquarium that my neighbor was throwing out because it was leaky (well a small leak is OK for a terrarium, I thought). In the dry, windy plains of southeast Wyoming, where no trees grow on their own volition, ferns are a fantastic novelty. Thus it was with great enthusiasm that I planned a backpacking trip to Olympic National Park, encompassing a temperate rainforest with ferns growing like weeds.

Andra and I started this hike the day after camping at Rialto Beach near Hole in the Rock. The morning had been cloudy and cool, but as we lunched in Forks at a burger café, the sun emerged and shined with a crisp September brilliance. Passing streaks of clouds set off the tinny blue above, and it was an excellent day to be on vacation. We drove south from Forks to the Hoh River Rd which led east through a winding tunnel of spruce and cedar, draped with moss and carpeted on both sides with multiple layers of green: moss, wood sorrel, ferns. I stopped our rental car multiple times to get out and walk through the deep, cool woods. Iím sure to people who live in the Northwest, the dampness gets old, but to someone who hasnít in 10 years lived in a location that gets more than 15 inches of rainfall annually, the moisture is a balm, like putting on hand lotion after working in the garden all day. I soaked it in. At the Visitor Center parking lot, I couldnít wait to get my shoes dirty, so we immediately embarked on the short loop called the Hall of Mosses. The forest was quiet and serene, and the few people we did pass were respectfully quiet, as if in church. And in my opinion, we were. The trail led over a stream of the clearest water, with deep green aquatic plants lining the bottom and swaying in the current. The sun shone through the trees, casting slanted rays of light through the moisture-laden air. Mosses hung from every tree, but especially from the vine maples whose branches harbored so much club moss, they were virtually unseen. Beards of yellowish moss hung down 3-5 feet off of some limbs. The temperature was very agreeable, being not cool, but not hot. It was a very nice stroll.

Back at the car, we packed our bags under the shade of giant trees, filled water bottles at the water tap, and hit the trail, retracing our steps for a short while before making a turn up the Hoh River Trail. The Hoh River has been a name in the back of my mind for so long I had started to consider the name as an entity all to itself. It is so gratifying to finally put a face to a name, and the face was pleasing in every way. We walked single file up the slightly inclined but graded trail, passing in and out of sun spots, and admiring all the while the massive spruces and firs we were walking beneath. We passed an old couple hiking back to the parking lot. The man told us to keep our eyes open for elk at mile marker 2.6. We passed another couple taking a rest break off the side of the trail, overlooking the glacial green waters of the Hoh River. We had not planned on backpacking in too far, and before the hour was up, we arrived at a nice looking camp at mile 2.2 which was vacant and perfectly agreeable for the night. The afternoon was fairly young, which made the depth of the darkness within the cove of trees all the more surprising. The camping area was made up of a series of clearings situated around a mammoth spruce tree, with several smaller clearings along a trail leading to the river. We walked down to the river bed, which was mostly dry. A wide expanse of gray rocks and gray silt was cut by two thin channels of rushing milky water that sparkled in the afternoon sun. Dry season. A pool of water, barely flowing via a trickle on the upper and lower ends, harbored small darting fish. Andra pulled off her boots and waded into the soft, silty bottom of the pool. I know myself well enough to predict that my feet, rather than feeling relief in the cold water, would immediately begin to ache from the cold. Thus, my boots stayed on. We set up our tent behind a fallen log at the edge of a thicket of vine maples, about 60 feet from the river. Using a tremendous amount of nylon cord, we hung our food between two trees, hoisting it unnecessarily high to about 15 feet up, just for kicks. Andra had brought along a bottle of lemonade, which I took down to the barely-running pool of water and sunk it in the rocks to keep it chilled for dinner.

Andra, being plagued by headaches, was eager for a rest. I was anxious to continue explorations. Thus, she retired to the tent, while I grabbed my camera and began bushwhacking off trail through the ferns and moss. I didnít roam far from camp since one didnít have to go far between visually pleasing features of the forest. I photographed the hanging moss, the giant ferns, sunlight on wood sorrel and gnarled bark. Ferns grew on tree limbs dozens of feet above my head. The sunlight shone a deep yellow, contrasting with the black shadows and velvety green moss. It was all very relaxing and quiet. A pair of hikers came walking by the trail while I was about 10 feet off of it, and because of the thick growth, they never saw me. One could seemingly hide for a long time in terrain like this, which is why of course, this is the terrain that Sasquatch have been able to hide in for the last century. After about an hour of rambling around in this manner, I returned to camp to find Andra not in the tent, but instead seated on the log reading her book. We agreed it was time for dinner. We recovered our food and walked out to the river. We used a fallen log for a kitchen table and cooked up a tasty pasta dish involving cheese, noodles, chicken and assorted spices. Along with the cold lemonade, it was delicious. The light was failing as we finished dinner, and shortly after we packed up the food and hung it, we went to bed.

I awoke in the middle of the night to the blackest darkness Iíve ever encountered while camping. I held my hand inches from my face and waved it back and forth, but my eyes could register no light. I heard Andra get up to for an outhouse run. She flipped on her tiny keychain light but as she stepped out of the tent, dropped it. It turned off when it fell, and she searched all over for it in the dark, finally giving up and walking out blindly into the forest.

September 8, 2005
The next morning I woke at dawn and lay in my snug bag watching the growing red light creep through the trees. The rich, earthy smell of bark and green leaves filled my nose. I couldnít content to sit still, so I got dressed and got out of the tent. I walked down towards the river and as I approached, I could see a bull elk walking slowly across the river bed towards the opposite bank. I quickly walked back to the tent where Andra was reading her book and compelled her to get up and see the elk. By the time she was dressed and out of the tent, he was gone, and Andra was not happy with me for getting her out of her snug bag for no good reason. She searched for her LED light that had gone AWOL in the dark. No luck. We both combed the leaves that littered the ground, but did not find it. Before eating, we set off on the trail to see what wonders awaited. In almost no time we passed beyond the furthermost point I had ventured to the evening before, and walked quietly on the packed earth trail (that seemingly never dries) up and down small ridges and over small streams. As we crossed one of the streams, the gentle chorus of falling water caught our ears. Up the stream about 60 yards, a series of waterfalls cascaded through the thick undergrowth. We followed a very faint path through tall sword ferns to the base of the first waterfall. We crossed the stream and continued up a fallen log to the next waterfall, and then up still further to the base of the third waterfall. This route was tricky because all the logs were wet and slick. The fourth and tallest of the falls was up quite a bit higher, but there was no safe way to get any closer, nor did we need to in order to enjoy the captivating quality of the gentle cascade. I was thrilled since photographing waterfalls is one of my favorite indulgences. I set up my camera on the tripod, carefully metered and considered the shutter speed. When I pressed the shutter release cable button, all the lights went out on the camera LCD display and nothing happened. I restarted the machine and tried again. No luck. No batteries. I had not brought any spares on the hike, but instead foolishly left them in the car. With disappointment, we carefully retraced our steps over slick logs and slicker rocks until we were back on the main trail. Two drainages over, we encountered another series of falls, which of course we hiked up to through the ferns so as to inspect more thoroughly. The sun had not yet reached the falls, which left them in even shadow and added markedly to the feeling of serenity. We decided this was a good spot to turn around at, and began to retrace our steps towards camp. Though our hike up had taken close to 2 hours because of our side trips, we made it back to camp in about 40 minutes, indicating that we had not traveled as far as I thought we had. With this on my mind, I announced that I had to return to the waterfalls with our puny digital camera to get a few shots of such a magnificent spot. As Andra was reading a terribly interesting book during this trip, she had no problem with sitting and waiting for me to return. However, before I left, we added water to our granola and fruit breakfast pouch down by the river, and consumed it. Delicious. I left my film camera in the tent, and set off at a fast pace up the trail. Reaching the waterfalls in less than 30 minutes, I retraced all the steps of the hour before and photographed them. I find it hard to pass up a good waterfall without photographing it, and I canít offer a good explanation as to why. Once finished with the photographs, I turned off the camera and stood amidst the tall ferns off the trail, watching the forest. There is a palpable sense of life in this place, and, though it sounds melodramatic, of consciousness. It's hard to feel alone in woods like these.

In my fast pace to return to camp, I hiked right past the turnoff to camp, and it wasnít until I crossed a bridge I knew I hadnít crossed that morning that I turned around and found the correct route back. Andra had already begun to disassemble the tent, and had sleeping bags and pads already packed away. I assisted in the remaining portion of the job. She commented again that she had not found her light in the tent, and was baffled. While she was packing her bag, I untied the rainfly flaps to zip them together when her light plopped out of the folds and fell to the ground. Always on the watch for a good opportunity such as this, I pocketed the light and some moments later secretly deposited it into the top pocket of her backpack. Although I intended for her find it days later, she found it only moments later while continuing to pack. She was baffled at first, and I played innocent, but I could not contain my smile, and soon the gig was up.

Finally finished with packing, we snapped a few photos of ourselves using the camera timer, then hit the trail. The walk back was just as beautiful as the walk in. The sun was shining brightly, and the air was warm. I thought about the many miles of the trail we did not walk on, and how I must return some day to do so. Such a trail should be on everyoneís list. As we approached the series of trails near the Visitor Center, I took a wrong turn, adding 10 minutes to our hike by the time Andra convinced me we needed to turn around. My woodsmen's directional instinct failed twice in one morning. Not good.

Back at the car, we changed clothes and cooked Ramen noodles for lunch on a moss-covered picnic bench nearby that was plastered with warnings against feeding the wildlife. Ironically we read these while the beady little eyes of a dozen camp robbing jays were fixed on us from 10 feet away. Then it was off to Olympia to continue to adventure at another location. I must admit, under threat of legal penalty, to having pulled up several small ferns along the road outside of the park boundary. These ferns are now growing happily in my 55-gallon terrarium at home; my little piece of Washington in an ocean of dry, windy grassland.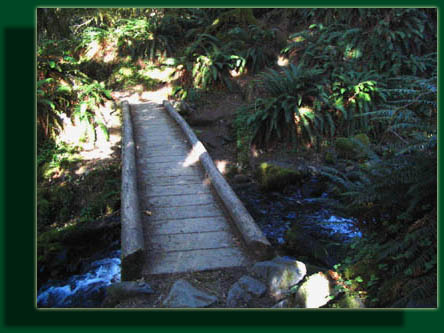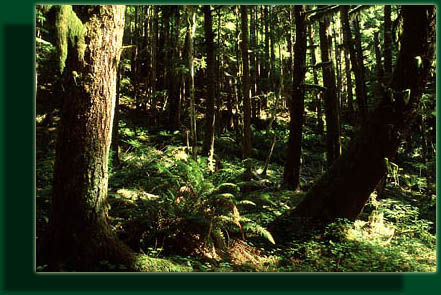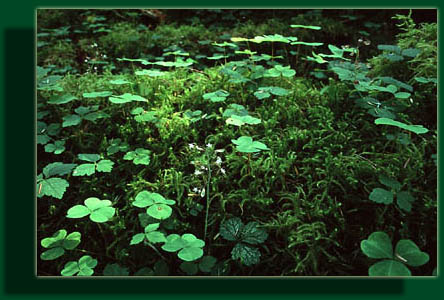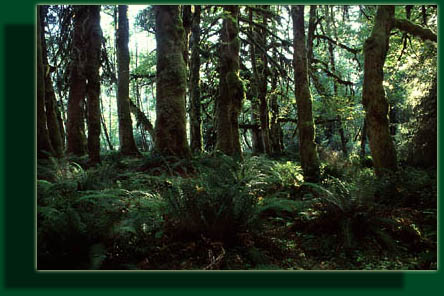 Video Clips: Waterfall 1 (3.1MB)
Waterfall 2 (3.7 MB)