Location: Tonahutu Creek drainage, western side of Rocky Mountain National Park, Colorado
Access: From Estes Park, take Highway 34 (Trail Ridge Rd) 17 miles past the Alpine Visitor Center to the Green Mt TH lot.
Maps: USGS quads: Grand Lake & McHenryís Peak
Trailhead: UTM NAD83 zone 13 428488e 4462218n 8800í
Trail: It's about 8 miles and 2,350' to Haynach Lake on a well-marked, well-signed and wide trail.
Dogs: Not allowed in trails in RMNP
Fees: $20 7-day pass / $40-annual pass (+ $20 backcountry camping fee)
Weather: National Weather Service Forecast
Current snow conditions
Webcam: Continental Divide from the Glacier Basin campground

August 8, 2009
My very first camping trip in which no family member was involved was March 1993, when Mike, Nolan, Kevin and I camped at Possum Kingdom for four days where we fished all day, rafted around the shore and cooked hot dogs over immense bonfires in the fire pit. Sixteen years later (how can it be so long??) Mike and I embarked on another camping trip, this time to Rocky Mountain National Park. Mikesí wife Mandy, and my wife Andra, both came along too. If you ask them, they may say that Mike and I came along on their camping trip. All of life is just matter of perspective.

After driving over Trail Ridge Road from Estes Park, and catching a glimpse of a large herd of elk near the Alpine Visitor Center, we parked at the Green Mt TH in the Kawuneeche Valley, and headed up the trail that parallels a small, unnamed creek. It was a great, clear summer day and the woods were very fine in the sunlight, just the sort of day you always hope for. As with most northern Colorado forests, many of the lodgepole pines were dead or dying from pine bark beetle, but walking through the woods, one hardly noticed it. Even the dead trees threw plenty of shade, and it seemed pretty green in the understory. Andra led the group, with Mandy following Mike. I brought up the rear so I could poke any stragglers with my trekking poles, which were on loan from Christine for me to try out. Several horseriders passed us, but otherwise it was a pretty quiet day on the trail.

We all labored up the trail to Big Meadow, a 2-mile long meadow where Tonahutu Creek sluggishly winds through and where there are several old homestead ruins. On the north end of the meadow, the trail splits and we headed east towards Granite Falls on Tonahutu Creek. We adopted a leisurely pace, and really the day was too nice to hurry through anything. Besides, our only goal was to get to camp before dark, so having begun at 11 AM, we had no worries about meeting that requirement. We skirted the northern edge of Big Meadow, and the elevation began to climb a little more. We stopped along Tonahutu Creek for a break after hiking for about 2 hours. Andra and Mandy soaked their feet in the frigid creek water. Mike and I passed on that sadistic ritual.

An hour later we were at Granite Falls, enjoying the cool spray from the high-volume cascade along with a park ranger and a couple other hikers. Composed of a series of free drops and steep cascades, Granite Falls is one of the more impressive falls Iíve come across in the park, perhaps even the most impressive. I enjoyed it thoroughly. After 15 minutes of resting, we hit the trail again, and were at camp just 10 minutes later at Upper Granite Falls.

The Upper Granite Falls camp sits 1,000 feet above the trailhead at 9,800í, and has 2 tent sites situated about 50 meters apart through thick conifer woods. The eastern site, located next to a large wet meadow with a nice view of Sprague Pass on the horizon, is by far the nicer of the two, having both a better view and more space. We got there early enough to have a choice, and naturally we occupied that one. We set up our two tents side by side and settled into camp.

RMNP started requiring bear canisters for all backcountry trips in 2009. I donít like that move. Itís like requiring all campers to have a tent with a rainfly, or requiring all campers to wear leather boots on the trail. Itís just over-reaching. I think the better thing for the park service would have been to strongly recommend a bear canister, but to require it imposes on my style of camping. Iíve always hung my food, and Iíve never had a bear get it. It sort of adds to the fun to pit oneís hanging skills against the bearís food-scrounging skills. The bear canister adds weight to my pack, several pounds worth, and is bulky to the point of disrupting my normal packing routine. It barely fits inside my pack, and is almost impossible to strap to the outside. Itís a real pain in the butt, and completely unnecessary when there are thousands of large trees about. But, the rules have been made, probably by someone who doesnít backpack themselves, and we rented a bear canister for use on the trip like good campers. Donít think I wonít write a letter, though. We filled it up the canister, but did not have room for the stove and some of the food, so we ended up hanging that, anyway (and no bear got to it). I took 4 small bottles of soda to the creek to keep them cold for dinner, and while there, Mandy, Mike and I took turns filtering about 3 gallons of water, filling up every bottle and bag we had.

After that, not to mention the 5-mile hike in, everyone felt a little drowsy, so an afternoon nap was in order, and we all went to the tents and slept for about an hour. Afternoon naps in the woods are so delicious. I rank them as one of the top ten luxuries in life. I awoke to the sound of Mikeís iPhone playing some sort of television show. I think he was using earbuds, but the air was so still and quiet in camp that I could hear them even from the next tent. Mike later confessed that he felt a little guilty about watching a television program in the woods on the iPhone, and after we gave him a hard time about it, professed to be done watching television shows for the duration of the trip.

After we all got up, it was getting late in the day, and time to think about dinner. Camping is basically a solid block of time spent thinking about the next meal, interrupted by occasional chores like walking, setting up camp, filtering water, etc. We gathered the food, and Mike retrieved the sodas from the creek, where they had gotten nice and frosty. We cooked up some beans and rice, then slathered them on tortillas with cheddar cheese and hot sauce. Very delicious. That was followed by a fantastic blueberry cheesecake mix, all washed down with ice-cold soda (a real backwoods luxury). After washing dishes, we walked down to Granite Falls and enjoyed the sunset light playing on the cascading water. It grew dark pretty quick after the sun fell below the horizon, and we headed back to camp in dim twilight. The temperature dropped quickly, as well, it being a chilly weekend to begin with. I brought out a couple of tea lights and set them out on one of the log benches while we talked and joked into the night. I waited until the light was dim to give Mike and Mandy cover for their facial expressions before I popped the news that Andra was pregnant. That bit of news dominated conversation for the rest of the evening. It grew progressively colder so we all kept adding clothing until we had no more to add, and that was the point at which we retreated to the tents and the warmth of the sleeping bags.

August 9, 2009
It was a cold, clear night, but I slept well in my bag. I learned later that just a few miles north of us, on Mt Ida, a 32-year old Lakewood man spent the night out with another hiker and 5 park rangers after breaking his leg during a fall. He was rescued by helicopter around 1:00 in the afternoon, about the time we were having lunch near the Haynach Lake spur trail junction. The sobering fact is that he was essentially the same age I am. Itís good to remember that wilderness accidents can happen to anyone, even a fit 32-year old man.

Mandy was first up at 7:00, and we were all up and out of the tents shortly after. We ate breakfast of cold cereal and powdered milk before striking off up the trail around 8:00 towards the divide. Our plan was to hike up to Bighorn Flats, and maybe take a shot at summiting Knobtop Mt. It was a cool morning, but sunny and very pleasant. Once we made it to treeline, however, conditions changed. The wind, which had presumably been there all along but muffled by the forest, emphasized its presence in a big way. The temperature was somewhere around 55, but the wind coming in from the west at 20 mph made it awfully chilly. We hiked uphill towards Sprague Pass through outcrops of trees and into the tundra. Several marmots sounded their alarm and scuttled off their basking rocks as we approached them. Columbines and buttercups bloomed everywhere, and the thick seedheads of the native grasses swayed in the wind. The sky was generally clear, though some puffy cumulous clouds had shown up. The entertaining portion of the hike came from Mandy, who, bundled up in seventeen layers of clothing, wasn't agile enough to gracefully make it over the log in the trail, and ended up half clamboring/half rolling over to get beyond. Naturally, I took pictures of the whole event.

Near where the trail flattens out onto Bighorn Flats, Mike and Mandy decided enough was enough, and turned back to warm up in the trees. Andra and I decided to head on up, and in a few minutes we were hiking southeast on the wide expanse of tundra along the divide. The wind was so much worse up there, however, and we didnít make it more than half a mile before determining that we simply had to turn back. I was frustrated, and saw that Sprague Pass wasnít so far away and determined that we might get some nice rewarding views from the pass. Thus, we struck off trail to the north, across the tundra and short willows, bracing against wind that got stronger by the minute. The sun was out, but it was darned chilly with that wind. We made it to Sprague Pass, and dropped over the rim to sit on the steep east side where the wind was blocked. We rested there for awhile, but the perch was tenuous since the cirque wall was extremely steep. I didnít feel very relaxed looking down an 80-degree scree slope to the glacier a few hundred feet below. Still, the view was nice. A waterfall, fed by unseen Rainbow Lake, plunged from the north wall into a small pond that Iíll be not more than 5 people see every year. There was almost no vegetation, just a few gnarled conifers hanging on to the wall.

We headed due west, not retracing our steps but instead heading straight for the drop into the Tonahutu drainage. As we approached the drainage, the slope of the ground increased and we could see down into the drainage, including the trail we had used to get up here. It was too steep to head straight down, but we noticed an old trail, or maybe an elk trail, sidehilling to the northwest, and took that route. It led us right down to the trail, where we then walked in the comfort of the trees (no wind) to the junction with the Timberline Camp trail, where Mike and Mandy were relaxing in the sun.

We all hiked down the trail a bit until we spotted a nice lunch spot off the trail. We sat in the shifting sunlight and ate jerky, crackers, cheese and Snickers bars. Relative to the blustery conditions above treeline, our little picnic spot was an eden. After lunch, we headed on down the trail to the Haynach Lake Trail, and then hiked back uphill for what seemed like quite awhile, but was only 1.6 miles, to Haynach Lake. Haynach Lake is a actually a group of lakes, ponds and potholes. I assume the upper, largest lake is Haynach Lake. It sits south of a rocky cirque, surrounded by grassy meadows, then a swath of spruce and fir. 12,216-foot Nakai Peak looks down on Haynach Lake from the west. About 8 anglers were patrolling the shores of the lake, watching for trout. We staked out a nice spot along the upper lakeís south shore to sit, snack and enjoy the scenery, and watched lots of trout cruise by our position. Andra and I filtered some water from the nearby inlet creek, and then we started back down as high clouds rolled in.

We didnít arrive back in camp until around 5:00, so we pretty much immediately began dinner preparations. I filtered more water, and talked with the couple camping in the 2nd Upper Granite Falls site who were just then fishing the creek where I filtered water. For dinner we heated water for a couple of freeze-dried lasagna packages, easy and delicious. Desert consisted of an add-water Tiramisu package that was just delicious. We followed that by hot cider and tea. Man, when youíre camping, everything is delicious!

We passed the evening sitting and chatting on the two log benches in the camp. Mike and Mandy regaled us with tales of unbelievable deals theyíd snagged on camping gear over the last few months, inspiring me to start hitting the REI used-gear sales. I enjoyed an ultra-brisk upper-body bath using my canvas bucket and frigid creek water. Hurts, but it sure feels good afterward. The consensus was that tonight was colder than the night before, though I wasnít entirely convinced of that, but as such we didnít stay out much past dark.

August 10, 2009
We were all up around 7:00 again, and as we had no scheduled hike, we took a leisurely time at breakfast, making egg and cheese burritos in a patch of sunlight right near camp. It was chilly, but the sun warmed things up nicely. By 9:00, everyone was packed up and we were just about to leave when a juvenile moose came trotting through camp. We all stopped and watched quietly from the shade of the trees near camp as it walked to the meadow and browsed on grass. After 10 minutes of that, we again got ready to head out when mama moose came trotting through camp, as well. Now everyone has heard of how aggressive a mama moose can be when folks get between her and her baby, so we initially stepped back several paces as she entered camp. She turned aside quickly, though, as surprised to see us as we her, and detoured through the trees to the meadow where her offspring was. We crept quietly to the edge of the trees again and watched her walk slowly through the meadow after her little tyke. I encouraged Mike to go feed her, but for some reason he declined. I should state for the record, to head off any angry letters, that the photo of Mike petting the moose is a fake (although a darn good fake, if I say so myself). After that we hit the trail, descending through the lush woods on a day every bit as nice as the day weíd come in on. We passed very few people until we neared the trailhead, when the freshly-showered scent of dayhikers preceded each group, blatantly noticeable after a few days of not showering ourselves. We reached the trailhead around noon, packed our crap into the car, and drove off north to experience the joys of summer road construction in the park, an evening out on the town in Estes Park and a relaxing shower and hang time at the motel.

Big Meadows, with millions of beetle-killed
lodgepole pines on the mountains behind

Andra, Mike and Mandy up the Green Mountain Trail

Setting up tents at Upper Granite Falls camp

Granite Falls on Tonahutu Creek

Mike, Mandy, Sam and Andra at Granite Falls

Granite Falls

Upper Tonahutu drainage

On the trail to Sprague Pass

Mike helps Mandy clambor over a big log in the trail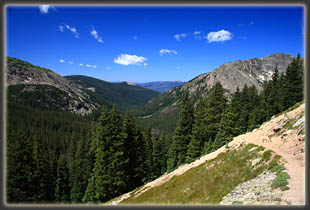 Tonahutu drainage

Up on Bighorn Flats

Looking west across Bighorn Flats to Snowdrift Peak

Stones Peak from Sprague Pass

Looking north from Sprague Pass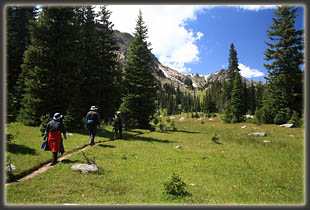 Up towards Haynach Lakes

One of many ponds in the Haynach Lakes basin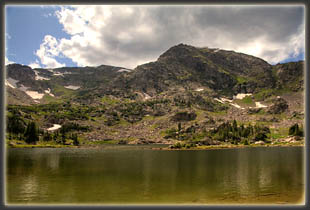 Haynach Lake with Nakai Peak behind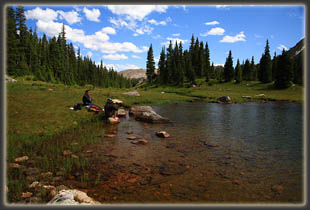 Resting and refreshing at Haynach Lake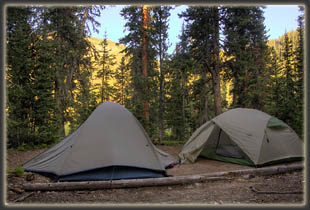 Back at camp

Chilly evening out at camp

Moose after she waltzed through our camp

Mike petting the moose

Granite Falls on the morning hike out

Hiking back down to the car

Nice, shady trail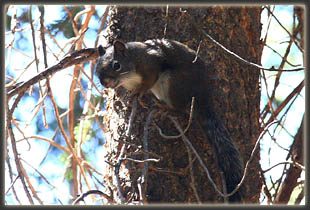 Very upset squirrel, chattering and spitting the entire time

Last stretch of trail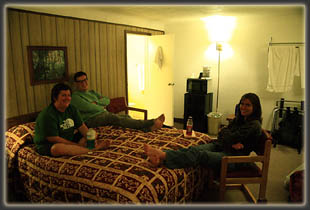 Relaxing at the motel