North Fork Big Thompson & Hagues Peak
Location: Rocky Mountain National Park, Colorado
Access: From Glen Haven, drive west on Devils Gulch Rd 1.7 miles, then turn west onto Dunraven Glen Rd, and follow it northwest for 2.2 miles to the signed trailhead parking lot.
Maps: Trail Ridge, Estes Park, Glen Haven & Pingree Park USGS 7.5í quads
Trailhead: Dunraven TH; 40.475682N -105.460393W 7812í
Trail: A very-well marked trail lead to Lost Lake in 9.8 miles. From there, itís another 5 miles cross-country to Hagues and Mummy Peaks with no marked routes.
Fees: Thereís no fee at the Dunraven TH, but youíll need a $20 backcountry permit to camp overnight. Campsites are designated and available for reservation or a first-come basis.
Weather: National Weather Service Forecast
Dogs: Leash-law in effect in the National Forest (first 4.5 miles of the trail); Not allowed in the National Park.
---
September 2, 2011
Itís a perfect summer day. The quiet stillness of the parking lot belies the excitement in my legs at the hike ahead. Itís later than I wanted to start, already near noon, and I try not to forget anything ciritical as I throw my pack together and lace up my boots by the trunk of my car. The parking lot is full of cars, but there are no people around. Finally, right at noon, Iím off down the trail. The last time I was at the Dunraven TH, I hiked north to the Signal Mts. This time, Iím heading west up the North Fork of the Big Thompson. Old maps call it the Thompson River, so sometime around 1930 it acquired the extra moniker, maybe it got bigger that year.
The trail heads immediately downhill through an open dry forest of Ponderosa, reaching the river after a 200í drop and heading upstream along the bank, crossing back and forth repeatedly as it alternates in and out of Douglas fir and ponderosa. The rustle of the river is lively and loud, and I pass a number of anglers doing their thing. Iím saving my angling for higher up. After about a mile of walking, thereís a dude ranch on the north bank of the river, but once that is behind me, itís nothing but wilderness for the next 52 hours. In another mile the trail passes by an old cabin. In a little over an hour and a half I am at the park boundary, the trail heretofore passing through national forest. The boundary is a political boundary only, as the entire area is unbroken designated wilderness, Comanche Peak on the forest side, and Rocky Mountain NP Wilderness on the other. Itís quiet and cool, but dark clouds have rolled in and itís getting breezy. Itís a bummer to get caught away from camp in the rain, so I quicken my pace to try to reach camp before the rain does.
I pass by the North Boundary Trail at the 2-hour mark, and by 2:30 Iím in Lost Falls camp, where both sites are empty and I have my pick. Both camps are in heavy timber, well-shaded, but with lots of dead trees that have been downed by the park service for safety reasons. I choose the camp further from the camp entrance, and set things up quickly in anticipation of the rain that comes soon after in a gentle, light shower with no lightening involved. It does cool things off a lot, though, and I pull out my sweater to keep warm. I filter water, eat a bit and nap for about an hour, my pleasant snooze interrupted by folks in camp 1 smashing wood for a campfire. No matter, itís not good to nap too long anyway; makes it harder to sleep at night.
I decide to take a walk and find Lost Falls. Armed with my topo map, I hike up the trail which gets pretty steep. I can hear the stream down in the gorge, but I canít see it through the trees. I hike up far enough that Iím sure Iím ahead of it, then plunge down through the forest, picking my way through downed trees and tangled shrubs to the water. The entire stream forms a continuous crash of water, and itís not clear which cascade is Lost Falls. I mosey down the streambank a bit, but itís very difficult terrain and I decide itís not worth the effort or risk of slipping on the slick, mossy rocks along the bank of the creek. I retreat uphill. Itís not clear if I found Lost Falls or not, but the side trip was enjoyable, nonetheless. By 6:00 Iím back in camp, and I heated up some water for a nice bucket bath, followed by laundary. Feeling clean and warm, itís time for dinner. I boil the Ramen, sprinkle on the delicious packet of MSG and wolf it down steaming hot. Then I enjoy a small Snickers bar (they call them ďfunĒ size, but I find the bigger sizes more fun, myself), dried pineapple and a few crackers with cheese, all washed down with a cool bottle of Coke that I sunk in the creek upon arrival. The Coke could be colder, as the stream is not ice-cold, but itíll do. In the woods, even a cool Coke is a tremendous luxury.
By 7:00 the light fades. Gone are the high-summer days of 9:00 sunsets. The air cools by the minute, and I slip into my tent and get warm in my sleeping bag. I try for awhile to sleep, but the long afternoon nap has confounded it, so I read my Stephen King novel for a couple of hours before finally drifting off around 9:30.

---

September 3, 2011
4:30 AM, time to get up. I slip on my cold pants and shirt, pack some essentials by headlamp, and drift out of camp, silent as a ghost. By 5, Iím on the trail, working up a nice rhythm, and warming up nicely. In the dark, I pass by the Stormy Peaks trail in about 20 minutes. The air is still and quiet, and the trees are dark and brooding in silver light of pre-dawn. Ice crusts the grass in the meadows near Lost Lake. By 6:15, Iím at the lake, passing by the two campsites. One of them is empty, and Iím disappointed because itís the one I had originally wanted to occupy but had to settle for Lost Falls since these were Ďfullí.

Down to Lost Lake, and around the northern side. The lake is low, and I amble along exposed rocks on shore. The sky is glowing pale cyan. Rugged peaks at the head of the cirque begin to glow faint red and I consider setting up my tripod by this lake to capture the coming show, but the rim above Lost Lake is tall, and blocks off most of the cirque, so I decide to make a run for Husted Lake where the terrain is more open. I walk briskly through the marshy area on the north side of Lost Lake, then up the steep hill dotted with firs, startling a couplet of moose who go charging off to the north into the trees. I reach the crest of the rise above Lost Lake, panting for breath. Itís 6:45, past sunrise, and the walls of the cirque are flaming orange in alpenglow as I rush to the highest point I can find on the east shore of Lake Husted: a pile of smooth granite that affords a perfect perch. I slip off my pack, pull out my tripod, slide out the legs and immediately begin clicking. Itís a perfect morning and a perfect scene. The orange rock glows brilliant orange under a perfect, cleardrop sky. One of the shots will become my computer desktop background for the next 5 months. I snack on a Pop Tart, then head southwest towards Lake Dunraven, over a tawny plain that drops down into the very upper reaches of the North Fork Big Thompson. I pass by Lake Louise, and beyond that the valley tightens up and the stiff timberline krumholtz pulls at my legs and arms as I bull my way upstream along the thin rushing torrent of the river, one branch ripping a hole in my pants.

After searching around, I finally find a passage through the thick tangle of subalpine fir and granite, and come out next to an enormous ice cave that straddles the cascading outflow from Lake Dunraven. I leap over the stream and walk into the snow cave, which is dripping water from its 7-foot roof and is so deep I can see no light from the other end. Lilies are popping up in the retreat of the snowfield, some glowing bright yellow, here only days before the first fall frosts.

By 8:00 Iím seated on a flattish rock looking down on Lake Dunraven, named for an eccentric Englishmen who once owned more than half of the current day Rocky Mountain Park as a private hunting reserve. His history is an interesting story unto itself, and there are many fascinating books about the history of land and people who lived in the park and how it came to be a national treasure. From Dunraven, I leave the water behind and head up the long slope towards the saddle between Mummy and Hagues Peaks, the tallest of the Mummy Range, a spine of mountains so large you can see it from my back porch in Cheyenne 70 miles away. A flock of ptarmigans scatters mildly as I pass through a boulderfield, but they are not accustomed to humans and have little fear.

The saddle between Mummy and Hagues is all rock, and travel is slow as I pick my way across the spine of boulders. Luckily there is no wind, and the going isnít too tough, now that most of the elevation is below me. I attempted Hagues from the south side a few years back with Dave, but was unwilling to crawl up the steep, rocky slope to the summit, so itís a sweet feeling to finally reach the top around 10:15. Hagues Peak is the highest point in the Mummy Range, the 4th highest peak in Rocky Mt National Park, and the highest peak in Larmier County, at 13,566í. Itís cool, but pleasant. The wind is calm, so Iím able to loiter for a long while up top in comfort. A metal contraption with a solar panel sits near the summit, perhaps a weather station. I snap lots of photos, eat some snacks, then I retreat the way I came and hike on over to the Mummy summit (13, 425í), which has a very dramatic southern drop to Lawn Lake below. Very scenic. From there I drop down to the plain to the north and sit on a gentle slope of grass for lunch. I pull my boots off and rest for a while.

Being early in the day, I continue my exploration by topping Mt Dunraven, and then checking out the summit of unnamed Peak 12,305 beyond that around 2:30, both relatively easy peaks that nonetheless offer exciting perches above the North Fork Big Thompson watershed. Clouds are building, but they do not look threatening. I mosey on down the slope to the north, spying a bull elk who doesnít see me until Iím absurdly close, whereupon he takes flight over the ridge and out of view. Further down, a bull moose with enormous antlers mingles with the willows. The park lives up to its name this afternoon.

I head back towards Lake Dunraven, hoping to find a water bottle that I lost earlier in the day. I have a suspicion it bounced out of my pack when I leaped across the outflow stream (Iíve lost bottles that way before), and sure enough, right on the shore, I find it, still cold in the shade.

The walk back to Lake Husted is beautiful in the afternoon light, though my head is pounding from too little water at this elevation. I assemble my pole at Lake Husted and haul in a couple of brook trout before packing it up and heading down. The camp at Lost Lake is still empty.

Back in camp around 5:15, I take another hot bucket bath, though it is much cooler tonight. The chill prompts me to gather firewood and after dinner of Ramen and crackers, I build a nice cheery fire, reading my book by headlamp near the warm glow of the firepit. By 9:30, I hit the sack.

---

September 4, 2011
Iím up early in the morning with cold feet, but I lay in bed and read until the sun is peaking through the pines. Around 7:30 I get up, heat some water for coffee and enjoy a PopTart before packing camp. The sun is clear and yellow, casting that amber glow that hints at fall. On the trail by 8:45, I stop often to fish, keeping my rod handy. The river runs adjacent to the trail for long stretches, so itís easy to pop out and take a few casts. I caught 5 brookies on a grasshopper imitation, and to my astonishment, I donít lose any flies in the thick tangle of willows along the river. A good day. I stop near the park boundary for lunch of crackers and cheese, and spend an hour reading by the edge of the river, enjoying the sparkling reflections jump up from the tossing water. Nearer to the trailhead, foot traffic picks up considerably, as you might expect on a beautiful summer day. By 3:15 Iím back at the car, changing shoes and getting ready to head back to civilization.


Peak 12, 305'



Upper North Fork Big Thompson



Morning coffee



North Fork Big Thompson River



Aspen daisy



Warm sun on morning trail



Mt Dickinson from the North Fork trail



North Fork Big Thompson Trail



One of the beautiful brook trout in the river

Sign to Lost Falls Camp



North Fork Big Thompson River

North Fork Trail



Above Lost Lake



Mt Dickinson



Husted Lake with Rowe Mt and
Rowe Peak glowing orange at sunrise



Husted Lake



Lake Louise



Rowe Peak above Lake Dunraven



The ridge to Hagues Peak



Looking back at Mummy Mt



On Hagues Peak, Lawn Lake below


Looking west from Hagues Peak



Rowe Glacier on Rowe Peak



Looking west to Hagues Peak and Fairchild Mt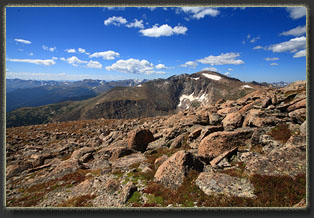 Mt Fairchild



Crystal Lakes below Mt Fairchild from Mummy Mt



Longs Peak on the horizon above a hazy smoke-filled valley



On Mummy Mt



Mt Dunraven



Mt Dunraven