Location: Central Colorado, near Loveland Pass
Access: Perhaps this is the easiest access of any trail in Colorado. Take I-70 west from Denver, then take the Bakerville Exit 221 south on Stevens Gulch Rd. The winter and passenger car TH sits on the east side of the road almost immediately after exiting the interstate. Higher-clearance vehicles and intrepid passenger-car drivers can drive an additional 3 miles up Stevens Gulch Rd to the upper TH. The road had 3 or 4 tricky spots when we drove it, and the entire grade was bumpy and slow, but passable for our Subaru Forester.
Map: USGS 1:24K Grays Peak (exact routes not shown)
Trailheads: Lower TH: UTM NAD 83 zone 13 431004e 4393808n 9790'; Upper TH: 432696e 4390404n, 11,246'
Trail: The trail heads up Stevens Gulch for just under 3 miles to a junction. The right fork heads up to the col between Grays and Torreys, from which one can head west up to Torreys, or east up to Grays. From Grays, one can descend via the alternate route, back to the original trail junction, forming a sort of semi-loop. A round trip to both peaks made in this way from the upper TH is ~6 miles with 3,538 feet elevation gain. As with any trail gaining that much elevation, it's moderately difficult, but well-marked and graded.
Dogs: Fine, some might have issues with the boulderfields near the summits
Weather: National Weather Service Forecast
Snow Depth
Fees: None

---
September 5, 2009
It's 5:30 and we leave Loveland by car under cover of dark, like fugitives. Mike has been in Colorado all of 8 hours, having arrived by plane from Vermont at 10:00 the evening before. He and I crashed at Christine's condo for 4 solid hours of sleep, and now the three of us are off, in a sleep-deprived, slap-happy state, to see if we can hike a mountain or two before the predicted mid-day rain showers, and maybe drop a coin or two into the bank of bliss that is hiking above treeline in Colorado. The clear sky allows the nearly-full moon to shine brightly as we motor south on Interstate 25, and the sea of tranquility stands out darkly on that celestial orb this morning. As the sky begins to brighten in the east, we stop for gas and morning snacks at 104th, then carry on south to Denver, hang a hard right, and then west up I-70. The air cools off with elevation, and the sky brightens. We leave the interstate at the Bakerville exit around 7:30, and immediately begin hauling up the steep dirt road towards the Stevens Gulch TH. Almost instantly, we encounter a backup of vehicles that signal rough road ahead. Dozens of cars and trucks have already parked along the side of the road, and people in hiking boots and fleece coverings are milling about, preparing for their hike. We pull up alongside a man in a Green Bay Packers jacket and he tells us there is a deep rut in the road that almost nobody can get by. He is driving a Honda CRV, which has just as much, if not more, clearance as my Subaru Forester, so I decide we probably must park here as well. I back up a bit and park behind him.
We gather our gear together as cars and SUVs park in behind us. Several drivers in large trucks continue on by, but most traffic seems content to park it. We shoulder our packs and head up the road, around the bend and up the rutted area that has stymied so many vehicles. I examine the rough spot, and decide it really isn't so bad. With the promise of saving 3 miles of boring road-hiking, I trot back 200m to the car, and quickly drive past the rough spot, pick up Christine and Mike, and we drive on, feeling like we have just won a prize and the reward is a free 3-mile shuttle up the road to the trailhead. This is, afterall, why we bought the Forester in the first place.
We pass dozens of hikers in small groups heading up the road, all brightly-colored in the reds, yellows and striking blues favored by outdoor gear companies, and worn by hikers who would never think of wearing such colors to work, or even around town. Several road obstacles come and go, each one with its own collection of cars parked along the road preceding it. None are particularly bad, and we continue past each one with a short burst of excitement. A group of two friendly-looking hikers have their thumbs out (well, that's not very descriptive, is it? Not many hikers look particularly un-friendly.), and we stop to pick them up. Loaded with the extra weight, the back bumper scrapes a bit on the next big hump, but otherwise, the trip to the trailhead is uneventful, and the hitchhikers are very thankful. We are all to here to walk, yes, but not on a road. We're here to hike yonder mountains, over narrow, gravelly paths along knife-edged ridges. Despite the rough road, the upper trailhead lot is full, and we must park along the road near it. My car passengers pump up my ego with their compliments on my driving to the trailhead, but any boost my ego may have gotten is dashed when we pass by the Honda Civic parked serenely in the parking lot. Christine, herself a driver of a Civic, is impressed, and proud. We gather our gear and hit the trail around 8:30.
The sun is up, the sky is clear, but the ridge to the east shades the trail for the first half hour. Upon reaching the sunlight, we stop and remove layers of clothing and slather on sun screen. Loads of people stream past, many stopping at just the same spot to remove their own outer-layers. There are hundreds of hikers ascending Grays and Torreys today. With the conifers ending at the trailhead, we hike through the willows in Stevens Gulch, and soon even those give way to diminutive tundra cushion forbs and grasses clinging to the soil patches scattered among clots of sharp rock. Grays Peak is visible from the get go, but Torrey's hides behind Kelso Ridge for a good part of the way, an impressive feat for such a large mountain. We stop at what we judge to be about halfway to the summit for snacks and rest with the sun still shining brilliantly. The carbs go down easy, and I look forward to the imminent sugar rush.
The trail heads higher into a rocky boulderfield almost devoid of vegetation. Torreys is clearly visible to the west of Grays, now. The trail splits, and we decide to take the shorter, steeper route heading right directly up to the col between Grays and Torreys. About half of the hikers take this route. Near the col, we encounter the first snow, and I toss a snowball at Mike's back, smacking it mercilessly. Standing on the rocky col, both mountains seem equally accessible, but Torrey's looks a bit more jagged and interesting, so we decide to head up there. White mountain goats graze the short grass a few hundred meters down the south side of the col, the first mountain goats I've ever seen in Colorado. I don't know if there are any mountain goats at all north of I-70, where I do most of my hiking, but if there are, I've simply not had the pleasure of seeing them. We pick our way up the steep, rocky trail, stepping aside frequently for descending hikers, and in 28 minutes we are on top of Torreys at 11:05, admiring the seemingly unending collection of massive mountains that stretch out in all directions. Clouds build, and with startling speed. In a matter of minutes, we are surrounded by ominous-looking, heavy-bottomed clouds.
We descend back to the col, and decide to press our luck with the rain (snow?) that is most assuredly coming, and ascend the trail to Grays. The trail from the col to Grays is much less direct than to Torreys, as well as significantly rougher, and it takes a little longer to summit. Within a few dozen yards of the summit, light snow begins falling. This doesn't deter us, and we are on the summit at 11:57, just 52 minutes after leaving Torreys (but who's counting?). We take only time enough to snap a few photographs at the summit and put on an extra layer of clothing before descending via the other trail, the one that forked left down below where we went right. The snow abates, and as we descend we lose the wind and have to stop to shed clothing. It's a constant game of temperature regulation. Short bursts of very light rain come and go as we head down, but that doesn't seem to be a deterrent to the people still hiking uphill towards the summit, though it would be for me, having been on a 14er when the lightening starts.
Despite drinking lots of water, my head begins to pound with each step, and soon I am not so very keen on talking or joking, only of getting to the car, and the hike devolves into a lumbering, plodding task that I long to get past. I've neglected to eat enough salt to replace that which has been lost through perspiration, and my electrolyte balance is way off. Near the trailhead, the rain picks up a bit, and I put on my rainjacket loosely to keep dry. Near our car, the same couple who rode up with us is waiting by the rail fence, hoping for a ride back to their Corolla parked at the winter TH. We oblige, and all of us pile into the Forester for a fun ride down. I gulp down a few ibuprofren ("Chemicals! Chemicals! I need chemicals!") and eat half of a blueberry Danish I bought earlier in the morning. Nothing beats a good gas station pastry, I always say. The bumpy road is painful on an aching head, and I am glad to reach the flat ground of the lower TH, where we park and snack on salty foods. Christine volunteers to drive us to Silverthorne, where we stop at the Dam Brewery. I slurp down two Cokes in minutes, the real kind with real high-fructose corn syrup and plenty of caffeine (a magical mixture, that), and when my lunch plate arrives, I pour salt over the fries and into the pile of ketchup I throw down on the plate. Salt! Salt! The currency of empires! Within minutes I am feeling better, and after 45 minutes, I'm feeling much better, great, even. Christine only half-jokingly comments that I need to get a salt lick for these hikes. I should hurry up and patent that, I think, before I see them on the REI shelves next year.

Christine and Mike on the trail down Grays

Grays (left) and Torreys Peaks from Mt Bierstadt, August 2008

Torreys Peak from the east face of Grays Peak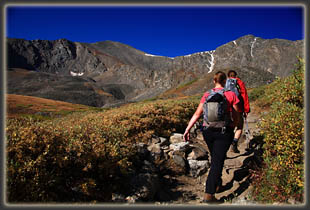 Grays Peak on the left, Torreys on the right

Pika, very unconcerned about me

Torrey's Peak, east face

The col between Grays and Torreys Peaks

Mt Kelso and Stevens Gulch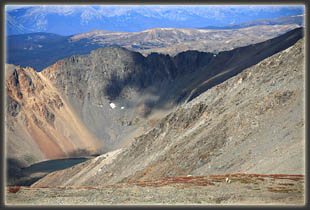 Unnamed lake at the base of Grizzly Peak

Mike breaks for some air guitar on the trail to Torreys Peak

Heading up to Torreys Peak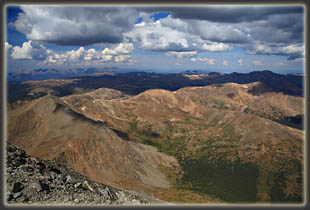 The western view from Torreys Peak

Happy hikers at Torreys summit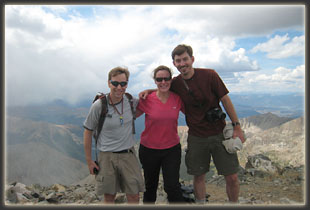 Chilled hikers at Grays Peak