Location: Mt Zirkel Wilderness in the Routt National Forest, northeast of Steamboat Springs, Colorado
Access: From Steamboat Springs, find Elk River Rd (CR 129) near the 7-11 on Hwy 40 in the western part of town. Head north on CR 129 for 18 miles, then turn right on Seedhouse Rd (CR64, which becomes FR400). At 9.3 miles veer left at the junction with FR 443 and continue on FR400 another 2.3 miles to the Slavonia TH at the road terminus, where parking is limited.
Map: USGS 1:24K quad: Mt Zirkel
Trailhead: Slavonia Trailhead UTM NAD83 zone 13 354624e 4516104n, 8390'
Trail: A good loop hike is to head east on TR 1161 to Gilpin Lake, head south over the pass into the Gold Creek drainage, and then pick up TR 1150 which will take you back west past Gold Creek Lake to the Slavonia TH, a distance of 10 miles with 2491í feet gain to the pass above Gilpin Lake. Several tricky stream crossings will keep things lively. The trail is well-marked at all times and in good shape. Water is available everywhere. There is no camping allowed within ¼-mile of Gilpin or Gold Creek Lakes, but thereís no end to great campsites in either basin. There are lots of brook trout in both lakes. This trail seems to get very heavy use, probably due to close proximity to Steamboat Springs, as well as a large motor campground just down the road.
Dogs: Leashed, or under immediate voice control. I met a wilderness ranger with my dogs off-leash and walking next to me and he wasnít concerned about it. He was primarily concerned that I camped at least 100í from stream or trail.
Fees: None
Webcam: Steamboat Springs, 24 miles to the south
Weather: Snow Cover National Weather Service Forecast

July 25, 2009 Saturday

It was sunny all week while I sat in my office at work. Now itís Saturday and a steady patter of rain pelts the windshield as I drive the final few miles to the Slavonia Trailhead, a small parking lot that is full and then some with 26 vehicles. Wow. It felt like I was driving to some remote trailhead, but clearly itís not that remote. I drive back a little ways down the narrow dirt road and park next to a No Camping sign under a few conifers, then try to keep my body under the open backhatch of the car as I put on my boots and pack up the final items. More cars drive past me towards the trailhead. I throw on my rainjacket, lamenting that I neglected to bring rain pants. At around 11:30, I let the dogs spill out the open back door of the car and leash them before heading up to the trailhead and then up the trail.

The first portion of trail, from parking lot to the first trail split, is extremely lush, with gads of Indian paintbrush and delphinium lining the trail, crowding in with dripping leaves that unfortunately transfer copious amounts of water to my pants, leaving them heavy and soaked. Luckily, though it is raining, it is still very warm, so the wetness is not a terrible thing. Thick white aspen trunks rise up through the tangle of green on both sides of the narrow trail, and a river of water runs down center. The dogs are wet through and through, but they donít care. Theyíre only concerned that they are still on-leash, but with the number of vehicles at the trailhead, Iím confident weíll be encountering plenty of hikers very soon.

At the trail split, I sign the register and we head left on TR 1161 towards Gilpin Lake. As expected, we encounter lots of people, mostly dayhikers on their way back to their cars, but some backpackers on their way in. After half an hour of walking and having the dogs pull on their leashes like sled dogs on traces, I let them off so we can all walk easier. Henry, the young pup, bolts ahead and I have to constantly call him back to keep him near me. A brief history has shown that he wonít run off too far, or get lost, but that he will get far enough ahead to greet hikers enthusiastically long before I arrive. Some people, principally wilderness rangers, donít seem to like this, so I try to keep him close. Makenize, older and maybe a tad wiser (maybe not), sticks close and always within sight of me. The rain continues, and even though it doesnít get inside my rainjacket, the sweat that canít evaporate gets me almost as wet. The trail leads up through a half-dead forest, where all the pines and spruces have been killed by bugs, but the fir trees, so far without an insect predator, remain green and healthy. Water runs everywhere, in streams that normally run fast, and some ditches that are normally dry. The air is sweet with the scent of wildflowers. Sweat that cannot evaporate drips off my nose as I slog uphill. And so goes two hours with the rain pelting down relentlessly.

I finally reach the crossing of Gilpin Creek, a fast-moving stream swollen by rain, and itís a very tricky crossing. Foaming whitecaps swirl around boulders in the 2-foot current, amidst which are jammed rotted logs that may or may not be stable. I tell the dogs to stay put and I gingerly check out the logs. They are pretty firm, but wet and slick as snot. I opt for the rocks, which are at least rough, if not partially submerged. My boots get wet, but my feet stay dry as I hop across the rocks, using the logs once or twice for balance. On the other side, I call Makenzie over, who splashes right into the water, but begins to be pulled by the current to the logs. I should mention that a cascade of waterfalls begins on the downstream side of the logs, so itís advantageous for Makenzie to not get too far in that direction. The current begins to pull her under the logs, and I reach out and grab her by the scruff of the neck and pull her to shore. Henry then trots over on the logs, sure-footed and prancing like a dandy, no worries. He makes it to the far shore so quickly I have no time to be worried about what might happen if he fell. In retrospect, what wouldíve happened is that Iíd have gotten a lot wetter than I already was jumping into the stream after him.

On the far shore of Gilpin Creek, we break off from the trail and head west, contouring around the slope as we delve into the woods and the noise from the crashing waterfalls fades. Amidst the trees, I find a nice, secluded spot and pitch the tent quickly in the rain that is only lightly falling now. Makenzie selects a rock that sheíd like me to throw for her in lieu of a tennis ball, and I find the rock a handy size to thread a food-hanging line over a large nearby fir tree. Henry finds a stick to chew on. Simple pleasures. The tent goes up, and I throw all my gear inside before hanging my food nearby. At about that time, the rain stops.

From camp, I can see a big, unnamed peak just to the north. Mt Zirkel lies just west, but is hidden by the conifers. I pack up a little bag of essentials, and we hike off to find the trail that leads up to Gilpin Lake. The trail is soggy, but well-marked, and we crank out a quarter mile uphill at a steep angle with lots of switchbacks. I meet a wilderness ranger on his way down, and his clothes are perfectly dry. I wonder how he managed to stay so dry, but I donít ask. He asks me questions about where Iím camped to ensure I didnít set up my tent two feet off the trail (youíre supposed to be at least 100). I told him I was so far off the trail, he couldnít find my camp if he tried. He laughed and then we moved on. There is some essence of truth to my statement: my tent was set up about 800í from the trail, and is a slate-gray color that looks a lot like the numerous boulders that dot the forest floor. Iíve sometimes been within 20 feet of my tent and not noticed it, so well does it blend in with the Zirkel forest. In fact, Iím just a little nervous that I wonít be able to find my tent again on the return trip, but it wouldnít do to just sit by the tent the entire time, would it?

The lake is fabulous, and our timing is great since the sun comes out right about the time we hit the shore and dries out my clothes (and the dogs). I snap photographs and make my way along the north and west shores. The water is achingly blue, with choppy little waves stretching out across the blue expanse. The shore is steep on all sides but north, with bald rock outcrops high above the water on the west side that we scramble up towards. Thereís a nice long cascade at the outlet, and the view from the lake from the knobs on the western shore is great. I enjoy it all very much, as do the dogs, who are keenly interested in the squeaking pikas hidden in the rocks high above the lake. Clouds roll in around 4:00, and we head back to camp, passing 6 backpackers on their way up. Makenzie takes time to greet the black lab they have in tow (or who is towing them).

At camp it is cloudy, and mosquitoes hover around me like a cloud. Luckily, I have a 10-ounce can of deet solution with me, and I use it freely on me and the dogs to keep the bloodsuckers at bay. Deet melts plastic, and is probably a carcinogen, but boy heck does it do a number on mosquitoes! There are two types, I notice: skinny black ones that are easy to kill, probably Aedus vexans, and plump, orange ones that move quicker and are tougher to swat. Iíve not seen these orange ones before, but probably Iíve just never paid much attention. Either that, or they are imported from Africa and will bring death to us all very shortly. Best not to think on that too hard. For activity, I walk with the dogs in all directions from camp. A wet marsh sits nearby (thatís true just about everywhere you go in Zirkel) and we walk across that to the woods beyond, where I slip and fall on a wet log hidden in the tall grass and march marigolds. No harm done. In the other direction, we come to a cliff that looks down on the steep gorge where Gilpin Creek roars. I see no chance of getting down to the water from that angle, so we head upstream to the tricky crossing from earlier in the day and I photograph the waterfall near there, as well as the lush plantations of mountain bluebells all around. I ponder my map, trying to figure out which of the tall peaks nearby is Mt Zirkel. I finally decide on one, even though it looks shorter than others from where I sit. It looks pretty difficult to climb, very jagged, but the map indicates the southern approach, hidden from my view, is pretty mellow.

Back in camp I eat some crackers with tuna and cheese. The dogs wolf down kibbles, and I read a book in the cloudy evening, wearing my mosquito net around my face to keep the swarm at bay. Itís a dull evening out, with colors muted under dark cloud cover. The air is calm and extremely quiet, which is nice and relaxing. The only sound is the distant roar of Gilpin Creek patiently eroding away the mountainside, and the occasional engine sound of a jetliner passing 15,000 feet overhead. You can never get away from the jet noise, except for the brief, 4-day interlude after September 11 while I was rafting on the Green River, and I never even noticed the absence. Henry barks at something or someone off in the woods, but I canít see or hear anything. I suspect there may be backpackers somewhere nearby, but I neither see nor hear them. Makenzie supplements her dinner with lots of grass, and I worry that Iíll be waking up in the middle of the night to frantically unzip the tent before she vomits. Camping with dogs has so many little pleasures.

At 8:30 we pile into the tent, and the dogs fall asleep immediately on a fleece blanket I packed in for them. Do they know how pampered they are? I read my book for a while, but am also tired, so by 8:45, Iím asleep too. At around 10:00, I wake up and notice Makenzie standing by the tent flap, apparently needing to step outside. I let her out, and I notice a very bright light off to the northwest. In my sleepy fog, I absently think itís someone elseís flashlight, maybe a nearby camperís. It just seems so bright. I actually squint at it, and hold up my hand to block its glare as I poke my head out of the tent flap. It doesnít move at all. Upon further thought, I realize it must be the moon, shining so brightly only because everything else around me is so dark. Itís amazing how inconsequential moonlight seems in the city, and how amazingly bright it seems out in the wild.

July 26 2009 Sunday

At 6:45 I wake up and the dogs are, surprisingly, still asleep under my sleeping bag that I fought them for all night. I wake everyone up, but Henry is slow to get up, seemingly content to lounge for a little longer on the soft fleece blanket. Makenzie is instantly on alert to get out of the tent, and I have to tell her to stay many times to keep her still long enough for me to unzip the tent for her. She bolts out before the rainfly is unzipped, squeezing through the tiny gap between the rainfly and the ground. Henry waits until I unzip the rainfly, and then heís out too. I put on my boots and step out into a fabulous mountain morning. Itís about 45-degrees out, and perfectly cloudless overhead. The sun is hitting the mountains to the northwest, but as yet the tent is still shaded. I eat breakfast of mini wheats and powdered milk, and allow Henry and Makenzie to finish off their kibbles. Camp gets packed, and I stretch my stiff legs out for several minutes before we hit the trail at 7:45.

We retrace the route up to Gilpin Lake as the sun peeks over the horizon and sends golden shafts of sunlight down through the ranks of naked spruce boles. Wilderness! I feel pretty good, and we arrive at the lake around 8:00. All is silent and calm, and I take some photographs of Henry and Makenzie by the lakeshore, the eastern part of which is still shaded. There is no sign of man about, and I enjoy the primordial scene, free from modern clutter (present company excepted). I fully support the prohibition of camping too near a nice mountain lake. I recall vividly waking up very early in the morning to go photograph American Lake near Cameron Pass only to get there and find a dozen tents set up within feet of the lakeshore. There are so few places to get away from modern things, so I appreciate having a few moments in a beautiful spot that has no trappings of modern life.

I take the trail north around the lake, and as elevation increases, I can see puffy white clouds already forming to the west. I stop at a rushing stream high above the lake and filter water, probably without really needing to, but liking to be sure. The view from up here is tremendous. I linger a long time taking it all in. The lake is spread below like a mirror, and deep green fir trees line the lakeshore amongst the exposed rock, the bones of the earth. It is profoundly still and quiet. The trail winds up a series of switchbacks through occasional snowfields, intermingled with verdant green grass and showy flowers, and finally peaks out at the pass to Gold Creekís drainage at 10,780 feet.

The walk down to Gold Creek is extremely pleasant, as wildflowers line the trail almost the entire way. I pass by a spring bubbling right up in the middle of the trail, and this water feeds a cascade that is choked with mountain bluebells and Delphinium. The surrounding jagged mountains are very pleasant to watch, and I stop several times to sit and listen to the rising wind, the chirps of birds and enjoy the wilderness.

We reach Gold Creek, which is a pretty substantial body of water, and follow the roaring stream down the valley, crossing once by way of large boulders in the current, and finally ending up at Gold Creek Lake around 10:20. I drop my pack by a tree and sit in the shade of the conifers along the north shore and snack on peanuts and crackers. Henry prowls the lake shore seeking sticks to attack while Makenzie brings me a rock to throw, which I do, many times, into the woods. Gold Creek Lake is lower in elevation than Gilpin Lake, and as such has less rocks and open tundra around it, being instead entirely surrounded by thick evergreen forest. A flock of ducks roams the open water in the center of the lake. White-finned brook trout cruise just off shore, rising frequently to nibble at gnats on the water surface. At 10:40, feeling the pull of the trail in spite of the serenity of the lake, I move on.

We start to encounter lots of day-hikers below Gold Creek Lake, mostly single hikers, but a couple of families and a large group of horse-riders. There is a particularly-challenging crossing of Gold Creek that involves two sloping logs which are easy access for humans, but it gives the dogs fits. I have to help them by picking them up onto the higher log halfway across. They could probably handle it OK by themselves, but Gold Creek runs deep and fast, and there are plenty of little waterfalls with undertows in them to suck in dogs, so I take no chances and assist. The trail drops in elevation sharply, and the clouds to the west build ominously. We pass a fantastic large waterfall on Gold Creek, and it is doubly nice because there is easy access to the base of it for enjoying the cool mist it throws up into the air.

At the final stream crossing, which is bridged, I stop with the dogs to enjoy a snack and the sound of rushing water one last time. Abundant deer flies keep our break short. We move on, through a wonderful aspen glen with grass 6-feet tall, and finally to the trailhead, which we reach at 12:15 just as the rain begins. Thus concludes another fabulous 25-hour escape from the ordinary.

Makenzie, impatiently waiting on me to catch up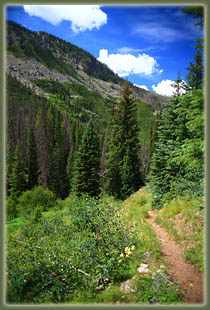 Gold Creek Trail

Nice waterfall on Gold Creek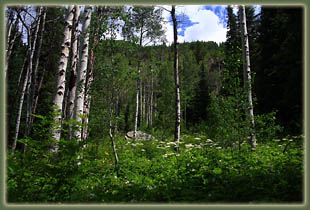 Lush times near the trailhead

Riotous Indian Paintbrush in the aspen section

Gold Creek Lake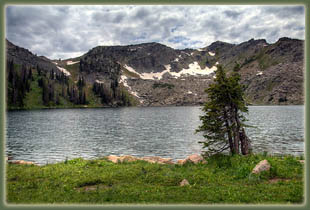 Gilpin Lake

The Continental Divide east of Gilpin Lake

Craggy peaks near Gilpin Lake

The peak on the left is Mt Zirkel

Gilpin Lake from the outlet

Gilpin Lake from the outlet

The outlet stream from Gilpin Lake

The trail below Gilpin Lake

Wildflowers along Gilpin Creek

Henry

Makenzie

Gilpin Creek

Gilpin Creek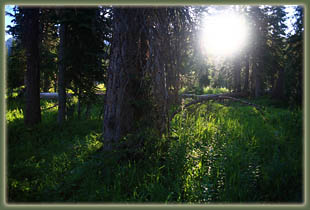 Sunny morning in the woods

Gilpin Lake

Henry and Makenzie at Gilpin Lake

Sunny morning at Gilpin Lake

Hiking on the east side of Gilpin Lake
towards the pass to Gold Creek Lake

The pass above Gilpin Lake

Looking north over Gilpin Lake