Falcon Cove
Location: Oswald West State Park
Access: The Falcon Cove trailhead is located on the west side of Hwy 101 4.5 miles north of Manzanita
Map: USGS 7.5í Arch Cape quad
Trailhead: UTM NAD83 10T 425678e 5068170n elevation=70í
Trail: 1.9 miles one-way with ~140 ft net elevation gain to the point overlooking Falcon Cove
Fees: None
Weather: Local Forecast
View larger map
---
August 7 2015
Andra and I cruised south on Hwy 101 after a nice pastry/coffee in Cannon Beach. We pulled off the highway into a small pullout at the Falcon Cove trailhead. Though the morning had been very cloudy, we started the hike under sunny skies from a nearly-empty parking lot. The trail departed the highway pullout and directed us south towards Smuggler Cove, leaving the traffic sound behind. Massive trees composed a picturesque forest, with the moss on the vine maples and spruce boughs backlit with golden morning sunshine. A fork in the trail allowed passage down to the beach, or on to Cape Falcon, and we veered right to continue out to the point.
The trail was fairly level and well-trod. We came across a few hikers, but overall it was low-key and sublimely quiet. The beach came into view through the trees as we pushed on out towards the point. A particular spot allowed a view down the steep fern-draped hillside to the ocean waves crashing below, and in between, a 12-foot waterfall danced down the smooth rocks.
We reached the end of the line after about an hour of hiking. The trail emerged from the trees and out onto the windswept plateau of the cape. A tunnel through the thorny marionberries led us to another small grove of spruce and pine, and then a narrow, steep trail led out to the very tip of the cape, where grass devolved into bare rock. Falcon Rock sits just offshore, and we sat in the sun and watched the waves crash on and around the rock.. Seagulls glided past and waves of fog raced overhead on a brisk breeze. Through gaps in the fog, we could see the sun shining on Mt Neahkahnie across the cove, giving us an idea of our next destination.
We explored the north branch of the trail a little on the way back as it wrapped around Falcon Cove, but decided we didnít have time to hike it very far. The map shows it returning to Hwy 101 further north, and if I knew that it looped back around to the parking lot, we might have taken it back. The map shows no such loop, so we simply returned to the car the way we had come.

Rocks off Cape Falcon, with Mt Neahkahnie through the fog.



Looking north to Falcon Cove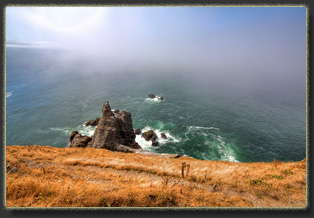 Falcon Cove

Fog rolled in and changed the scene by the minute. Mt Neahkahnie was occasionally fully-visible.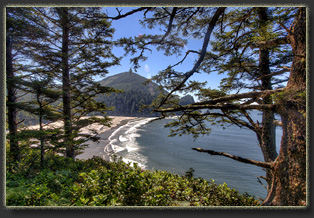 Smuggler Cove and Short Sand Beach; Mt Neahkahnie on the horizon