East Twin Lake
Colorado

---
Location:
Roosevelt National Forest, north-central Colorado
Maps:
USGS 7.5' Quad:
Chambers Lake, Boston Peak
; Trails Illustrated 1:40K:
Cameron Pass #112
Access:
From Ted's Place at the entrance to Poudre Canyon, drive about 53 miles west on HWY 14 to the Laramie River Rd, 2 miles west of the Big South TH. Go north for about 3 miles to the first parking area on the right.
Fees:
None
Trails:
Easy 4-mile one way trail to East Twin Lake with almost no elevation gain. Be watchful for the branch to East Twin Lake. It is not marked and is often overgrown with grass. If you miss it and find yourself at the lily-pad covered West Twin Lake, just walk to the SE and you will find East Twin Lake without too much trouble, as it is only about 1/4 mile away.
Trailhead:
NAD83 zone 13 427999e 4495917n Elev: 9347'
Dog Regulations:
Voice control
Weather:
Current and recent conditions from the
NOAA
Local Forecast from the
NWS
---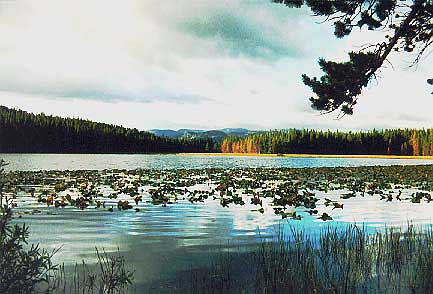 East Twin Lake is located in Roosovelt National Forest near the Rawah Wilderness.
It lies about 4 miles from the trailhead and is my favorite camping location in the area.
In August of 1998 Mark and I spent about five hours trying to find the place since the trails in the area are not well marked, and very numerous. Hindsight is 20/20, and we bitterly discovered that at one point we were about 1/4 mile away, but hiked another three miles to get there on a roundabout route. The hike was very pleasant as we listened to a Rams football game along the way. We found a great spot right by the lake and built a nice fire in the ring. At night the beavers in the lake were super busy. We expected, from the racket that went on all night, to find a tower in the middle of the lake by morning. We could discern no additions to their abode..must have just been maintenance work.
We liked the place so much, we told our friends. This is Dave, Matt, Mark, Josh and myself along with a handsome dog named Frank in September 1998. This is the last camping trip that Dave, Matt and I all attended before graduation. We encountered a little rain along the way, but that led to a triple rainbow over the lake when the late afternoon sun peeked through.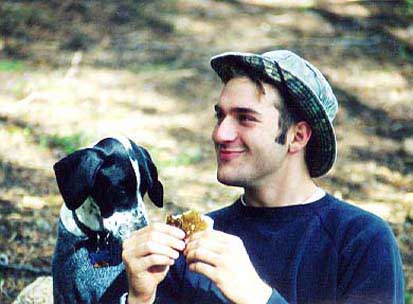 At breakfast, Frank became mesmerized with the pancakes Dave was cooking.
Take heart, he got a little to satisfy his doggie desire.

Dave finds the 'sitting tree' on the north shore.
In August of 1999, Andra, Frank and I visited the lake and camped in the same place that Mark and I had about a year before. Frank enjoyed being back and stalking the beavers (they were in no danger since he refused to get his paws wet on his own).
A story in the Fort Collins Coloradoan described an incident which took place at this lake: a female moose, apparently defending her calf, chased congressmen Bob Schaffer (R-CO) for 45 minutes through the woods. That's the line. I personally think the moose had learned about Bob Schaffer's support of oil exploration in the Arctic National Wildlife Refuge, or offshore drilling in California, or his support of a reduction in energy efficiency standards for homes. Maybe the moose learned about his desire to see Clinton's National Monument designations repealed, or perhaps the moose was privy to Bob Schaffer's approval of the delay in implementing snowmobile bans in National Parks, or maybe...ah, heck. You know the rest.

The regal beagle in repose. Sweater by Calvin Klein.

What more could you want?

---
Back to Hiking
Next
---
This Page Created July 26, 1999
Updated December 18, 2001