DARK MOUNTAIN
Location: Rocky Mountain National Park, Colorado
Maps: USGS 1:24K Estes Park / Trails Illustrated 1:59K Rocky Mt National Park #200 Trail Map
Access: The most direct access is from the Lumpy Ridge Trailhead. From the intersection of Hwys 34, 36 and 7 in Estes Park, head north on East Wonderview Ave (Hwy 34) past the Stanley Hotel 0.4 miles, then head north on McGregor Ave (Devils Gulch Rd) 1.6 miles and watch for a brown sign for the Lumpy Ridge Trailhead. Turn north on the signed road and follow it several hundred yards to the parking lot.
Trailhead: Lumpy Ridge TH UTM NAD83 456446e 4471897n elev 7,866'
Trail: Follow the Black Canyon Trail west to the junction with the Cow Creek Trail, then head northwest, off-trail to the summit. Thick timber hides the summit from view until you're on it. Net elevation gain to summit is 2,993'
Fees: No fee to park at the Lumpy Ridge TH
Weather: Local Forecast
Dogs: Disallowed on NPS trails
View larger map
---
Sept 14, 2015
Larry and I left Cheyenne before sunrise and, after a brief coffee stop at the Safeway in Estes Park, neared the Cow Creek trailhead only to see a sign at the turnoff indicating the lot was full. Anticipating this possibility, we quickly shifted to plan B, parked at the nearby Lumpy Ridge TH, and by 8:30 we were on the Black Canyon Trail under a hazy sky. The air was calm and surprisingly warm, hovering in the mid 60ís.
We followed the trail through pine forest, past a NPS residence, and then into an open meadow that crossed private property for a significant distance before returning to the park land and Ponderosa forest. We stayed on the main trail past several spur trails that lead up to popular climbing spots on Lumpy Ridge, and continued northwest towards Lawn Lake.
When we reached the junction with the Cow Creek trail, we jogged east a bit, perhaps 200m east on the Cow Creek Trail, before leaving the trail and heading northwest towards the summit of Dark Mt. Our original plan had been to hike from Cow Creek TH to Bridal Veil Falls, then go off-trail to the southwest towards the summit, but this alternate route looked passable also, and turned out to be so.
We definitely slowed down heading up the steep, trail-less route to the summit. Thick pine duff and heavy timber slowed the ascent, but I was glad that there wasnít too much downed beetle-killed timber on the ground to slow things down.
Near the summit, the going got very steep, and we were forced to boulder our way up the southwest face of the summit. Not difficult, but it did require more than simply walking up. By 12:30 we were on the summit, a rough and narrow fin of bald rock from which views in all directions were unencumbered. We found the summit log and noted our ascent, and I read through the old entries that go back to the mid-90ís. We ate lunch in the calm, 70-degree air, and enjoyed the view, despite the thick haze that shrouded the horizon, courtesy of a SW wind that was blowing up smoke from fires in Arizona.
At 1:30, we began heading down, following our route closely with GPS to avoid getting cliffed out, and reached the trail near the junction south of the peak around 2:00. From there, we simply followed the trail back to the parking area, reaching it at 4:00.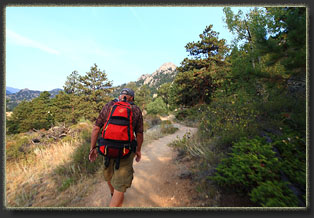 Starting out on the trail on a hazy morning

Heavy widlfire smoke/haze to the south

Thick lodgepole pine forest on the crosscountry
route up the south flank of Dark Mt

Larry enjoys the rugged hike

Scrambling up the last few feet to the summit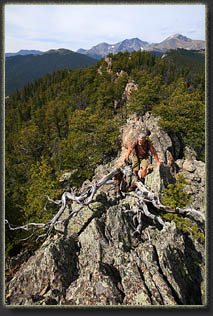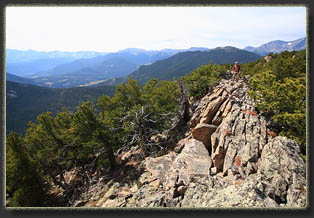 Taking in the view from the summit

Looking south from Dark Mt to McGregor Mt
and Longs Peak on the horizon

Looking west from Dark Mt to the Mummy Range

Gravity helps out on the way down