Coyote Gulch 2014
Location: Glen Canyon National Recreation Area / Grand Staircase-Escalante National Monument, UT
Access: From the town of Escalante UT, drive 3-4 miles east on Hwy 12 and turn right on Hole in the Rock Rd. Drive to Big Hollow Wash, Red Well TH, or Hurricane Wash TH. Hole in the Rock Rd is suited to lower-clearance 2WD cars at least as far as the Red Well turnoff, and seasonally should be suitable for much further. Expect the road to be very washboardy. Other trailheads exist for entry near the river end of the Gulch, but these routes are not discussed here, although Iíve read they require high-clearance vehicles to access.
Fees: None. A free permit is required for backcountry stay, available at visitor centers or official trailheads.
Trail: The trail is well-trod, and thus easy to follow, though it is unmarked. From the Red Well TH to the Escalante River is ~18.5 miles. Several guidebooks peg it at 16 miles, but my GPS tells me something different. Getting lost is almost impossible since escaping from the inner canyon would require climbing gear, with very few exceptions. Generally the route is flat and sandy, crossing the creek regulary, and leading down the middle of the watercourse near the river. There are a couple of spots that require a little bit of scrambling. Camping is dispersed. Elevation gain is 800 ft from the road to the Escalante River.
Dog Regulations: 6í Handheld leash
Trailhead: Red Well TH is at UTM NAD83 z12 487048e 4142582n 4521 ft; Other THs exist.
Map: Trails Illustrated Canyons of the Escalante 710 is pretty useful; USGS 7.5' quads: Big Hollow Wash, King Mesa, Stevens Canyon South
Weather: Forecast
View larger map
---
April 18 2014
Griff and I left Cheyenne in the rear-view mirror around 7:30 on this bright, shiny April morning, and burned rubber down I-25 through Denver, then west through the still-frozen peaks of the Gore Range before grabbing lunch in Glenwood Springs at noon. On the road again, we sped west, chasing daylight, and headed through the burning desert of eastern Utah, through the great notch of the San Rafael Swell, and then south through Dixie National Forest and the sandstone ledges beyond. As evening approached, we dropped down into Escalante and, racing darkness, barreled southeast on the viciously-washboarded Hole in the Rock Rd, sending up a spray of dust behind and rattling the change in the ashtray like a tambourine banging out the sound of adventure. Reached the Red Well turnoff at 7:45, after sunset, but before dark. We headed south on an unnamed two track a mile or more, pulled out into a clear spot along the side of the track, and parked next to the sagebrush-dotted sand dune that swept upward from the road. Itís a long stretch to Escalante, as this 12-hour marathon attests.
After the thrum of driving all day, the desert quiet was its own presence: A vast round void of silence sitting in my ears like dollops of lead. Except for the whisper of the wind through the sand, there were no sounds. I slapped some turkey and provolone cheese on a bagel and devoured it before pitching my tent about 30 feet away. The sky faded from brilliant blue to dusky blue to midnight blue. I found my flashlight, and carried my sleeping bag and pad to the tent, where I fell asleep about as fast as youíd expect of someone who just drove 12 hours.

---

April 19
Having been to Coyote Gulch once before, I had a pretty good idea about where we needed to go. On my first trip down Coyote Gulch, Andra and I were stopped short of the Red Well TH by a washout at Big Hollow Wash, and so we began and ended our hike where Hole in the Rock Rd crosses that miserable dry wash. This time, the road was fine, and we were able to make it all the way to Red Well. Thus, we were camped within a couple of miles of the TH. We slept quite late, and lingered over coffee and chocolate donuts (a delicacy Griff brings on every pack trip), packing up camp and at the same time checking all the last minute items you do when you leave your car. We drove down the road just a few miles to the TH, parked in the dusty circle of a parking lot with the other 6 or 7 cars, and immediately set out on the trail around 10:45. Yes, late to be starting, but we had nowhere specific to get to so we werenít unsettled by this. As I too often forget, there are no clocks on vacation.

We walked down the ridge to where the trail drops down into the wash, and I took off my pack to explore the small narrow canyon adjacent to the trail. An owl swooped down from the crumbling clay cliff and glided silently up the canyon, out of view. My steps crunched and echoed up the narrow, shady canyon for a few hundred meters before the thing boxed up. We resumed our hike down the dry wash, slogging through the dry sand and gravel. This is rough going, either way. Itís kind of like the entrance fee for the big show beyond. The wash flows down a wide, open valley that slopes upward on either side, dotted with sagebrush. Occasional sandstone walls flank the wash, but they are neither tall nor long. The sky clouded up at noon with an uninteresting white gauze of cirrus, draining the color from the rocks. We stopped for lunch of jerky and cheese, then resumed down-canyon, entering the scenic portion of the canyon with flowing water, deep red canyon walls and plenty of cottonwoods. The sun reemerged, and we found a nice area to camp where a wet side canyon joined the main channel. I camped near the mouth of this canyon, near a large quiet pool, but because the area was small, Griff found a wide sandy bench opposite the channel to camp. By 2 we had our tents set up. I walked around camp, checking things out, and was amused to find I was very near a giant alcove I had visited with Andra before, and remarked that if I ever came back, Iíd camp in this spot. I achieved my goal without even thinking about it.

Griff and I hiked up the side canyon to the south for about 300 meters. It was filled with lush grass, boxelder, juniper, a few Ponderosa pines and a fair amount of poison ivy that we judiciously avoided. Very pleasant in this side canyon. A thin trickle of clear water ran through the sandy channel, and we followed this up to where it cascaded down a steep, 15-foot wall of smooth sandstone, virtually impassable. We filtered water from the pool at the base of this slope and discovered with dismay that the filter was clogged pretty badly, and water only trickled out. Back at camp, I searched my pack and found I had not brought the filter backflush device required for this Sawyer bag filter. Shoot!

We hiked downstream about 200 meters to Hurricane Wash and hiked up this side canyon for about 15 minutes, enjoying the cool shade of the lee side of the canyon, the trickling water echoing off the rock, and the lilting melancholy song of the Canyon Wren diffusing through the cottonwoods from some unseen rock perch high above.

Back in camp, I pulled a canvas bucket of water from the stream and took it back to camp to wash my face, body and clothes, in that order. Griff prepared a chicken and rice dinner-from-a-bag and we gobbled it down. Sky clouded up at 7:30, which bummed me out because I had come prepared to take nighttime star shots from the canyon. Owell. I walked up into the nearby alcove to enjoy the familiar, cavernous space.

Water was an issue. It took such enormous pressure to squeeze water through the mostly-clogged filter that I feared the bag would rupture. We instead let gravity do the job, drop by drop, refilling the bag every half hour and laying it over a cottonwood log near camp with an open bottle below to catch the drops of filtered water. Very disappointing to have this equipment fail. The gnats were also fairly bothersome, and would crawl in my hair and bite my scalp if I removed my hat. I thus kept my hat on with a handkerchief draped beneath at all times. A few mosquitoes hummed about, but surprisingly few. As evening fell, the creaking wings and mechanical clicks of bats filled the canyon as they flitted about on tiny wings. Clouds parted, and stars shined through after all. I took several pictures in the dark, but my digital camera is so old it just doesnít have the ISO sensitivity to capture the night sky. I crawled in my tent at 10, and went to sleep.

---

April 20
Iíve only been in the wild 2 days and I already forgot what day it was. Had to review my notes to figure it out. I woke to the sound of birds chirping near the tent at 7. I unzipped my tent and slid my bare feet into the cool sand. The canyon was yet in shade, and quiet. The gurgle of water from the creek wafted over the grass and cottonwood logs near camp to the sandstone wall behind me, reflected back in a way that made it seem like there were two streams, one on either side of me. A canyon wren filled the air with his lilting descending-scale song. Another bird, closer, repeated a 3-note call three times in quick succession, then waited 20 seconds to repeat this series again, and again. I listened for about 10 minutes and the timing was like clockwork. The cold virus that had latched on to me several days ago was yet hanging on, making me tired and unambitious. I downed a couple more pseudophedrine tabs, eyeing the real ephedra plant next to my tent as I did so. Would the real thing do a better job?

I finally got up, dressed, and went over to Griffís tent when I saw him heating water for coffee. We ate pop tarts for breakfast, and the sugar, caffeine and ephedrine all culminated in my feeling damn fine and ready to roll. We packed up camp as the sun inched its way higher, sending the canyon wall shadows retreating slowly across the sand. As I packed up, a swarm of bees came into earshot. Griff and I found the swarm hovering around a cottonwood tree, 20 feet off the ground. The swarm slowly moved east, up-canyon, and eventually out of sight. I sat in the shade and read Desert Solitaire while Griff finished packing. What better author to set the mood on a desert trip than Ed Abbey?

By 10 we were hiking downstream, splashing through the inch-deep water when required, padding along the soft sand social trail when we could. Coyote willows lined the stream, while cottonwoods with massive, gnarly-barked trunks shaded us from above. We reached Hamblin Arch in one hour, and stopped on the upstream side to admire it from the large, sandy plateau that provides a perfect view. Such an improbable thing, this arch. All that weight of stone sitting overhead, youíd think it should surely crash down any minute.

We moved on, and were almost to the massive undercut between the upstream and downstream sides of Hamblin Arch when Griff noted he left his sunglasses back at our last stop. I sat down in the shade to wait and watched a couple of guys, the first humans weíd seen this trip, climb up the steep route from the creek to the bench above, a route Iíd read about but never taken the time to investigate. The route they were taking didnít look too difficult, but there were seemingly no indications of where to go, though perhaps the route was more evident up close. I read some of my battered paperback, a veteran of many backpacking trips, and divided my attention between the climbing men and the book. Griff returned with his glasses, and I slid my novel back into my pack before we continued downstream. We followed the stream on a U-turn under the massive undercut where columbines, maidenhair ferns and monkeyflowers grow in perpetual shade from the seeps. Chilly in the shade. We continued on past the downstream face of Hamblin Arch. Itís surprising how long it takes to get around to the other side of Hamblin Arch when walking the creek. By 1:00 we were at Coyote Bridge, where we stopped a bit to have lunch. Sunny spot, light breeze, perfect. The first time I came through here there were two people camping right next to the bridge, and they were active around camp, so we didnít get a real chance to loiter about and enjoy this amazingly rare geological wonder. In all my desert hiking, I can only think of 6 natural bridges under which Iíve hiked.

Shouldering our packs we continued downstream, following the winding stream around sandstone walls getting deeper by the mile. The wind picked up, blowing downcanyon fiercely. I recognized the bench Iíd camped on with Andra for two nights a decade before, regretting she couldnít be here, and thinking of the irony that she was sick with a cold on that trip. It seems to happen more than chance would allow that you plan a big backpack months in advance, and sickness steps in as spoiler. Maybe I should plan a fake backpack sometime next spring just to get the inevitable cold out of the way, then go on the real thing 2 weeks later.

Around 2:30 we decided to stop for the night in a large willow stand at a wide spot in the canyon. We set up tents in the wind, and I napped off a portion of my cold-induced stupor. Cotton was flying in the wind like snowflakes. From camp, we could see a spring seep downstream, so we bushwhacked through willow, boxelder and a forest of equisetum to find it. A clear pool sat below it, startlingly deep and calm, and unfortunately completely guarded by rampant poison ivy forming a barrier more formidable than barbed wire. Luckily, a smaller pool just below was relatively free of the hated vine, and we were able to gather water for filtering there. It took a long time to squeeze water through the filter, and I once again vowed never again to leave my pump filter at home on a backpack trip. It took us an hour to filter a gallon of water, but on the other hand it was very pleasant sitting in the cool shade by the still, clear water. Sometimes one benefits from an external limitation to force a change of pace.

Back in camp I bathed in my canvas bucket of stream water, washed my shirt, and righted my tent that had flipped over in the wind, despite being staked down and full of gear. Did I mention it was windy? The wind died down some and we cooked dinner, carefully avoiding walking upwind of the boiling pot lest sand get kicked up and blown into the stew. Near dark, I went back to the spring and filtered another 2 qts of water. We watched the sun retreat up the side of the canyon wall opposite camp, and darkness descended.

---

April 21
Up around 6:30 in the quiet, still air of morning. Pop tarts and coffee to start us off right. The morning was clear and sunny, with orange light lancing in on the rock face south of camp to illuminate the hanging gardens. The rabbitbrush was healthy near camp, as were the hackberry, stinking sumac, coyote willow, cottonwood, sand sage, ephedra, opuntia, datura, Indian ricegrass, various mustards and the occasional hated cheatgrass. Itís lush in these canyons, in such stark contrast to the barren rock sea up above. Planning a long hike, we left camp in the cool early morning air and walked briskly downcanyon. For the first day in a week I felt really good and energetic, and I could breathe well through my nose. We followed bends in the stream down towards the river, and the closer we got, the more the canyon opened up and deepened. Soon the canyon walls were hundreds of meters apart, and perhaps a hundred or more meters tall. Forests of Gambel oak covered the sloping sandy deposits on the inside bends of the stream.

We reached a point near the river around 11:30 where my memory completely failed me. I had gotten all the way to the river a decade ago, but I couldnít recall the chokestone and deep dropoff that confronted us. Worrisome: What else have I forgotten? We followed a trail that seemed to skirt the obstruction, but it only led us far up on to the dry bench above, ultimately overlooking the Escalante River from several hundred feet above. Not a wasted trip, certainly; it was a great view from up there. But I really wanted to stand in the river. We returned to the chokestone, and after scouting around a bit, I slid out across a steep sandstone face to bypass the chokestone, then dropped down a few ledges to the canyon floor below. This route isnít nearly as difficult as it first appears. There are a few sketchy feet of steep sandstone, but they go quickly. After that, itís a cinch. Nevertheless, Griff opted not to join me on this little climb, so I left him there and walked quickly down the canyon several hundred meters to the river, into which I splashed without slowing, concentrating on how wonderful the cool, flowing water felt on my hot calves. I waded across, never getting wet above the knees, and reached the far shore. I waded back into the middle of the river and stood facing upstream for a bit, trying to fix the moment in memory. I picked a small, smooth stone from the river bottom to take to Andra and slipped it into my pocket. Then I walked up the canyon and found Griff lounging unproductively under a cottonwood tree.

We hiked back upstream, past the waterfalls and cascades, past Jug Handle Arch and the regal alcoves filled with juniper and cottonwood. We reached camp at 1:30, and again filled our bottles slowly from the spring near camp. Lunch at 2:00, then we broke camp and began trekking upcanyon at 3. We hiked past Coyote Bridge and Hamblin Arch, passing many more tents than weíd seen previously. In fact, we passed 18 hikers on this day, which seemed like a veritable crowd in this remote wilderness. We had considered stopping at our previous camp, but it was occupied by four tents, so we kept on heading upstream. We finally stopped on a large flat expanse of sagebrush around 4:45 that was conveniently located across the stream from a spring. We set up camp, and I was discouraged to find that previous hikers had left a lot of toilet paper in this area. I simply have no patience for such sloppy packing. Bury it, burn it, or pack it out (preferably the latter), but thereís no excuse for simply shoving it under a rock or log. I also collected for disposal far too much litter near camp: plastic bottles, granola bar wrappers, plastic bags. As a 1/3,000,000th-share owner of this public land, I have a right to be outraged at this shoddy consideration of the public commons.

After burying the TP and picking up litter, I set up camp and visited the spring for water. I was pleased to find a very large and apparently bottomless pool of dark, clear water at the spring. It was surrounded by cattails, and the ground near it was marshy and transient, like the surface of a waterbed. My boots sunk down into wet with each step, and it was difficult to find solid ground on which to approach the open water of the pool to filter water. Naturally, I kept at it until I found such a route, and filtered several liters of water.

Back at camp I bathed with a bucket of stream water, washed my socks and underwear, and added boiling water to a bag of freeze-dried noodles and chicken to prepare what we called dinner. Afterwards, I climbed up the steep tallus slope near camp to check out the view and enjoy the sound of ravens croaking as they glided along the sun-drenched canyon walls. The only sounds of the canyon were those ravens, a few smaller chirping birds and chirping crickets and the rustle of the water in the sandy channel below. Did you know the water flow varies minute by minute? If you sit by the stream for 10 minutes, youíll notice that it slides along silently for a minute or two, and then comes a rush of water, pent up behind some temporary sandy obstruction I guess, and all at once thereís a rush and a gurgling sound as water piles in and sluices past. Within a minute, the gurgle is gone, and the stream runs quiet again for several minutes, until the trillions of sand particles rearrange themselves into another upstream obstruction to repeat the process.

My cold has hung on for the entire trip, and I lament that during so few, precious days of canyon adventure, I am still snotty, and unable to breathe through my nose. I downed more decongestant, using it freely now that the trip end is so near, and chugged more water. In this part of the canyon, the desert hackberries have not leafed out yet, even though they were fully leafed-out by the river. Near my tent, I took advantage of a precious and fleeting window of clear nasal passages to enjoy the scent of white primrose blooming nearby. Very nice smell.

---

April 22
An odd bird kept calling around 6:15. At least I think it was a bird. Iíve never heard anything like it. It was more like what I imagine a dinosaur might sound like. When I finally unzipped my tent at 6:30, I could neither see nor hear it. I dressed and walked downstream with my novel. Five people walked past, but none of them noticed me sitting quietly on the sandstone bench above the water. I wonder how many times Iíve walked past a hiker lounging by the trail without noticing? Griff was up shortly after, and we had breakfast and filtered water, our morning routine. One of the principal joys of a multi-day trip is developing a routine such as this in the wilderness. We were on the trail by 10, heading up-canyon under a clear blue sky.

We stopped at two different side-canyons to stash our packs and explore. The one closest to our camp was very nice: lush, shady, quiet. The second canyon we attempted to explore was so choked with poison ivy that we were forced back, and the forest of dead and cured equisetum made the retreat unpleasant as well. It was a well-fortified canyon that I doubt many have explored.

By noon it had clouded up and the wind was swirling. We reached the upper reaches of the canyon and the scenery lost its appeal. We stopped just downstream of the NRA boundary for lunch, and then struck out on the final stretch to the car. On the upstream side of the fence, all conditions were undesirable. Mosquitoes swarmed in abundance, cow shit floated in the pockets of oily water in the channel (Enjoy YOUR public lands). We had originally thought to camp in this area, but having seen it, neither of us wanted to spend any additional time in this area.

We were short on water, though, and this was a problem owing to the amount of cattle shit in the stream itself. It may be public land, but ranchersí cows can shit in the streams, crumble the banks, crush biocrusts and trample riparian areas all for the bargain price of $2.10/AUM (though there is perennial outrage by ranchers at this ďoverreachĒ by the Federal Government). What a deal for the American public. So, we looked for a spring from which to gather fresh water, but found none. We explored a few short side canyons, but by this point in the hike, springs were few, if present at all. We slogged back to the car in an unpleasant stretch. Both times Iíve been into Coyote Gulch, the hike out has been miserable.

We rumbled back to Escalante over the washboard road, grabbed sandwiches in town and headed north. We pulled off the highway on a generic-looking BLM road east of Hwy 12 and set up tents in the howling wind amongst the pinyons. The wind was so fierce it kept me awake, despite having put earplugs in to blunt the flap and slap of the tent fabric. I slept very poorly. In retrospect, Iíd have been better off just reclining the driverís seat and snoozing in the car.

---

April 23
Up at 7, on the road by 7:45. Coffee and gas in Torrey. Lunch in Glenwood Springs. Home by 7:00Öanother 12-hour driving marathon back to the city, where the memory of an orange glow on a canyon wall at dawn will make my office job a torment for several days until I can forget the smell of fresh water rippling over sandstone ledges, and settle in under the fluorescent lights of my cubicle to pass the time until the next trip out.

Camping on the range near Red Well.

Kaiparowits Plateau from the Red Well TH

Griff descends into Big Hollow Wash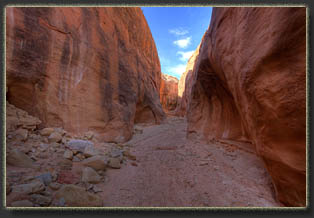 This is Coyote Gulch at the junction with Big Hollow Wahs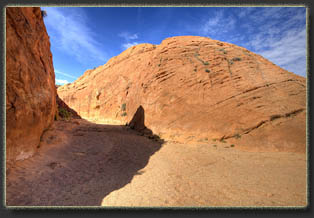 Coyote Gulch meets Big Hollow Wash

Boxelder along Coyote Gulch

A hidden plunge pool in a side canyon of Coyote Gulch

Huge alcove near Hurricane Wash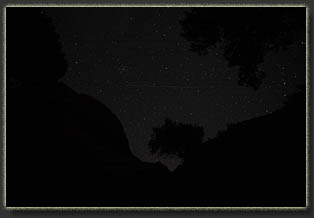 Night sky. Shooting star. Bliss.

The Big Undercut near Jacob Hamblin Arch

The big undercut near Jacob Hamblin Arch is at least as impressive as the arch itself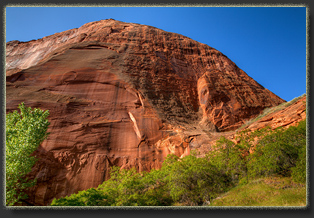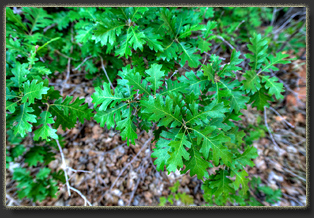 Escalante River from above Coyote Gulch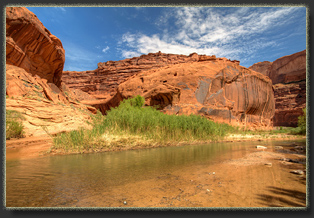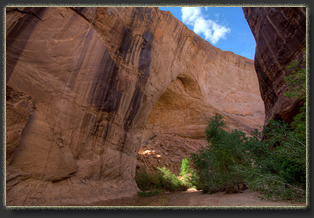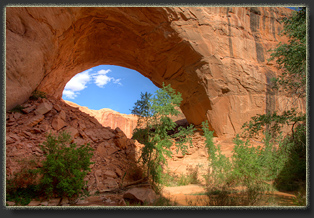 Jacob Hamblin Arch again. Doesn't get old.

Room with a view