Location: Custer State Park, South Dakota
Maps: USGS 1:24K quad: Custer (USGS map doesn't show the trail); Forest Service Trail Map
Access: From Custer, head north on Hwy 89, then turn east onto Hwy 87 (Needles Highway) and enter Custer State Park. Head west on Hwy 87 past the first tunnel, then watch for the trailhead at a sharp switchback about a mile later.
Trail: Easy 2-mile trail through pine forest and meadow, well-marked, with an elevation gain of x ft.
Dogs: Must be leashed
Fees: $12/vehicle for entry into Custer State Park
Weather: National Weather Service Forecast
Webcam: Mt Rushmore webcam

July 13, 2009
After packing out from Grizzly Creek that morning, Andra and our two dogs, Makenzie and Henry, stopped by this short trail on our way out of Custer State Park. When we arrived at around 10:00, the parking lot was largely empty, but it sits right on the Needles Highway (incongruously named…the maximum speed one could attain because of the curvy road is probably 30 mph), so we kept a close eye on the dogs to make sure they didn't strain their leashes out into the road and get whopped. It was a beautiful, sunny morning, with fast-moving whispy clouds. Thunderstorms had developed every afternoon we'd been there, and this day promised to be no different. In the hot sunshine, we began our walk. The scenery was impressive almost immediately. As the trail name foreshadows, tall granite spires with sharp ridges and points rise up from the conifer forest. The route heads uphill right into the middle of them, winding through areas where all the pines have been cut up because of pine beetle, and moving on into intact forest, shaded and cool. Many parties of hikers were on the trail, and we kept the dogs leashed almost the entire time, letting them loose to run up the steep parts so we wouldn't pull them back down as they hopped and jumped up the roots and rocks on the trail. The last quarter of the trail rose gently through a glade surrounded by the rock formations, ending at a rock wall just before the terrain falls away again into forest. We stopped here and had a snack, gave the dogs some water, and enjoyed the cool before heading back down.

Henry checks out another group of hikers nearby

Henry, Andra and Makenzie taking a
shady break at the end of the trail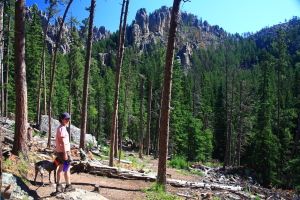 Andra and Makenzie at the start of the hike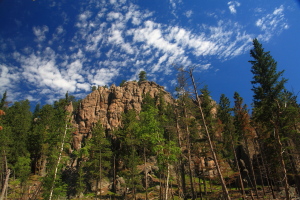 Lots of beetle-killed trees in the
main section of the spires.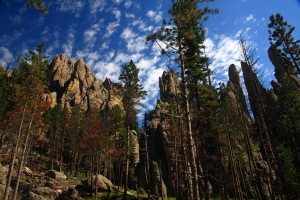 Great rock formations all around