Location: Zion National Park, southwest Utah
Access: Park at the main entrance visitor center at the mouth of Zion Canyon just past Springfield, Utah. Catch the free shuttle to the Grotto trailhead.
Map: USGS Quad: Temple of Sinewava
Trail: From the Grotto, it took about 4 hours to reach Angels Landing and the trail junction on the West Rim; about 2.5 hours to head straight back to the Grotto. The trail is steep, exposed to sun and steep drop-offs, often with fixed chains for reassurance. Distance to Angels Landing is 2.5-miles one-way with 1500' elevation gain. From the trail junction with Angels Landing, itís another 2.9 miles with 1030' elevation gain to the trail junction on West Rim. Overall, a pretty challenging set of hikes.
Fees: $25/car/week park entrance fee
Dogs: Not allowed on trails

April 28, 2009
Knowing a hot hike in the blazing Utah sun lies ahead, Iím up and about very early and packing up camp before most of the campers in campground are stirring. The vast majority of campers are hidden behind the tin walls of their mobile apartments, snoozing on spring-core mattresses after staying up late watching satellite television, lulled into a sound snooze by the gentle hum of diesel generators. It might be a stretch to call this camping, but they do. When Iím 50 years old, long after I find my body canít handle a night sleeping on the ground in a tent, perhaps I will, too. After breakfast by the Virgin River and a nice face-washing in the menís room (campgrounds do have their perks), I drive to the visitor center, and catch the free 8AM shuttle to The Grotto, and begin the hike at 8:40.
I walk through the cottonwood forest along the river, cross the bridge over the roaring Virgin River, and then head north towards Angels Landing, a towering pinnacle or rock that towers over the canyon floor just ahead. From this angle, it appears an impossible ascent. Down here in the river bottom, itís shady, and breezy, and actually quite chilly at around 50 degrees. My long sleeve shirt feels inadequate; however, as soon as I hike high enough on the trail to be in the sun, it gets warm, and I wonder that I could have felt so chilled only moments ago. The sky is clear and blue, and there seems to be very few people on the trail. I hike disappointingly slow due to a pain in my right heel that developed the day before, presumably from hiking too much: I crammed in three big hikes from dawn to dusk, and it was a mistake. I think that hiking in loose sand was the main problem. At any rate, I shuffle along at a slow pace, getting passed by a couple of hikers who are twice my age. An exercise in humility.
I make my way up the concrete-paved trail on steep switchbacks that would erode in a single thunderstorm if not for the concrete paving. A horizontal gouge in the cliff, blasted away by park trail builders, allows passage up an otherwise technical climb, and the shade is enjoyable in the tunnel-like strip through the cliff. Beyond that lies Refrigerator Canyon, named so because the sun only shines in for an hour or two at mid-day, and it is indeed pleasantly cool between the narrow sandstone walls. Box elder grows thick and green in the quiet canyon. Itís a very tranquil place. This canyon soon begins to box-up, and a laborious set of switchbacks runs up the east side of the canyon. The switchbacks are short, perhaps only 20 feet between turns, identical, and numerous, with something like 20 quick switchbacks heading up the cliff like a snaking line to an amusement-park ride, which I suppose is essentially what this is. The way is entirely paved, so gripping the steep grade is no problem, and the switchbacks go by quickly. Soon, Iím up on a ridge with views to the east into Zion Canyon, the pavement running like a gray string way down below. There are several people milling about on the flat, sun-drenched rocks, and the pavement ends in favor of a regular park trail.
Angels Landing sits to the south, a towering pinnacle of rock with a knife-edge ridge leading up. It looks taller than I expected it to after having already gained so much elevation. I start south. The ridge is narrow and the route over the rocks is very exposed, with steep drop-offs on one or both sides. If not for the chain-rails bolted to the rock along the rest of the route, thereís no way Iíd attempt it. I wonder how many hikers did this route prior to the chains! I am nervous enough as it is, and I take my steps slowly and carefully. At some points, Iím on a ridge only 3-feet wide, looking down an 800í cliff to the west and a 1200í cliff to the east. Even with chains to grip on to, my heart is thudding in my chest. This hike will wake anyone up, and I am more aware than ever of how high my center of gravity is. After making it to the top, I share the summit with an Englishmen who takes a few photographs for me and I for him. Itís his first visit to the US, and heís having a good time, even if his wife did decline to enjoy the hike to Angels Landing with him. Heís the first person I ever have met on the trail that, when taking a picture of me, focused on me first, then consciously recomposed the scene for artistic value. Excellent! We chat about the hike and enjoy the unparalleled view up and down Zion Canyon, still largely shaded from the steep east wall. Itís an amazing perch. The wind is stiff, and keeps me from getting too close to the edge to inspect the straight-down view, though I inch up very close on my butt to check it out, not trusting my center of gravity to be more than a foot off the ground so close to such a steep fall. After taking in the view for 10 minutes, I turn around and carefully pick my way down, all-too-aware of the fact that tripping or slipping on this route could mean a quick free-fall 1000í down to the canyon floor. Very exciting, but difficult to repeat. For most of the route, there is only room for one person on the rocks, so the multitude of people coming up the route necessitates lots of waiting for a clear path down, which is fine since it gives me more time to enjoy the aerial view of the canyons. Soon, Iím back on the wide ledge where dozens of people are congregated. Most people, I gather, are waiting for fellow hikers to get out and back to Angels Landing, while they wait comfortably in the shade of the pinyons scattered among the rocks. Angels Landing is clearly not for everyone.
My original plan, hatched back home in the snowy depths of winter before I aggravated my heel tendon so badly, was to backpack this way and head up to the West Rim for camp, which is where the few back country camps near Zion canyon sit. As it is, with my heel throbbing and even light hiking made possible only with copious doses of ibuprofren, I decide to dayhike the route without a heavy overnight pack to see what I have missed. Thus, from the ledge that leads out to Angels Landing, I take the fork that leads uphill the other way, northwest towards the West Rim.
This trail is very deserted and very scenic. Parts of it cross bare rock with permanent brown signs that mark the route rather than cairns. Everything is stone, and even what appear to be sand dunes are actually solid rock, glaring white in some areas and blushed with red in others. Dark pines occupy little ledges and cracks in the rock high up above, and cover the flat mesas entirely. In places the trail is paved, but the concrete is cracked and broken frequently. Some portions have initials drawn in them, presumably by summer workers tasked with hauling in all this concrete and laying it down years and years ago, before water and ice tore great chunks out of the ribbon of pavement. In one such crack I spot a hog-nosed toad sunning himself and he allows me to get very close with my camera, never paying me any notice.
The route leads into a new canyon, with the West Rim Trail somewhere on the ledge far above, and I marvel at how much elevation gain there is to this trail, some 2500í. I decide itís probably best I didnít try to backpack this routeÖvery demanding. The trail leads past a side canyon and the sound of trickling water, as the temperature all around continues to rise past cozy levels, draws me in the dark crevice to check it out. I donít get far before coming to a steep crack that is draining a large dirty snowfield. Back on the trail, I head into a shady pine forest that is alternately green and burnt as I move upwards, passing several more thick snowfields hanging on in the shade cast by the cliffs to the south. More switchbacks, more quarried gouges through cliff-faces at a gradient to allow hikers passage up to the rim above, and before long Iím up on the rim, looking down on the route Iíve come 1000í below. I walk over to check out the spring shown on the map, but it is nothing more than a mucky stagnant puddle, and Iím even more glad I didnít backpack up here because this water would not even be suitable for filtering. All around, the ponderosa pines are charred and black, and one of the trails is blocked off because of falling snag hazard. The view to the east is impressive, but Iím not inclined to tarry too long among the burned trees, so I head back down after sitting for a few minutes and eating an apple.
The path down goes quickly since it is almost entirely downhill. I meet a younger guy, not even 20, doing a solo backpacking trip and he seems positively wilting under the weight of his enormous pack. He asks me if he is almost to the rim, and I hate to tell him he has over a 1000í more to climb to get there. I donít find out exactly where heís heading, but I tell him not to expect to find good water at Cabin Spring. I pass a few more hikers on their way up, most speaking foreign languages, of which I can recognize only German. Germans love canyons. When I pass the turnoff for Angels Landing, it is absolutely hopping, with more than 30 people milling about. I pass on down into the quiet of Refrigerator Canyon, and am largely alone the entire walk back to the Grotto, where I catch the shuttle to go eat a fantastic and cheap lunch of a cheeseburger with fries at Zion Lodge. The couple next to me are originally from England, but now live in California, and we chat in the shade of the outdoor pavilion about nearby attractions.They highly recommend Bryce Canyon, a location Iíve never explored at all. There are so many great places in southern Utah, one could literally spend a lifetime seeing them all.
Round trip to Angels Landing and the trail junction on the West Rim took me about 7 hours, and stands out as the best hike I did in Zion during my 4 days there.




On the West Rim, looking down towards Telephone Canyon

The West Rim Trail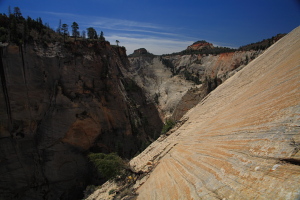 The West Rim

Sandstone along the West Rim Trail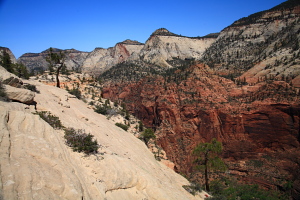 Zion Canyon

Zion Narrows and the Virgin River

Zion Canyon from Scouts Lookout

Canyon Maple (Acer grandidentatum)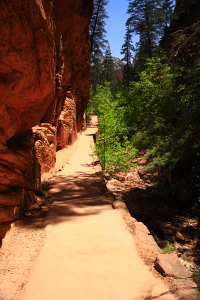 Refrigerator Canyon

The Great White Throne, on the east side
of Zion Canyon near Angels Landing

Zion Canyon near the Grotto

The Virgin River in Zion Canyon from Angels Landing Trail

Refrigerator Canyon, cool and shady

Up the switchbacks out of Refrigerator Canyon

Over twenty tight switchbacks, called Walter's Wiggles
after Walter Ruesch, the park's first superintendant and
designer of the switchbacks that lead up towards Angels Landing.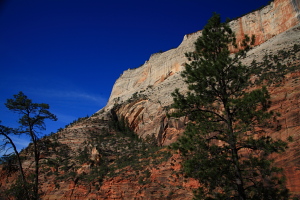 Cathedral Mountain

Angels Landing from Scout Lookout

Beginning of the narrow trail to Angels Landing summit

Looking south down Zion Canyon from Angels Landing

Hanging out on Angels Landing

Looking north into the Zion Narrows

Looking down on The Organ and a shuttle stop

Steep, narrow sections on the descent have a high pucker factor

The trail down Angels Landing

Last bit of trail down Angels Landing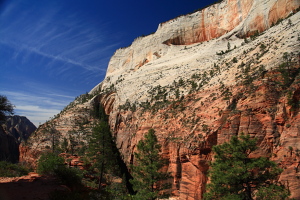 Cathedral Mountain

North end of Cathedral Mountain

The West Rim from Telephone Canyon

A plump canyon tree frog, sunning on rocks
and not very concerned about me

The West Rim from Telephone Canyon

The West Rim Trail

The West Rim Trail